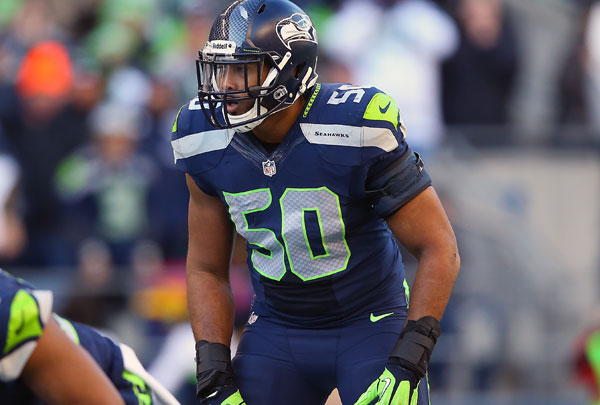 IDP Fantasy Waiver Wire Pickups- 
LB K.J. Wright, Seattle (#37 DL for Week-7 on Fantasy Pros)
Seattle OLB K.J. Wright is averaging 7.8 tackles per game and 0.4 PDs this season...he was already a solid IDP LB. However, Seattle star LB Bobby Wagner is slated to miss at least a week, if not a few more with turf toe.
K.J. Wright is slated to move into the '4-3' Middle Linebacker spot, which should push him toward being a potential double-digit tackle producer while Wagner is out (Wagner is averaging 10.0 tackles per game this season).  Definitely one of the best fantasy pickups for the short-term.
CB Blidi Wreh-Wilson, Tennessee (Not In current Top-50 DB rank for Week-7 on Fantasy Pros)
The second-year CB, 3rd-round pick out of UConn is back from concussion, and played 98% of the defensive snaps for the Titans against the Jaguars during Week-6. Against Jacksonville, Blidi Wreh-Wilson had 11 tackles (10 solo), 2 PDs, and 1 INT. He is the CB that gets picked on by Titans' opposing QBs, which is a good thing for IDP when he has Kirk Cousins and Ryan Fitzpatrick ahead.
You might be able to get a nice two-week run out of him before the Titans Week-9 BYE. Wreh-Wilson is a sizeable CB at 6'0.5", 195 pounds, possession 4.45+ speed and nice agility (as measured at the 2013 NFL Combine). He has done some work as a Free Safety, so he is a decent hitter (he had 11 tackles this week). He's the Titans full starter, especially with CB Coty Sensabaugh out with a banged up knee.
DT Kawann Short, Carolina (Not in current Top-50 DL rank for Week-7 on Fantasy Pros)
Kawann Short was one of our computer scouting model's highest rated DT prospects for the 2013 NFL Draft. He was drafted in the 2nd-round by Carolina to pair with Star Lotulelei (Carolina 1st-round DT that year). Lotulelei was more coveted, but we liked Short's NFL/IDP outlook better--Shorts was a higher producer in college, and showed as good/better athletically compared to Lotulelei.
Short averaged 16.3 tackles for loss in his final two seasons at Purdue, and also posted 6.8 sacks per season during that two-year span. He was a top-10 producer in the Big-Ten for both sacks and TFLs in his Sophomore, Junior, and Senior seasons.
In 2014, Lotulelei has averaged 2.0 tackles per game, with a high of 3.0 tackles in a game this season to date. Short is averaging 3.0 tackles per game this season, and has made 5.0 tackles in a game, in two out of his last three games. He's also registered a sack, forced a fumble, and added two PDs as well this season. Short is starting to make a trend move up. He's one to keep an eye on to see if a minor breakout is on the verge.
-- R.C. Fischer is an NFL Draft analyst for College Football Metrics.com, and a football projections analyst for Fantasy Football Metrics.com. His group also provides player projections for Advanced Sports Logic's football software "The Machine."