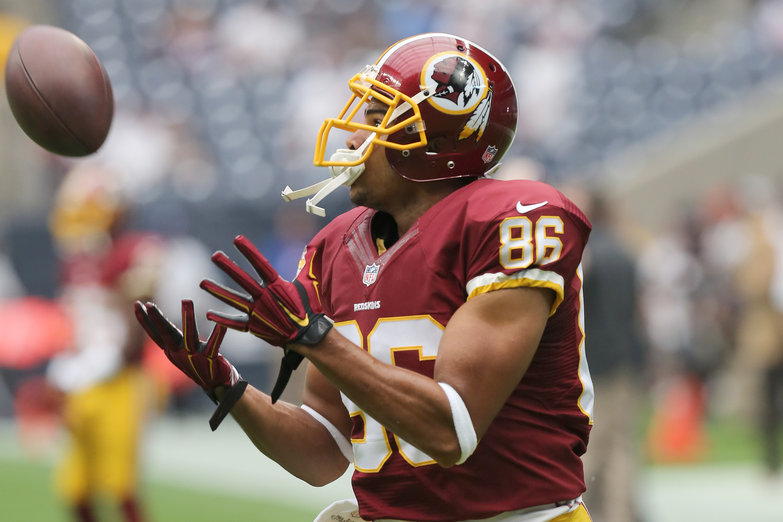 Fantasy Waiver Wire Pickups-
1. TE Jordan Reed, WAS:
Redskins tight end Jordan Reed should not be on anybody's waiver wire, but if he is, get him now. After a 4 week absence due to injury, Reed quickly made his presence known in Washington's Week 6 loss to the Cardinals. He was only on the field for 35 snaps, and still managed to receive a team high 11 targets, turning them into 8 catches for 92 yards in his return.
His size and athleticism makes him a tough guard for any defense. Reed's snap count should continue to rise as he gets closer to 100% healthy. With more playing time, his production will rise as well. Reed should be added in all formats, as he can be a top 5 tight end going forward.
 2)  WR Andre Holmes, OAK:
Andre Holmes has established himself as the number one option in Oakland's passing game, showing he can get the job done regardless of who his quarterback is. Last week with Matt McGloin at QB, he was able to turn 12 targets into 5 catches for 74 yards and a TD. During Week 6 with he saw 8 targets this week from Derek Carr, coming down with 4 catches for 121 yards and 2 TDs.
It's difficult to value anyone from the Raiders too highly as a consistent fantasy option, but Andre Holmes holds significant value as a wide receiver with major importance within their offense, and has major upside on a weekly basis. Holmes should be added and into starting lineups as a WR3 or a low WR2 with potential.     
 3)  RB Branden Bolden, NE:
Branden Bolden is worth a look in standard leagues now that Stevan Ridley has gone down with an ACL/MCL injury, and will most likely be out for the season. Bolden's fantasy potential is really a bit of a question mark, because he has not been given enough carries to get himself in a solid and comfortable place yet.
Bolden will definitely see his touches increase drastically in Ridley's absence, and will have to be a solid contributor to New England's offense to maintain a balanced offensive attack. This recommendation may be a little optimistic, but Bolden will be a middle-of-the-pack flex option, with low RB2 potential.  He is worth a shot out of the fantasy pickups available.
4)  QB Carson Palmer, ARI:
After returning from what looked like a never-ending nerve injury, Carson Palmer turned in a solid performance as the Cards were able to take down the Redskins in Arizona. Palmer threw for 250 yards and 2 scores without committing any turnovers. While the Cardinals stated that Palmer's arm was only at 80 percent, it was more than enough to punch holes through the woeful Redskins pass defense.
With studly receivers like Larry Fitzgerald and Michael Floyd, and a solid complimentary rushing attack led by Andre Ellington, Palmer is in a position to succeed with this versatile Arizona offense. Carson Palmer can definitely be added and used as a strong QB2 in upcoming contests with subpar pass defenses, including the Raiders, Eagles and Cowboys.