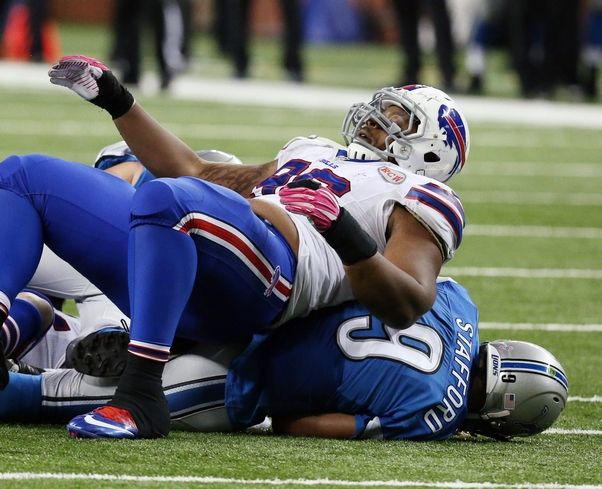 Waiver Wire Pickups -
SS George Iloka, Cincinnati (Not in current Week-6, Top-40 DBs on Fantasy Pros)
During the past two games, George Iloka has 8.5 tackles per game (6.0 solo) with 0.5 PDs per game. In Week-2 vs. Matt Ryan, Iloka had 2 interceptions and 3 PDs. He's been a high-level producer in three of his four games in 2014 (the last three played). He has played all but one snap on defense through Cincy's four games this year. 
Iloka is like a linebacker playing Strong Safety. At 6'3 and 220-pounds, he's very active, and a decent (not great) tackler. He was an average-to-good player for Boise State (63 tackles in his best season in 13 games), and was a 2012 5th-round draft pick for Cincinnati.
Iloka is playing much better in the pros...and playing much better as of late. The one caution here is: His numbers have been rising with Vontaze Burfict sidelined. We'll have to see if Iloka's spike is his experience shining through, or if he's just taking advantage of an opportunity with Burfict out.  Either way, he is one of the more popular fantasy pickups this week.
 
ILB Avery Williamson, Tennessee (Not in current Week-6, Top-40 LBs on Fantasy Pros)
Our computer scouting models are loving what it sees so far with Avery Williamson. He's had an opportunity created by an early season-ending injury to Zach Brown, and he's coming on strong since his debut in Week-3.
During the past two weeks he's had identical tackle totals: 7 tackles, 6 solos in each game. The kicker is...he's been only played about half the defensive snaps in those two games. With more time, may come a push toward double-digit tackle totals in games…he's certainly pacing that way through the last two games. In the past three weeks, Williamson's snap counts have jumped from 13 to 26 to 54.
Williamson is a very aggressive and willing tackler. I was watching his tape against Indy and Cleveland (his last two games), and loved what I saw. Our NFL Draft scouting models liked him coming out of Kentucky this year (5th-round pick by the Titans). He has solid-OK measurables and athleticism, but his college output is what drives our computer grades: He boasted 135 tackles in 12 games in 2012, with 102 tackles in 12 games this past season. In his 2012 season, he posted 20 tackles vs. Vanderbilt...one of six games he posted 13 or more tackles in a game.
Williamson played the second most snaps of any Tennessee linebacker in Week-5 (two snaps behind Wesley Woodyard). He is a 'bet on the come' play…grabbing him right before a potential breakout…if there is one coming.
 
DT Marcell Dareus, Buffalo (Current #28 for Week-6 among the DLs)
Not that Marcell Dareus is an unknown name…most know him as the former #3 overall NFL Draft pick for Buffalo in 2011. He's been a decent pro, but not as great as once hoped. Much of what Dareus is known for is substance abuse issues and/or weight problems during the offseason. 
Something has changed of late: Dareus has 5.0 sacks in his last three games, including 3.0 sacks last week against the Lions. He may just be on a hot streak, but his recent run is leaving him a little undervalued, and available off waivers for many this week.
-- R.C. Fischer