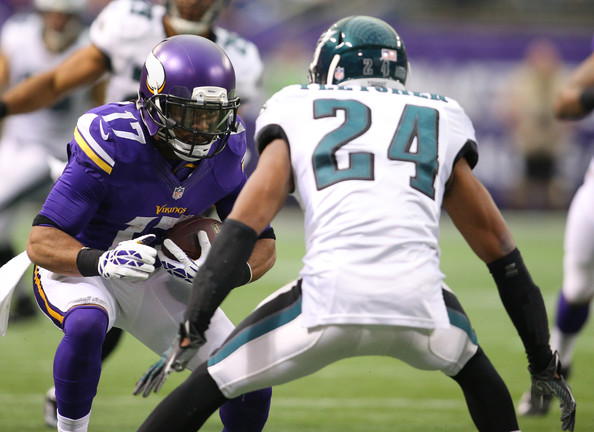 Waiver Wire Pickups -
DB: Bradley Fletcher, Philadelphia
During the past two weeks, Bradley Fletcher has averaged 8.0 tackles (7.0 solo) and 2.0 PDs. In fact, he has two PDs in each of his last three games. He's a corner back making aggressive tackles, and he is one of the league leaders in PDs. Visually, I think Fletcher has been playing some of the best all-around CB in the entire NFL. He should continue to see action as teams shy away from Cary Williams on the other side of the ball, making him one of the better options out of the fantasy pickups.

Fletcher is a former early 3rd-round draft pick of the St. Louis Rams (2009), who has been much better since moving on to Philadelphia. There are plenty of snaps and plays happening in Eagles games (SF had 42+ minutes Time of Possession alone last week.) Look for Fletcher to keep producing solid IDP numbers...and he is due for an interception (he has been close several times this season).
 
 
LB: Justin Durant, Dallas
Justin Durant has always been a 'solid' NFL LB, but he's never been 'great' for output. In his first seven seasons (2007-13), his best season was 2012 with Detroit, where he made 103 tackles in 16 games. It's the only time in his seven NFL seasons that he has played all 16 games. Outside of that, he has been a 10-14 game per season guy.
 
During 2014, Durant has already missed two games with nagging injuries. However, in the two games he has played: 8.0 tackles (5.0 solo) and 1.5 PDs. Durant has averaged 2.3 PDs per season over his seven years/89 games played...but he already had three PDs in his two games this season. In addition, he has an interception and forced fumble to his credit this year.
 
Coming out of Hampton in 2007, he was a mid-2nd-round draft pick for Jacksonville, and was a tremendous athlete (4.5+ 40-time, great agility, 25 bench reps). Up until this season, he has never never had strong numbers, but this season, playing in Weeks 1 and 4...he's made eight tackles in each game. To be fair, the Cowboys have a had several injuries to deal with on defense (now, Bruce Carter is going to be out, which pushes up Durant's stock), so this is probably more of a 'of the moment' spike, but it's something to watch if the Cowboys continue to deal with injuries with their front-seven.

DT Chris Jones, New England
At our NFL Draft scouting website College Football Metrics.com, we rated Chris Jones as one of the best 4-3 DT prospects in the 2013 NFL Draft. He has an amazing burst/push off the line, and a knack for getting into the backfield. He is an undersized DT, who uses speed as his weapon. He was the 2012 MAC Conference Defensive Player of the Year, tallying 42 tackles, 19.5 TFLs, and 12.5 sacks in 13 games. He led the MAC Conference in sacks that season, and was #9 in the nation as well. He can play.
Last year, when thrust into playing time due to Pats D-Line injuries, Jones responded with 6.0 sacks in 12 games he really played in (amazing for a rookie DT, playing out of position in a 3-4 from time to time). He also had three games last year where he had eight or more tackles in a game...again, stellar for a DT for Fantasy Football purposes.
Jones missed Week-1 this year, and has been a little banged up so far, but is showing signs of getting back up to speed: He's grabbed 2.5 tackles per game the last two weeks, and got a half a sack at KC Monday Night. Jones is not a feature DT...but somehow he always seems to find numbers for Fantasy. Keep him on a watch list.
-- R.C. Fischer