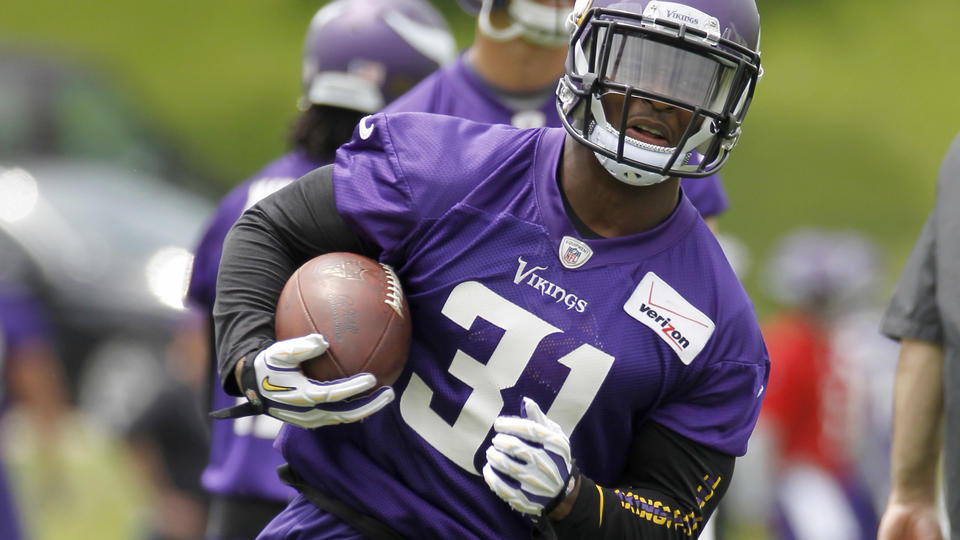 Waiver Wire Pickups - 
Running Backs Jerick McKinnon and Matt Asiata, MIN:
Jerick McKinnon is nothing short of a freak athlete and is clearly the more impressive of the two tailbacks in Minnesota. It didn't take him long to break out as he rushed for 135 yards and 18 carries against the Atlanta Falcons. Although he is still considered the "change-of-pace" back by Head Coach Mike Zimmer, his play shows how much more fit he is to lead Minnesota's backfield after averaging a whopping 7.5 yards per carry.  Definitely one of the better fantasy pickups around.
The current lead back is of course Matt Asiata. He led the Vikings backfield during Week 4 with 20 carries for 78 yards and 3 scores. At this point in the season, either player will give your team a solid boost. But if you are thinking long-term, grab McKinnon if you can. He should be added in all standard leagues as a strong flex play with major upside in the foreseeable future, while Asiata is more of a low-rate flex/bye week replacement tailback with little room to grow down the line.
WR Jarius Wright, MIN:
Wright had an impressive showing during Week 4, breaking out for a team leading 8 catches and 132 yards. Quarterback Teddy Bridgewater seemed very comfortable leaning on Wright for production, targeting him ten times. This is a bit of surprise in that he plays behind Greg Jennings and Cordarelle Patterson.
Wright was on the field much more during Week 4 due to the amount of 3 WR sets the Vikings ran, partly because of Kyle Rudolph's absence. As for now, Jarius Wright is yet to be a reliable standard fantasy league wideout, but if he and Bridgewater continue to build rapport, he could be worth a look down the road.
QB Teddy Bridgewater, MIN:
Bridgewater led the Vikings to a win in his first start as an NFL quarterback and is only going to get better. He went 19-30 through the air for 317 yards and no touchdowns, but picked up a score on the ground to go along 27 yards on 5 carries. With Matt Cassel going down to injury, Bridgewater was thrown into the fire.
He ran the offense efficiently, looked comfortable and avoided committing any turnovers, which is a positive sign that he will be solidified as their starter for the future. Bridgewater could be added as a back up QB/bye week replacement in standard leagues because of his potential, as well as the Vikings soft schedule.