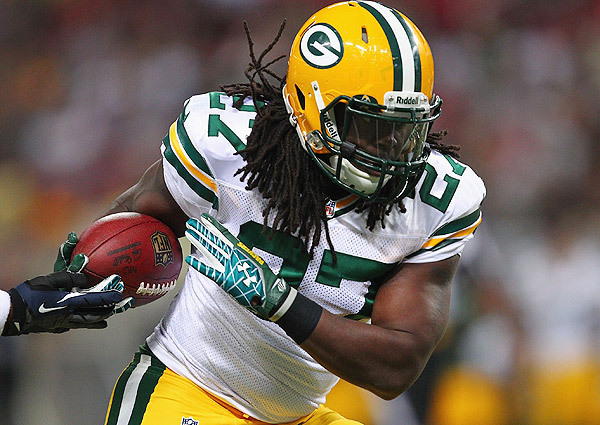 RB Fantasy News -
Many owners drafted Eddie Lacy with their first pick in this year's draft with the hopes that he would build on a stellar rookie season and be a top 5 fantasy RB this year. In three weeks, Lacy has not eclipsed the double-digit fantasy mark in any game. 
Coach Mike McCarthy called out Eddie Lacy at

Monday's

press conference, and said Lacy "needs to play better." "I'm not going to do this anymore. I don't correct individuals in the media. We've seen the film, corrections have been made, our running game wasn't nearly what it needed to be. Not even close," McCarthy said.
Is Lacy suffering from a sophomore slump or is there more to the story?
Lacy has had three extremely difficult match-ups having to face Seattle, New York (Jets) and Detroit. In Week One, Green Bay suffered several injuries on their offensive line and Lacy left the game early with a concussion.
Lacy has had no room to run and he's not the only Packer that's struggling through the first three games this season. Aaron Rodgers is also off to a slow start due to the injuries and poor play from his offensive line. Green Bay's entire offense has looked very average through the first three weeks of the year.
Lacy owners need to be patient and expect good things this week as the Packers take on the 26th ranked run defense, Chicago. As Aaron Rodgers gets out of his slump, so will Lacy, as defenses won't be able to load the box if Rodgers is back to his normal self. Aaron Rodgers is on record telling the Packers faithful to "RELAX" and Lacy owners should do the same.  He is still a top RB fantasy football option.
For the most up to date RB news, check in with ASL!