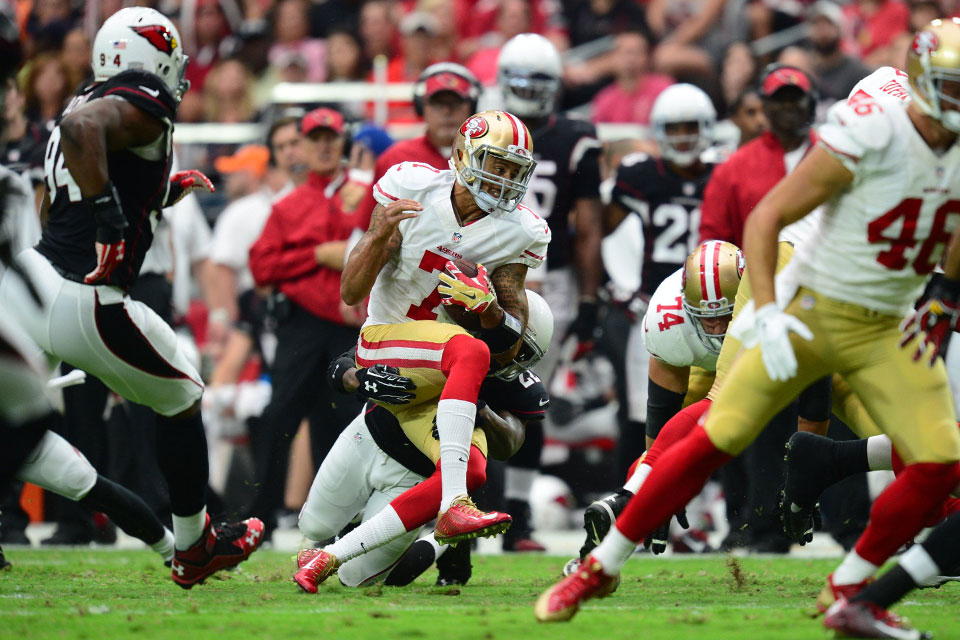 Fantasy Focus Update -
Coming into the season, the San Francisco 49ers were a depleted team. Although they had been to three straight NFC Championship games, injuries and suspensions rendered them a different squad.
However, many of those roster losses were on the defensive side of the ball.
So, what is the deal with the 49ers on offense?
Arizona dropped them to 1-2 on the season, and held a once potent offensive attack to 14 points. Many of Colin Kaepernick's game stats look good on paper, but he only scored one touchdown. He did have 54 rushing yards and perhaps helped some owners to a victory, however those 54 yards led the team.
Frank Gore, San Francisco's bruiser of a running back and in theory the main ball carrier, had SIX carries for TEN yards. Ouch.  This did not make fantasy football owners very happy.
As a unit, the 49ers had 24 carries for 84 yards. That is just not the style of play we are used to seeing from them. As Darren Woodson noted on ESPN, it seems like they are trying to play more of a run and gun style of airing it out, even though they still have the personnel to play more on the ground.
As far as receivers go, Stevie Johnson and Michael Crabtree both had decent games. But again, their numbers and Kaep's numbers only led to 14 points. The name of game for nearly all leagues is touchdowns. The Niner's offensive players will be a detriment to NFL fantasy owners if they can't get in the end zone going forward.
This is not to say that San Francisco isn't loaded with weapons. Hopefully for fantasy owners, they will start clicking on a more regular basis. It's still too early to make the mistake of dropping Kaepernick, Gore or even Crabtree. However, a few more games like Week 3 could force fantasy owners to cut bait and look for greener pastures.  Stay tuned for NFL player news concerning this cast of characters.