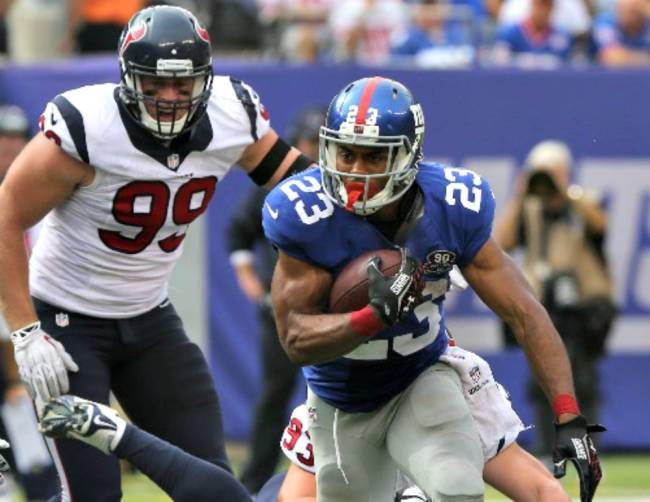 RB Fantasy News -
Rashad Jennings shredded the Texans run defense yesterday racking up 176 yards on 34 carries and scoring a touchdown. This was an unexpected performance as the G-Men routed Houston by a final count of 30-17.
Jennings breakout game seemingly came out of nowhere and he proved he can be a starting RB fantasy football option.
After the first two games of the season, the 29-year-old running back was on the cusp. He was the lone bright spot for the New York Giants offense this season, but his numbers weren't exactly overwhelming.
Most pundits expected him to come crashing back to earth against the Texans, but instead he crashed the Texans party and gave wayward fantasy owners something to smile about.
Jennings Week 3 power running seemed to galvanize the team in every facet of the game. Week 3 is kind of early to hit the panic button, but the Giants would have been hard-pressed to work themselves out of a 0-3 hole.
Jennings must be in your fantasy lineup for this week's Thursday night game against a surprising Redskins run defense. It won't be a cake walk for Jennings, but he is close to cementing himself as a fantasy RB (low-end RB1).
Stay tuned to ASL RB news for more RB updates!