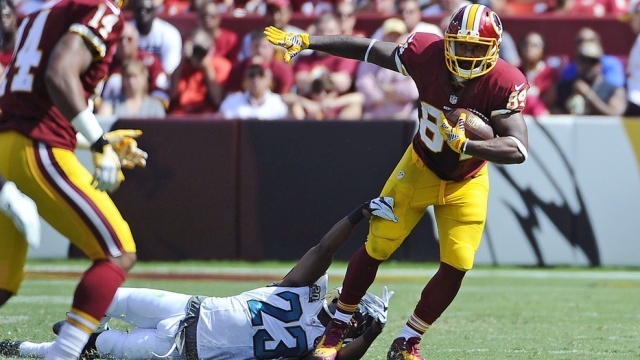 Fantasy Waiver Wire Pickups
Week 2 is in the books and I know what you were thinking after you read my last "Fire Sale." You thought, "He's being hard on Toby Gerhart. It's not as if things can get any worse than they did in Week 1. The worst must be behind us." Can't get any worse, huh? How does seven carries for 8 yards feel?
I'll be honest, I was so mad on Sunday I was trying to change rules in my leagues so I could cut Gerhart during the game. I would complain about what's going on in Jacksonville right now in regards to the Jaguars still passing Chad Henne off as an NFL quarterback, but who would listen? Seriously, there are only like 300 Jaguars fans in existence and the league can't wait to move the team. Henne? Hey, call up Brian Griese and see if he's still interested in playing in the NFL, too. How long do you want to watch Henne fail? It's painful.

To be fair to Henne and Gerhart, though, while one shouldn't be starting and the other was selected too high in fantasy drafts, at least they're trying. It's only Week 2 and Jacksonville's offensive line has already quit. If you think the Jaguars were giving effort against Washington on Sunday, you probably need to look up the definition of the word "effort."

Now on with The Fire Sale …
Going Up
Niles Paul, TE, Washington – Paul is a former college receiver and on Sunday he looked like an NFL receiver playing tight end when he ripped the Jacksonville defense. Filling in for Jordan Reed, Paul caught eight passes for 99 yards and a touchdown on 11 targets.

I'm all in on Paul. If you read this column you know I use two things to make fantasy predictions: my eyes and my gut. It doesn't always pan out but I'm not really the cautious type. When I see a player I think looks like he has "it," I put all my chips in the pot. I think Paul has "it." Advanced Sports Logic's The Machine is also high on Paul as one of the top free agents.

Some people are going to warn that Paul's production will decline once Reed returns. I have two arguments against that theory. First, Reed will probably stay healthy for about five minutes. Second, coach Jay Gruden ran a lot of two-tight end sets when he was the offensive coordinator with Cincinnati, so I expect both Reed and Paul to be on the field at the same time.

I recommend grabbing Paul this week as one of the better fantasy pickups. My eyes and gut tell me he's the real deal.
Isaiah Crowell, RB, Cleveland – I remember when I saw Crowell as a freshman running back at Georgia. I thought he was going to be Todd Gurley; meaning the best back in the country. Then Crowell decided to flush his college career down the toilet and ended up going undrafted.

A couple of weeks ago I mentioned Houston's Alfred Blue and how he was a highly touted recruit but injuries derailed him in college. Crowell was a five-star recruit, so the talent is obviously there. I also saw Terrance West play some at Towson, and, while I like him, I always thought he danced a bit much when a hole didn't open up right away. West could get away with that at Towson but in the NFL it's not going to fly. I see West being a good, not great, NFL runner.

The Browns have two good young backs but if Ben Tate can't stay healthy, I could see Crowell emerging as the better fantasy option over time. Crowell has rushed for 86 yards and two scores on just 16 carries this season. He's a guy to watch both this year and beyond.
Donald Brown, RB, San Diego – I remember once some fantasy "expert" predicted Brown would win the Rookie of the Year award after he was drafted by Indianapolis. What a boob.

Brown never reached the level some boob predicted he would, but he's still a solid back who will put up good fantasy numbers over the next 4-6 weeks filling in for Ryan Mathews . Danny Woodhead's role won't change much. He's still going to be the same player with or without Mathews. You'll see Brown get around 15-22 carries, depending on the flow of the game.

On another note, I love this Chargers team. I still don't know how they lost the opener to Arizona. Then I told my cousin to bet the Chargers' money line against Seattle but instead he put $500 on Seattle -5.5. He's a boob, too. I think San Diego is a legitimate Super Bowl contender and will give the Denver Broncos everything they can handle in the AFC West. This is coming from the guy who last year said San Diego would win four games and it was time to blow the team up.

Brown should be one of your top waiver wire priorities this week. He'll be a viable RB2/flex option until Mathews returns.