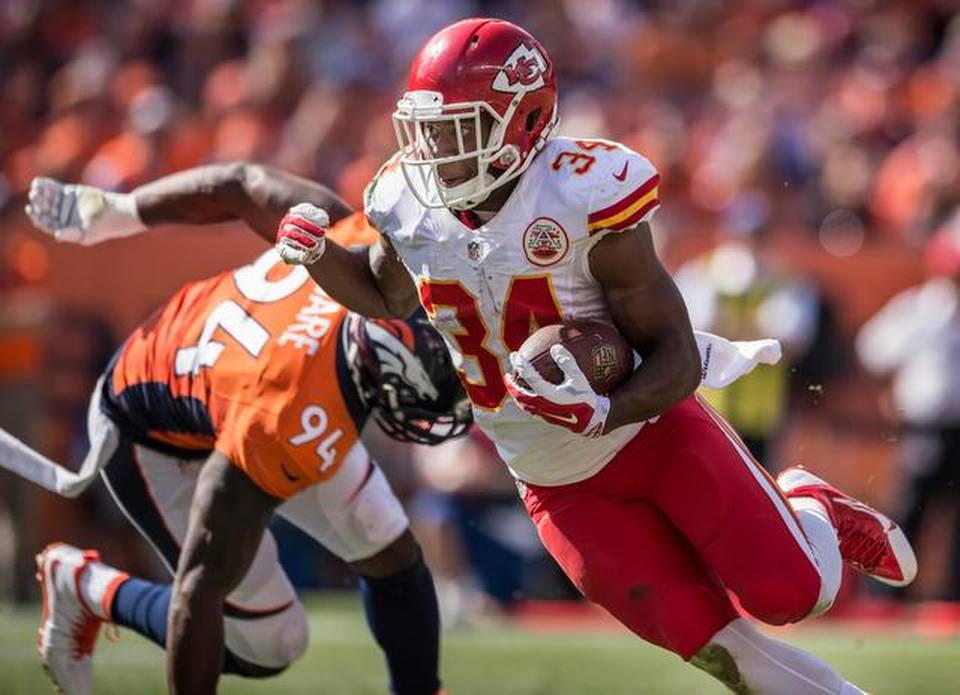 Fantasy Waiver Wire Pickups-  
It's time for fantasy managers to step up to the plate and navigate the treacherous waters of the NFL's injury pool. Marquee players are dropping like flies and the waiver wire is your only life line. With big names like Jamaal Charles, Doug Martin, Vernon Davis and Mark Ingram going down, replacements are necessary for the time being. Here are some of the nuggets that could turn into fantasy gold.
1. Knile Davis, KC:
Davis racked up 105 total yards and 2 rushing touchdowns as he took over for the fallen Jamaal Charles. Charles is easily a top 3 fantasy running back when healthy, and his high-ankle sprain could keep him sidelined for a couple weeks. Chiefs coach Andy Reid spoke of keeping a relatively consistent game plan with Davis at the forefront and he expects him to succeed in the system. Davis has shown his ability to be a difference maker and he will be relied upon to produce heavily, especially with Kansas City's lackluster passing game. Davis can be considered a high RB2 or low-end RB1 this weekend when the Chiefs travel to Miami.
2. Antonio Gates, SD:
Just when you think he's on his way out, he regains fantasy relevance with yet another breakout performance. Antonio Gates torched the Seahawks defense for 96 yards and 3 touchdowns, pulling down all 7 of his targets. Gates was listed as questionable for almost the entire week leading up to Sunday's contest, but there was nothing questionable about his connection with QB Philip Rivers. He almost singlehandedly took down the Super Bowl champs, as he was the only one to find the end zone. Expect Gates to continue his high level of production as long as he can stay healthy, making him a top 10 TE with his experience and the trust Rivers has in him.
3. Jeremy Hill, CIN:
Hill's touches improved significantly between the first two contests, but nothing should be take bout of proportion here. He got 17 touches this time as opposed to only 4 in week 1, but Bernard was still favored with 32 total touches. Hill's role should continue to expand as the Bengals exploit defenses with their "thunder and lightning" combination backfield. The rookie out of LSU put up a very solid performance, racking up 74 yards and a TD on 15 rushes, posting an average of 4.9 yards per carry. Hold onto Hill as a low-end RB2 with major upside, as his goal line presence should be something to look forward to.
4. Donald Brown, SD:
With starting running back Ryan Mathews out of commission for at least 4-6 weeks with an MCL sprain, it is to be expected that Donald Brown will pick up most of if not all of his workload. Brown has not has a breakout performance in his first two weeks, but he has the chance to do so as San Diego's starter with Mathews out. Brown is coming off his best season yet, rushing for 5.3 yards per carry and 6 touchdowns for the Indianapolis Colts. As he gets more comfortable in the Chargers offense, it is not too farfetched to see him as a middle-of-the-pack RB2.  One of the most recommended fantasy pickups this week.