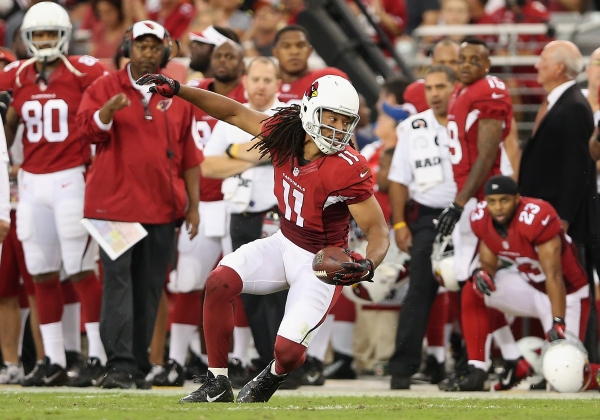 WR Fantasy Football News - 
Fitzgerald is coming off of one of his worst seasons in recent memory. The future Hall of Famer and fantasy WR stud did have 10 TD's and 954 Receiving Yards in 2013, but had quite a few games where he was a virtual no-show and anything but a superstar. 
One week into the 2014 season, and Fitzgerald has one catch for 22 yards. He had zero targets in the first half and only four total targets for the game. Not only is Fitzgerald not a WR1, he's not even the most valuable receiver on his team from a fantasy perspective.  
It seems clear that Fitzgerald has lost a step and won't be stretching the field like he once did, but it's too early to bail on him yet. In WR fantasy news, Fitzgerald has a great match-up against a Giants team that just got torched by Megatron and the Detroit Lions. He's worthy of a start as a WR2 or Flex play this week. If he can't put some good numbers this week it may be time to hit the panic button.
Fitzgerald still has the skills and football IQ to contribute at a high level and as long as he's not playing Seattle or maybe San Francisco on the road, he should bring strong fantasy value to the table. With several good match-ups this season against opponents such as the Giants, Redskins, Raiders, Eagles, Cowboys, Rams and Lions, it's worth rolling the dice with Fitz as he will be doing his absolute best to put up big numbers in hopes of getting a new contract for the 2015 season.
Many owners tend to panic in Week 1 and pull the plug on older players because of a poor outing. However, Week 1 is always a bit of an anomaly and Fitzgerald has a proven track record that can not be discounted.
For the most comprehensive WR news keep reading ASL!