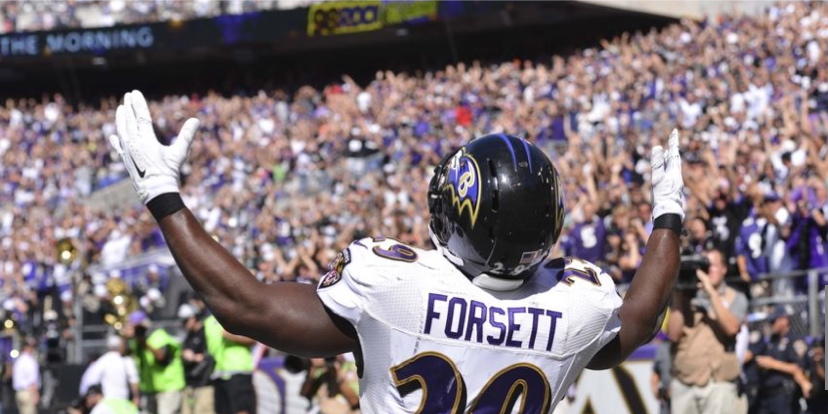 RB Fantasy News - 
The Baltimore Ravens are seriously lacking depth at the running back position following the release of former star tailback Ray Rice. The current listed starter is 24-year-old Bernard Pierce, followed by the underwhelming alternatives of Justin Forsett and Lorenzo Taliaferro. Pierce struggled to get anything going during Week 1 and found himself on the bench after an early fumble.
Forsett rode out a hot streak, while Taliaferro received zero carries. None of them have proven that they can be a solid and reliable starting fantasy RBs, which leaves Baltimore searching for options.
For now, Baltimore will likely be looking at a "running back by committee" approach. Forsett and Pierce will likely split carries until one of them emerges as the clear-cut and better fit back.  Check out RB news for updates on who to snatch up as a RB fantasy football option.
Forsett should lead the pack for the Ravens Thursday night showdown against the division rival Pittsburgh Steelers after rumbling for 70 yards and 1 touchdown in their loss to the Cincinnati Bengals.
The Ravens might also pursue a possible replacement through free agency. It might be worth a shot to take a chance on LaMichael James. James has just cleared waivers after being granted the wish of a release from the San Francisco 49ers and could turn out to be a moderate threat if given the opportunity to do so.
James had a very successful 3-year-career at Oregon, rushing for a total of 5,082 yards and 53 touchdowns, while picking up 6.6 yards per carry. His opportunities in the NFL have been limited behind Frank Gore, and this pairing could benefit both sides.
At this point, expect Forsett and Pierce to split carries for the most part, with Pierce becoming the lead back when all is said and done. Neither RB should be trusted as fantasy options in Week 2, as they can both be considered weak flex options. Keep an eye on the LaMichael James situation moving forward, as he could shake up Baltimore's tailback situation.