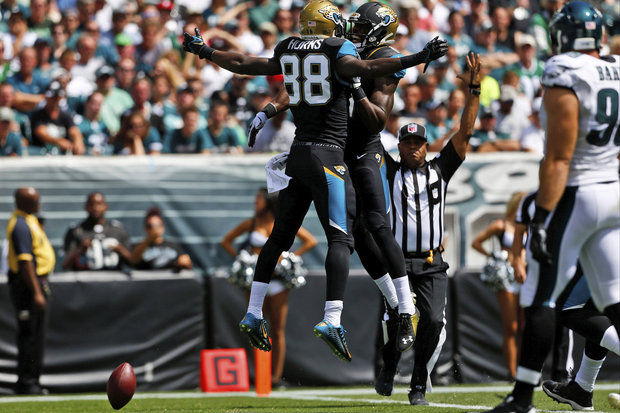 Fantasy Waiver Wire Pickups
As NFL Week 1 wrapped up, several unexpected fantasy heroes popped up and gained relevance in the fantasy football world. The question now shifts to whether or not they have earned a spot on your fantasy roster.
1. WR - Allen Hurns, JAC:
Hurns thrived in his first career start, exploding for 110 receiving yards and 2 touchdowns on 4 catches. He even looked solid in the preseason, putting up 232 yards and 1 touchdown on 136 total snaps. However, his situation will make it difficult for him to have breakout performances on a weekly basis. He only got the start at wideout since Cecil Shorts sustained a hamstring injury. It's also hard to believe that Jacksonville can prove to be a successful passing offense with the quarterback controversy between Blake Bortles and Chad Henne. The undrafted rookie shows promise, but should not be seen as a player with serious fantasy relevance at this point in time.
2. WR - Steve Smith, BAL:
It'a hard to think of Steve Smith as one of the top fantasy pickups of the week, but you better believe it. The 35-year-old veteran shined in his Ravens debut, grabbing 7 receptions for 118 yards and 1 touchdown. The 1 TD was for 80 yards, which included multiple broken tackles. Smith looks to be cornerstone in Baltimore's passing game, as he serves as a brilliant compliment to Torrey Smith, and a versatile weapon to QB Joe Flacco. Steve Smith is the starting WR2 in their offense, and that spot is most definitely secure. The best evidence of his fantasy potential comes from an important statistic, targets. Smith was targeted 15 times in Sunday's contest, showing that he and Joe Flacco have already established some sort of connection. Look for the former Carolina Panthers star to shine in this new offense, and put up low WR2/high WR3 numbers on a nearly consistent basis.
3. RB Justin Forsett, BAL:
Forsett was very impressive in Baltimore's 23-16 loss to the Cincinnati Bengals. After lead back Bernard Pierce fumbled the ball away, Forsett took over the position. Forsett handled himself well, posting 70 yards and 1 TD off of 11 carries. Pierce was quickly benched after one mistake, suggesting that he may not have had the full support of his coaching staff to begin with. In addition, suspended HB Ray Rice was released into free agency after a more grotesque video of his domestic violence incident was leaked. These two giant mishaps in the Ravens backfield have helped Forsett emerge as the starter for now. At least for Week 2, Forsett can be added and be used as a low RB2/Flex option against Pittsburgh. His starting spot is nowhere near secure at this time, but he will be given the opportunity to prove himself on Thursday night.  Definitely one of the best fantasy pickups this week.