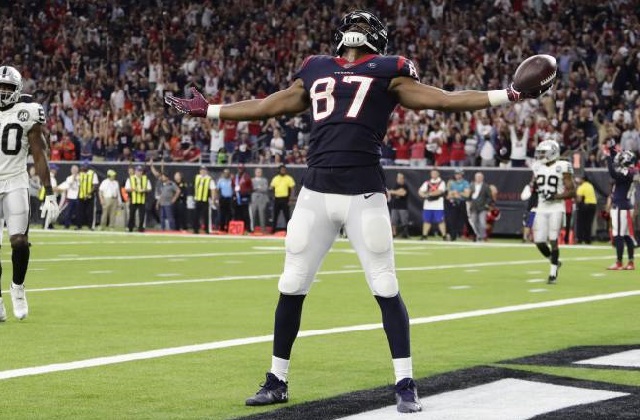 Written by Michael Morrow
29 October 2019
Running Backs
Tra Carson (0.1%) – DET – 2.3 avg.
Last week many, including myself, thought Ty Johnson was the clear replacement for Kerryon Johnson. However, recently signed Tra Carson found himself leading the team in carries with 12. His final stat line was not anything to get excited about as he only ran for 34 yards. A bright spot here is that his three counterparts, Johnson, Paul Perkins, and J.D. McKissic combined for only 28 yards on 11 carries. In deeper formats, grab Tra Carson.
Gio Bernard (15.6%) – CIN – 3 avg.
This is based on pure speculation that the Bengals are going to move Joe Mixon before the 4pm deadline today. If that's the case, Bernard becomes the clear no. 1 back on the roster… but take that for what's its worth in Cincinnati. Nonetheless, if you have the roster space, especially as we get down into the second half of the season, it's worth the outside chance!
Wide Receivers
Darius Slayton (9.8%) – NYG – 8.5 avg.
I'm pretty sure anyone who owns Saquon Barkley, including myself, gets annoyed when they see a touchdown scored by the Giants and it ends up being Darius Slayton. In his last 4 games, Slayton has only caught 11 passes for 172 yards… not that impressive, but in those 11 passes, 4 of them have been touchdowns. In non-ppr formats this could be a useful addition as he seems to have developed the trust of rookie QB Daniel Jones.
Alex Erickson (2.7%) – CIN – 2.7 avg.
From the standpoint that the Bengals will be behind in a lot of games and throwing the football often, Erickson makes a lot of sense as a deeper league addition. In his last two games he has 14 receptions for 234 yards. I didn't believe any Bengals receiver would be worth an addition after the loss of John Ross, but Erickson has been impressive and will look to continue his hot streak in Week 10 against Baltimore.
Tight Ends
Darren Fells (11.6%) – HOU – 7.7 avg.
In the thinnest position in Football, Fells could give you some points if you play him based on matchups. This past week against Oakland, Fells caught 6 passes for 58 yards and two touchdowns, which was his second multi-touchdown game this season. Additionally, he has reeled in all his red-zone targets (7) which have resulted in 5 touchdowns. I'm no math expert, but catching 100% of your red-zone targets will probably earn you some more from your QB.
Dallas Goedert (32.1%) – PHI – 5.6 avg.
With teammate Zach Ertz not performing to fantasy owners usual standards, go grab Goedert who has made the most of his opportunities. He has scored in 3 of his last 5 games, with those 3 games being against pretty good defenses. Perhaps he is reaping the benefits of these defenses committed to slowing down Ertz? Goedert is certainly worth an add, and a start this week against Chicago.