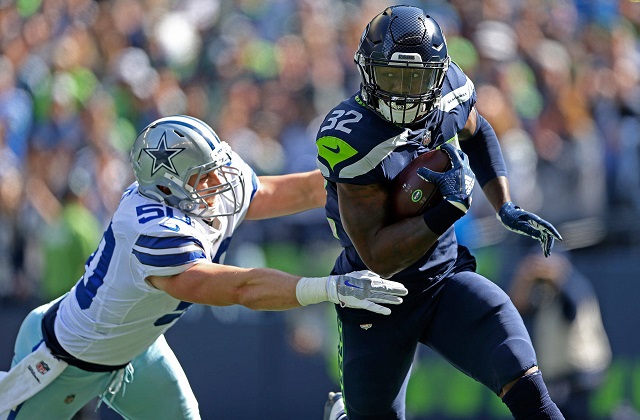 Written by Chris Hexter
24 October 2019
Two weeks in a row and I am going to talk about the Patriots defense again, but every week this defense has been a saving grace for some and an annoyance for most. Another huge output from this defense has made it one of the top scoring fantasy assets no matter the position. Sheesh. Anyways, I hope last week's article did you all well. Here is to another week of fantasy football!
Starts

QB - Matthew Stafford | Detroit Lions (vs. Giants)
This is a little risky only that I could just go with Deshaun Watson or Aaron Rodgers and be done with this. But just like our Ben Muell states in his "Streamers" article, Matthew Stafford will be leaned on this week without their star running back, Kerryon Johnson, out on IR. Stafford is available in a surprising amount of leagues and should be rostered, especially while Kerryon is out. The Giants secondary shouldn't scare anyone so Stafford seems like a nice play this week. If you have a quarterback on bye or injured then Stafford could be a nice play next week versus the Raiders.

RB - Chris Carson | Seattle Seahawks (vs. Falcons)
Look, I am trying to avoid picking players that go up against Atlanta but this can't go unmentioned. The Falcons are worse against the pass than they are the rush. However, they are bad against the rush. All Carson needs to do is catch three passes and tote the ball 20 times and you have a surefire RB1 against this defense. I also think the Seahawks will be up in this game and should warrant more confidence Carson will get the touches to deliver RB1 numbers.

WR - Kenny Stills | Houston Texans (vs. Raiders)
What? I could've put Deandre Hopkins but that wouldn't be much fun. Instead, I'll go with the guy playing opposite of him who's now in the Will Fuller role. Kenny Stills will have the opportunity to run the deep ball routes for a Texans team that doesn't mind tossing it deep. I also believe he has a better route tree than Fuller, allowing him to see more targets underneath. Oh, and they are going up against a bad passing defense that just got rid of Gareon Conely... after they were torched by Aaron Rodgers.

TE - Jonnu Smith | Tennessee Titans (vs. Buccaneers)
If Delanie Walker is not playing in this game, Smith could be a top 5 tight end this week. This Titans offense seems to be trending in the right direction under Tannehill. I believe it too, otherwise there wouldn't be a Titan in this article. I like the whole offense as an upgrade, especially in this matchup. But, I'll take the athletic freak of a tight end against the second worst defense when covering the position. NOTE: If Delanie plays, I am more skeptical. I would rather start TJ Hockenson, who has at least flashed some nice upside so far this year.

D/ST - Carolina Panthers (vs. 49ers)
I know, I'm a homer. Laugh it up. Yes, I am saying play a defense against a 7-0 team. I just don't believe in this offense if it can't run the ball. Jimmy Garoppolo has thrown six interceptions this year, which is one short of his touchdown total. Add in that the Panthers are a top fantasy defense and fresh off their bye; I'll take the gamble. The 49er defense could win them this game, but that offense will not.
Sits


QB - Carson Wentz | Philadelphia Eagles (vs. Bills)

Wentz
gets to travel to the Bills where they have given up the fewest fantasy points to quarterbacks over the past few years when at home. Some of you find it hard to believe but this is a good defense. The Eagles will try to establish that run game while Wentz will struggle to put up a good stat line. I think you have better options, but if you don't… fingers crossed.


RB - Derrick Henry | Tennessee Titans (vs. Buccaneers)

Chris, didn't you just say the Tennessee offense is trending in the right direction? Why is their best offensive weapon on your "Sit" list? Well, because Tampa Bay know's he is their best weapon and have been great against the run. The Buccaneers would also rather let Tannehill try to beat them than to have Henry run amok. Henry could salvage a fantasy day with a touchdown… but not this week.


WR - Allen Robinson II | Chicago Bears (vs. Chargers)

The Bears offense is bad and lately their defense has been exposed to the run. The formula for this team to get back on track will come at the helm of their ball carriers. They have not been running the ball, but Matt Nagy is no idiot. Obviously. The Chargers are beatable on the ground, making this a nice game for the running backs. However, the passing attack will struggle. The Chargers are a very good passing defense and it would be wise to keep Trubisky from throwing the ball over thirty times a game. Sit pass catchers in this game, including Robinson.


TE - Jimmy Graham | Green Bay Packers (vs. Chiefs)

Jimmy Graham
had a nice game last week, but so did the rest of Green Bay's band of misfit receivers. The Chiefs have been very good against opposing tight ends and decent against wide receivers. However, this doesn't really speak to the greatness of the Chief secondary but more so their poor run defense. Teams know that if you want to beat this defense easily, you run the ball. The Chiefs will sit back and await Rodgers while LaFluer says, "hold my beer" and has his running backs combine for over 30 rushing attempts in this game. Sit Graham in a game that will be more rushing focused and is a tough positional matchup.


D/ST - Cleveland Browns (vs. Patriots)

The Patriots offense is great. I know, shocker! Their defense is also really good. So, I expect they will often receive nice field position and make anyone who plays this defense (for any reason) channel their inner Nagy and say, "I know I shouldn't have played the Browns defense, I'm not an idiot." I do want to say, I put this team here because they have a nice schedule coming up and this really isn't a terrible defense. So, it won't be crazy when you see people who stream defenses, to have the Browns in their lineups next week.