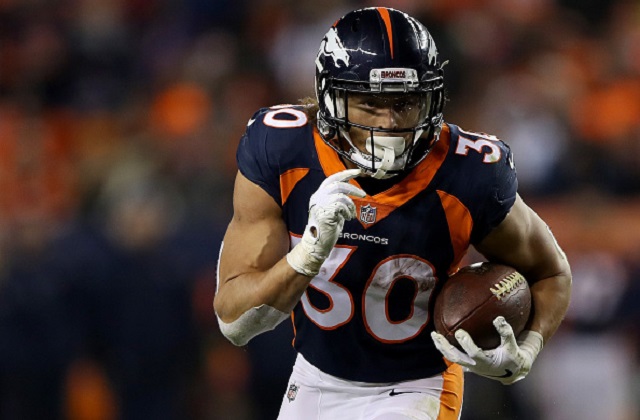 Written by Chris Hexter
15 October 2019
Seattle Seahawks
Injury
Will Dissly (O-Achilles)
Opportunity
Luke Willson (TE2)
Ed Dickson (TE2)
Dissly was enjoying a breakout campaign before he suffered an achilles injury on his first target against the Browns. The tight end landscape is rough, and it is not getting any better. Still, someone can play the Dissly role in this offense. Luke Willson knows this offense and should play well in Dissly's absence. But I am intrigued by Ed Dickson once he comes back in two weeks from his injury. Dickson is an athletic tight end who can fill in nicely for Dissly. Look to the waiver wire, if Henderson or Henry (for some reason) are on the waiver wire, pick them up. If you are struggling at tight end, look for Willson to be a nice TE2 play until things get muggy with the return of Dickson.
Dallas Cowboys
Injury
Amari Cooper (Q-Thigh)
Opportunity
Michael Gallup (WR2)
Jason Witten (TE2)
Cooper has been nothing short of amazing for fantasy owners. That's why this bruise on his thigh is frustrating fantasy owners and Cowboy fans alike. What most thought was a harmless injury, like running into the side of the table, it wouldn't sideline you from work for a week. But maybe this is worse than it sounds. Either way, if Cooper is to miss time then look to Gallup to continue is nice season. Gallup has already been a nice low-end WR2 with upside. Without Cooper, Gallup should be able to persevere and give owners high-end WR2 numbers with strong upside to finish a week as the WR1 against an Eagles secondary who is allowing opposing wideouts to walk into the endzone. Witten can also see a few extra targets, making him a more appealing play in PPR formats. If Amari does play, he could still be limited. I would still upgrade Gallup and Witten if Cooper is in the lineup.
New England Patriots
Injury
Josh Gordon (Q-Knee)
Opportunity
Julian Edelman (WR2)
James White (RB2)
Gordon suffered a knee injury during Thursday night's game and did not return. He was seen on the sideline riding the stationary bike, which is a good sign. If he is unable to go, Edelman will be a target hog. Just as he was after Gordon's departure, Edelman should be considered a set-it-and-forget-it WR2 with nice upside. James White should also see a few added targets with more playing time if Gordon is out. He should be in your flex if Gordon sits. The Jets won't be a tough match-up so, if Gordon does play, I won't see a situation where White will be needed much.
Denver Broncos
Injury
Emmanuel Sanders (Q-Knee)
Opportunity
Courtland Sutton (WR1)
Phillip Lindsay (RB2)
Sanders suffered a knee injury and didn't return to the second half of the contest. However, he was a limited participant in practice on Monday. You really need to monitor this as he plays on Thursday night against a poor defense who might have lost their top corner for at least a week. Sutton should dominate even if Sanders is on the field. Play Sutton with confidence. The biggest upgrade goes to Lindsay. He should have a nice game on the ground but more importantly, if Sanders misses time, Lindsay will see more passing down work. Lindsay can be a fringe RB1 this week if he touches the ball on the ground and in the air. If you are a Freeman owner, if this makes you feel better, the Broncos will game plan to run more than pass. That spells Freeman to me, so play him as a RB2 even if Sanders is good to go so flex him.
Pittsburg Steelers
Injury
James Connor (Q-Quad)
Opportunity
Benny Snell (RB2)
Con: James Connor has been on the injury report almost every week. Pro: He has a bye, so more rest coming his way. Con: He is carrying more injury risk with the hyper-usage he is receiving on a bad offense. Pro: You can sell him high.
Connor has been good for owners and he blew up against the Chargers. But he is banged up and who knows how long he can take it. He has nice slate of matchups after his bye, so it isn't like he is a must sell. But I want to test the market and aim for some players like Chubb (Kareem Hunt time approaches and this scares people), or under performers like Deandre Hopkins and see if you can maybe grab another depth player in those trades. If Connor misses time, Snell will be heavily leaned on and opportunity reigns over talent in fantasy.
Cleveland Browns
Injury
Jarvis Landry (P-Ankle)
Opportunity
Odell Beckham Jr. (WR1)
Antonio Callaway (WR3)
Jarvis suffered an ankle injury yet played 96% of snaps. He has a bye this week so, there is a strong chance he plays in their next game. If a setback occurs, OBJ is still in your lineups and Callaway would be nothing more than a cheap DFS play.
Green Bay Packers
Injury
Geronimo Allison (Q-Concussion)
Opportunity
Davante Adams (WR1)
Aaron Jones (RB1)
Jamaal Williams (RB2)
Allison suffered a concussion on Monday night and is questionable to play in Week 7. This opens up a nice return for Adams (if he comes back from turf toe). But the running backs get the bump here. The wideouts in Green Bay are not pretty and LaFleur already likes to rely on the running backs. This injury and the already scarce receiving core make both running backs decent plays, even against the Vikings defense. Aaron Jones should still be the feature even after the poor performance on Monday night. But Williams definitely earned more opportunities.