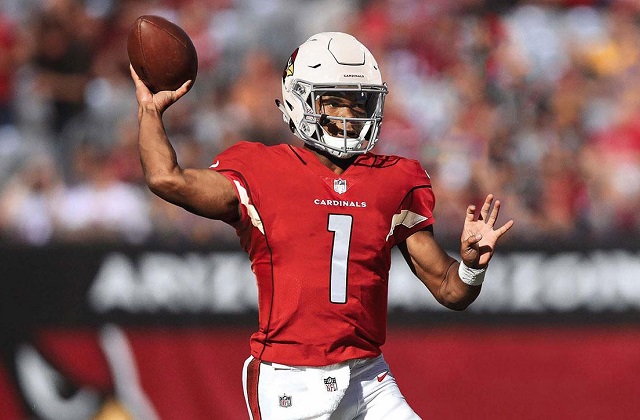 Written by Chris Hexter
10 October 2019
Starts
QB – Kyler Murray | Arizona Cardinals (vs Falcons)
So, maybe not the flashiest of names, but Kyler Murray will be a nice play this week against the non-existing defense in Atlanta. Just look at what Fuller and Watson were effortlessly doing last week and that would be enough to justify this play alone. Kingsbury is starting to draw up more plays that utilizes Kyler's scrambling ability, which is what fantasy owners love to see. If this Cardinals offense can improve on their 30% redzone touchdown rate, even by a little, Kyler will be a no-brainer start every week. I think come Sunday, Arizona will begin to improve on their redzone efficiency, making Kyler a great play.
RB – James Connor | Pittsburg Steelers (vs Chargers)
Jaylen Samuels will be out for at least a month. So it looks like Connor will be running and passing the ball out of the wildcat for the Steelers for the 100th consecutive play. On a serious note, Tomlin has made it abundantly clear he does not want either Rudolph or Hodges to throw the football. Connor will be forcefully utilized but will see the occasional rest. He should easily surpass 100 all purpose yards this week against a back-half rushing defense in the Chargers.
WR – DJ Chark Jr. | Jacksonville Jaguars (vs Saints)
If you still aren't playing Chark, then stop what you are doing, go into your fantasy lineup, and put him in. Chark isn't a household name but it's starting to look like we should treat him like one. With Minshew as his quarterback, Chark should continue to produce, especially against a secondary that is giving up over 40 points a game to the position (depending on your scoring). Play him.
TE – Austin Hooper | Atlanta Falcons (vs Cardinals)
Hooper should already be in your lineups week in and week out. But I can't pass up on this opportunity. Look, I could put the tight end that plays against the Cardinals every week in this spot, but I'm not going to do that… anymore. Austin Hooper has become a focal point in the Atlanta offense and has already been setting the world on fire. Now, he gets the best match up a tight end could dream about and not to forget, this should be a high scoring game. I couldn't resist, he had to be in this column.
D/ST – Baltimore Ravens (vs Bengals)
They've burned you for negative points... TWICE. How can you trust them? Well, I'll tell you. The Bengals, that's how. I should leave it at that, but I guess I will justify this. The Bengals offensive line is atrocious and the Ravens are among the top of the league in quarterback pressure. Andy Dalton isn't great at throwing a football (at least to his own team). No A.J. Green or a field stretcher in John Ross. And oh yeah, the Bengals aren't that great.
Sits
QB - Carson Wentz | Philadelphia Eagles (vs Vikings)
Unlike last week against the Jets, Wentz will be needed in this game. The issue is the Vikings are among the top in the league against the QB. Wentz has been up and down this year and traveling to Minnesota? This is not an appealing match-up. I would look elsewhere if you have the option.
RB - Damien Williams | Kansas City Chiefs (vs Texans)
This was a tough call, but the way to beat the Texans will be through the air and I'm sure Mahomes wants revenge after last week. You could say that the Chiefs will run more to help protect their star quarterback's ankle, and this could be true. However, this game is projected to be a passing shootout. Plus, if history has told us anything; there is no back to trust in Kansas City. With Week 6 byes rolling in, it can be hard to fill the void in your roster. But a Damien Williams play may not help that situation.
WR - JuJu Smith-Schuster | Pittsburg Steelers (vs Chargers)
This is not the prettiest of matchups for Juju. But do you want to know what's just as ugly? The person(s) who will be throwing the ball to him. JuJu has elite talent that can lead to big plays, but against the Chargers defense? With no one else around him? No thanks. After the bye, Juju will have a great stretch of games, so bare through this.
TE - Mark Andrews | Baltimore Ravens (vs Bengals)
Don't get me wrong, this is a juicy matchup but Andrews' foot issue is starting to raise some serious concern. Andrews was already on a capped snap count, now with the foot continuing to linger I expect a lot more Hayden Hurst in this game to help preserve Andrews. Watch his practice reps throughout the week, but I'm seeing red flags.
DST - San Francisco 49ers (vs Rams)
I am projecting this game to be the first loss for the 49ers. The 49ers defense has been superb up to this point, but all good things must come to an end. The Rams are good at home… really good. Even though they lost to the Bucs at home, they had to score almost 50 points to do so. Goff is a different animal at home and after two straight losses, the Rams will be playing with a little extra vengeance. This game could be a nice high scoring affair and for that, I am staying away from both defenses.
I am somewhat new to twitter (I'm a millennial too), but nonetheless, I have one. If you have any questions on who to start or sit feel free to ask away! Find me at @9__Chris__6