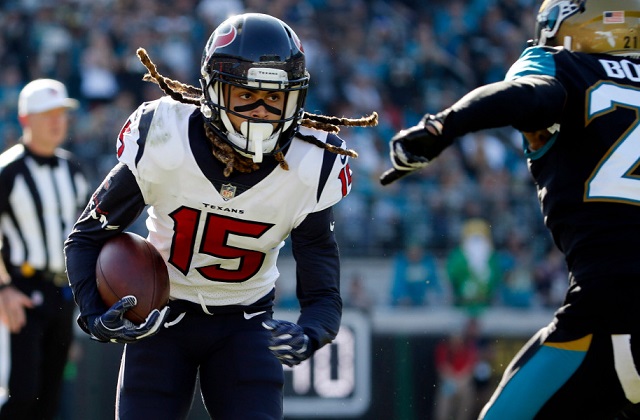 Written by Cam Harper
10 October 2019
Wouldn't it be great if we could hit an undo button in some of our leagues? The leagues where we drafted the likes of Le'Veon Bell, James Connor, Juju Smith-Schuster, or a Robert Woods just to name a few. Nobody could have predicted that the Steelers would be playing Delvin Hodges against the Chargers in Week 6, or that the return of Cooper Kupp would hinder Woods and Cooks so much. Michael Gallup and DJ Chark have been phenomenal, and they were both likely drafted after the tenth round. It makes you wonder how good your team could have been if we could all time travel.
Either way, here we all are, and we must make do with what we have. Nobody ever said it would be easy to win a championship.
Here are my starts and sits for Week 6:
Start 'Em QBs
Matt Ryan, Atlanta Falcons (@ ARI)
Despite the Falcons having a rough start to the season, Matt Ryan is still performing as one of the top fantasy QBs. He is averaging over 44 pass attempts and has yet to throw for under 300 yards in a game. Matty Ice is against the Cardinals this week who have allowed roughly 270 yards per game through the air. The Cardinals have no means of covering all the offensive weapons in Atlanta's arsenal. This should be a big game for Matt Ryan.
Kyler Murray, Arizona Cardinals (vs ATL)
Ironically, the Falcons also have a terrible pass defense, allowing nearly 260 yards per game to the position. Murray put together a nice stat line in Week 5 against a similarly bad defense in the Bengals. He should be able to make enough big plays with his feet to turn in another big game at home this week.
Aaron Rodgers, Green Bay Packers (vs DET)
It feels weird to say that Aaron Rodgers is no longer a weekly start after his brutal start to the season. The Packers are really committed to running the ball and while that strategy has led to a successful start for their team, it's not great for Mr. State Farm himself. Fortunately, he's against one of the worst pass defenses in the league in Week 6. The Lions have surrendered over 280 yards per game to the position. Granted, that might be a little skewed because they got Mahomes'd, but nonetheless, Rodgers should have a great week back at home.
Sit 'Em QBs
Jared Goff, Los Angeles Rams (vs SF)
The 49'ers defense has been fantastic this year, especially against the pass. They are only surrendering 175 yards a game. Sure, Jared Goff is by far the best QB they have faced this season, but Jared Goff hasn't quite been the same either. He has failed to hit to 300-yard mark in 3 of his 5 games this season, and he really struggled against the similarly stout Panthers defense in Week 1. This could be another dud in the making for Goff.
Jameis Winston, Tampa Bay Buccaneers (vs CAR)
Jameis Winston is going to continue his rollercoaster of a 2019 campaign by struggling against the Panthers. The Panther rank #4 in the league in total pass defense, finding ways to nullify the pass against all their opponents so far. Winston was terrible against the Panthers in week 2, and there's no reason to believe it won't happen again.
Philip Rivers, Los Angeles Chargers (vs PIT)
Yes, the Steelers are notoriously bad when they travel to the west coast. However, the defense has been great! They have 19 sacks and over 10 turnovers. They'll be looking to get after Rivers all game to compensate for the mediocre-at-best offense they will be fielding Week 6. Rivers has had a rough start to his 2019 season, and it's not going to get better Week 6.
Start 'Em RBs
Carlos Hyde, Houston Texans (@ KC)
Carlos Hyde has become the clear lead back in Houston as he ran the ball 21 times last week against Atlanta. Hyde has another great matchup this week as the Texans take on the Chiefs. The Chiefs have offered no real answer to the position as they have allowed over 150 yards per game against the run. Hyde should have a safe RB2 floor this week.
Derrick Henry, Tennessee Titans (@ DEN)
Derrick Henry is averaging roughly 20 touches a game and is averaging 4 yards per carry in 2019. The Titans are going to want to run the ball early and often against the Broncos. The Broncos might have one of the best pass defenses in the NFL, but their run defense isn't quite as stout. Their run defense is allowing over 125 yards per game to opposing running backs, and that number isn't going to improve against Henry.
Chris Carson, Seattle Seahawks (@ CLE)
Chris Carson ran the ball 27 times against the Rams last Thursday night - 27! That shows that the Seahawks staff trusts Carson with the ball in close games. While this game against the Browns probably won't be close, Carson should see plenty of opportunities against the fourth worst run defense in the league, who is allowing over 150 yards a game to opposing backs.
Sit 'Em RBs
Joe Mixon, Cincinnati Bengals (@ BAL)
Joe Mixon has been better the last few weeks, but he still has some worry spots. He has yet to rush for 100 yards in a game. He still doesn't have a touchdown. The Bengals defense is bad. The Bengals offensive line is horrendous. None of that is great news when he must travel to Baltimore and play one of the better run defenses in the league. He's an RB3 at best this week.
Jordan Howard, Philadelphia Eagles (@ MIN)
The Vikings defense has been tough, allowing just 3.7 yards per carry and a single touchdown to opposing backs. Howard has been nice the last couple weeks, scoring several goal line touchdowns. That streak is likely going to come to an end in Week 6. That news wouldn't be so bad if Howard was the clear lead back in Philadelphia, but he's not. Howard continues to split carries with Miles Sanders, making him a touchdown or bust option most weeks. Try to bench him if you can.
Todd Gurley, Los Angeles Rams (vs SF)
I listed Gurley as a sit last week and he scored two touchdowns in their loss to Seattle. I'm going to try my hand again this week as Gurley plays another great defense at home against San Francisco. If we remove Week 1, Gurley is rushing for under 3.5 yards per carry and isn't seeing a big enough work load to compensate. He also can't score two touchdowns every week. It's only a matter of time until he puts up a dud, and it's going to happen against the 49'ers.
Start 'Em WRs
Will Fuller, Houston Texans (@ KC)
I really hope you played Fuller last week, as he put up a ridiculous game against the Falcons. He reeled in 14 catches for 217 yards and three touchdowns. Look for his hot streak to continue as the Texans will likely be in yet another shootout against the Chiefs. The opportunities will be there all game as both teams look to stay in the game through the air. Fuller has WR1 upside in Week 6.
Terry McLaurin, Washington Redskins (@ MIA)
The hype cooled down quite a bit for the rookie in Washington, but he should be a nice start in a great matchup against the Dolphins. The Fins have allowed nearly 300 yards per game through the air and have conceded 12 touchdowns in four weeks. In fact, the Dolphins have allowed roughly 40 fantasy points per game to opposing wideouts. Don't be afraid to start McLaurin this week.
Davante Parker, Miami Dolphins (vs WAS)
Who would have ever thought that the Redskins and Dolphins might be in a high scoring affair? But here we are. The Redskins also offer one of the worst pass defenses in the NFL. It's going to be a battle of the bad in Washington, with one of the teams leaving Miami with their first win. Davante has a real shot to have a breakout game in Week 6. He has seen an increased number of targets each of his last three games. If this game does turn into a shootout, Parker could be the sneaky play of the week.
Sit 'Em WRs
Robert Woods, Los Angeles Rams (vs SF)
I promise I don't hate the Rams! This is just a bad matchup across the board for them. Woods has struggled to retain his WR1 status amongst fantasy circles and, like I mentioned with Goff, the 49ers are allowing under 200 yards per game to opposing wideouts. This is a scary matchup, even for Cooper Kupp who has been the lone standout for the Rams this season. Woods has yet to score a touchdown this season, and the odds are not in his favor to pick up his first against a team who has conceded just five all year.
Mike Evans, Tampa Bay Buccaneers (vs CAR)
It's hard to believe how much Mike Evans has been struggling. He has only put up WR1 numbers once and has been a total bust three of his five games. He didn't catch a single pass last week against the Saints, and it might be a similar story against the Panthers. He saw 4 receptions for 61 yards in their Week 2 match against Carolina. These numbers aren't bad per se, but it wasn't desirable. Expect Evans to have another undesirable outing in Week 6.
Corey Davis, Tennessee Titans (@ DEN)
Unless you have Derrick Henry on your team, every other player on the Titans is likely going to be a matchup-dependent option most weeks. Week 6 is going to be no different. Corey Davis is going to be lining up against Chris Harris, who has held opposing wideouts to zero touchdowns so far. This is going to be a game where the Titans are going to want to run the ball and consume as much time as possible. Davis will be a nonfactor against the Broncos.
Bench the Giants
Don't do it. Don't start anyone from New York this week. This isn't going to be a breakout performance from Jon Hilliman. Golden Tate isn't going to shine with Sterling Shepard out of the lineup. The Patriots have one of the best defenses in recent memory. This isn't going to be a pretty game tonight.
Don't say I didn't warn you.
On a more positive note, feel free to follow me on Twitter @CamHarperr. What have you thought of my start/sit articles so far? Let me know!