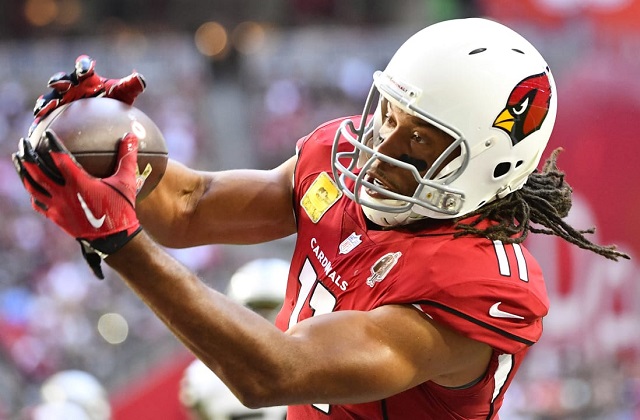 Written by Chris Hexter
01 October 2019
Green Bay Packers
Injury
Davante Adams (Q-Turf Toe)
Opportunity
Marquez Valdes-Scantling (WR2)
Geronimo Allison (WR3)
Davante Adams was enjoying his breakout game in week 4 until turf toe sidelined him for the remaining portion of the contest. Although he didn't return, this week he will have an extended recovery time and looks to be on pace to play in Week 5. If something is to set him back this week, Valdes-Scantling will get the lion's share of the looks with Allison looking like a nice upside play. Jimmy Graham should see more redzone targets, making him a nice play. This is, however, based upon the absence of Adams. I see Adams playing and if he does, don't get cute.
Injury
Jamaal Williams (O-Concussion)
Opportunity
Aaron Jones (RB1)
Sadly, Williams suffered a brutal hit on the first play of the Packers opening drive and will be out for this week and possibly more. Jones should see the bulk of carries and will receive more targets and return to fantasy dominance as he showed us last year. However, I'm sure LaFleur will try to prevent Jones owners from being happy. LaFleur loves RBBC's, so we will see what he does in the coming days. For now, Jones is a 'set it and forget it' play this week and will be for future weeks to come until the return of Williams.
Chicago Bears
Injury
Mitchell Trubisky (O-Shoulder)
Opportunity
Tarik Cohen (RB3)
David Montgomery (RB2)
Trubisky has suffered a dislocated shoulder and will be out for at least 3-4 weeks. He also has a slight tear in his labrum. Both injuries are on his non-throwing shoulder and he will not need surgery. Reports are optimistic, saying he will be back 'sooner rather than later' but I don't like this injury. This is a downgrade for the Chicago pass catchers, as they will be seeing passes from Chase Daniel now. However, Tarik Cohen will be the safety blanket for Daniels, so upgrade Tarik in PPR leagues. Cohen will be a nice flex play in Week 5. David Montgomery should see a bulk of carries next week, as Matt Nagy will most likely opt to divert pressure away from the back-up QB. You should feel more confident playing Montgomery this week against Oakland and should perform as an RB2 with break-out potential.
Buffalo Bills
Injury
Josh Allen (Q-Concussion)
Devin Singletary (Q-Hamstring)
Opportunity
Frank Gore (RB3)
TJ Yeldon (RB3)
Josh Allen took one heck of a hit and was admitted into the NFL's concussion protocol. Much like the aforementioned Jamaal Williams, I do not see Allen passing all 5 stages of the protocol by Sunday. Keep in mind Devin Singletary is still questionable with a hamstring injury but almost played last Sunday against the Patriots. The Bills have a Week 6 bye so they may play it safe again. This is a situation to monitor, if Josh Allen is out and Singletary is out again then Frank Gore should be heavily utilized to take pressure off Matt Barkley. I would also see a situation where the Bills will be playing from behind, so TJ Yeldon could see some extra targets on top of his rushing attempts, but he doesn't feel safe. Facing the Titans on Sunday, this seems like more of a lower scoring defensive battle. Gore is the only play here for me, and even he doesn't seem like a flashy option. If you have a better option or more of a boom-or-bust play, go that direction instead.
Indianapolis Colts
Injury
Marlon Mack (P-Ankle)
T.Y. Hilton (Q-Quad)
Opportunity
Nyheim Hines (RB3)
Eric Ebron (TE1)
Jack Doyle (TE2)
Marlon Mack will play. So, there's that. Oh yeah, put him in your lineups too. Okay now that we got that out of the way, we really need to monitor Hilton's practice participation throughout the week. If he is unable to go this week, Ebron has good TE1 upside thanks to his redzone target share and touchdown upside. Doyle is a risky play but can easily have a touchdown to salvage a week or at the least, continue to be a security blanket and snag a hand full of short yardage throws. Upgrade the tight ends slightly if Hilton is out. If Hilton plays, he is in your line-up and then only Ebron is worth a play.
Detroit Lions
Injury
T.J. Hockenson (Q-Concussion)
Opportunity
Marvin Jones Jr (WR3)
Kenny Golladay (WR2)
Since we are talking about tight ends, Hockenson finally gave fantasy managers the game they have been waiting for after he exploded onto the scene in Week 1. However, he ended up in the concussion protocol during this game and his status will be up in the air. If he is not good to go by their next game, Marvin Jones should see more redzone targets, which would give him nice flex appeal and worthy of a spot on your rosters. Kenny Golladay would see an increased role as well and firmly places him in the WR2 discussion (if he wasn't already) and would become a set it and forget it candidate. However, the Lions have a bye this week so Hockenson has been afforded extra time to clear the concussion protocol. If he plays, do as you have been. Jones Jr becomes a backend WR3 and Golladay stays a back end WR2.
Cleveland Browns
Injury
Jarvis Landry (Q-Concussion)
Opportunity
Odell Beckham Jr (WR1)
Antonio Callaway (WR3)
Nick Chubb (RB1)
Landry was enjoying a great game before being removed from the game with a concussion. Beckham had a quiet day, but this isn't the norm. If Jarvis is to miss time, obviously Beckham is in your lineup. Chubb may get a few extra targets and will look to repeat his performance against the Ravens. The interesting part here is Antonio Callaway, who played well with Baker last year. He isn't worth a spot on your rosters, however, if you are playing daily fantasy and want a cheap option with high upside, I wouldn't argue with someone taking a shot. Callaway is a tremendous talent but outside of your Beckham and Chubb, he isn't worth a spot on your starting lineup. If Landry clears before their next game, he would be a fine flex play in PPR formats.
Houston Texans
Injury
Kenny Stills (Q-Hamstring)
Opportunity
Will Fuller (WR3)
Watch this development. Stills seemingly has surpassed Fuller as the second option outside Hopkins. If Stills misses time, we can see Fuller flash his big-play ability. I like Fuller as a daily fantasy option and a boom-or-bust candidate if Stills misses time. Even if Stills plays, Fuller may have the opportunity to show the Texans why he should be guaranteed the number two option in this offense but would be a riskier play.
Arizona Cardinals
Injury
Christian Kirk (Q-ankle)
Opportunity
Larry Fitzgerald (WR1)
Here is a bold prediction: Larry Fitzgerald will be a top 12 WR if Christian Kirk misses time. Fitzgerald is already seeing a lump sum of targets in this high passing volume offense. If Kirk is to miss time, Fitzgerald will have every opportunity to hit the century mark with at least a touchdown. If Kirk plays, Fitzgerald is still a safe WR2 play.
Seattle Seahawks
Injury
Rashaad Penny (P-Hamstring)
Opportunity
Chris Carson (RB2)
The likelihood Penny plays in this game is high. If he does, Carson is still a valuable RB2. If Penny does suffer a setback, Carson, like last week, is a strong RB2 play with RB1 upside. Play Carson either way.
Cincinnati Bengals
Injury
John Ross (O-Shoulder)
Opportunity
Tyler Boyd (WR3)
Auden Tate (WR4)
John Ross was added to Cincinnati's IR due to a shoulder injury. Right off the bat, Tyler Boyd will see a tremendous amount of targets in an offense that is among the top of the league in pass attempts per game, which could help him consistently flirt with WR2 numbers. Joe Mixon should (finally) see extra targets and help him perform to the level in which we drafted. But Auden Tate is the interesting player here. At 6'5'' and 230 pounds, this wideout is a tower among men. In deep leagues, I can see Tate being a decent stash. If he performs well this week, I don't see why we don't upgrade him to a WR3. Tate will be a better play in standard leagues rather than PPR formats. Did I mention the Bengals are among the top of the NFL in pass attempts per game?