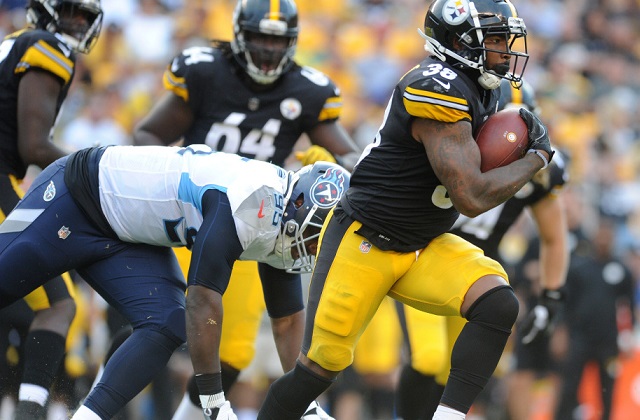 Written by Cam Harper
01 October 2019
It's been a crazy start to the season for fantasy players! Lamar Jackson is the top QB in fantasy through four weeks, DJ Chark is a top-ten WR, and the Pats defense has NINETY points. That is the equivalent to the current WR2, Cooper Kupp. They are 40 points ahead of the next defense. I'd bet that you have a winning record just because of the Pats defense!
Hopefully your season is off to a good start, or at least mid-table. If you are at the bottom of your standings, it's time to make some bold moves. Look for trades, start boom-or-bust players, grab players off the waiver wire that have the best upside, like a Tony Pollard.
The good news is that I'm here to help, even if you are at the top of your division. I present your weekly keep, cuts and acquires:
Keep
Joe Mixon, RB, Cincinnati Bengals
All our fears have been confirmed, the Bengals are bad, really bad. They are off to an 0-4 start this season and got destroyed by a fellow winless team in the Steelers. It's not going to be a good year for Bengal fans, or Joe Mixon fantasy owners. He has no touchdowns this season with only 149 yards on the ground. Worse yet, he only has 26 points through 4 weeks. The Bengals aren't going to get any better, which leaves you with two options. Trade him away and hope to get something of value, although it won't be anything close to the value he was drafted at. The other option is hold onto him and hope that the Bengals start utilizing him more. Their offensive line is horrendous, causing Dalton to hit the dirt eight times last night. Hopefully this will lead to more short passes out of the backfield to Mixon.
Adam Thielen, WR, Minnesota Vikings
Kirk Cousins is terrible and that's not helping his receivers. This week it was Thielen that did absolutely nothing as he managed a whole 2.6 fantasy points this week. Cousins had a really bad miss when he overthrew Thielen for an easy touchdown early in the game. At this point, look for greener pastures and try to move on from Thielen and Diggs. Thielen is listed as a keep this week due to his poor performance. The Vikings have a favorable matchup against the Giants in Week 5. Keep Thielen on your team until he has a better performance against the Giants, then move on.
Cut
Stefon Diggs, WR, Minnesota Vikings
See what I did there? Diggs had a great game against the Bears of all teams! He caught 7 balls for 108 yards. Don't let his good performance fool you. As I stated with Thielen, Cousins has been dreadful this year. The inconsistent games are going to continue as the Vikings attempt to get the ball away from Cousins as much as possible. Trade Diggs away and use the fact that he had a good game against the Bears as leverage. Try to get someone like Sterling Shepard, who will offer much more consistency.
Tyrell Williams, WR, Oakland Raiders
Tyrell Williams is a solid option. He's likely going to produce WR2 numbers for the rest of the season. However, he's a sell high as he is currently the WR11 in PPR formats. He's scored a touchdown every game so far, which is extremely unlikely to continue. Try to trade him for a player like Brandin Cooks, Marlon Mack, or even a frustrated Deandre Hopkins owner. Try to maximize Williams' value before it falls off. Worst case, nobody takes the trade and you have a good WR for the rest of the season.
Acquire
Jaylen Samuels, RB, Pittsburgh Steelers
Samuels is my hot add for Week 5! The Steelers found ways to get Samuels the ball and it worked! Samuels was catching passes out of the backfield, taking direct snaps in the shotgun, and splitting carries with James Connor. If the Steelers continue to utilize Samuels the way they did last night, he has RB2 upside most weeks. Additionally, James Connor is dealing with some kind of ankle injury. If Connor were to miss any amount of time, he could be in line for a massive workload. He proved he could do it when Connor went down last season. Go grab him while you have the chance!
Saquon Barkley, RB, New York Giants
This a move that you make to win championships. The owner who has Saquon in your league is likely hurting after losing the number one pick in the draft for half the season. If you're in a good position in your league, trade that owner a solid package for one of the best backs in the league. Barkley is already out of his walking boot and appears to be making good progress. Remember, Barkley had a high ankle sprain at Penn State and was only sidelined for a month. Your team will thank you come playoff time.
Who are you dying to add this week? Or who are you looking to trade high? Come have a discussion with me on Twitter @CamHarperr!