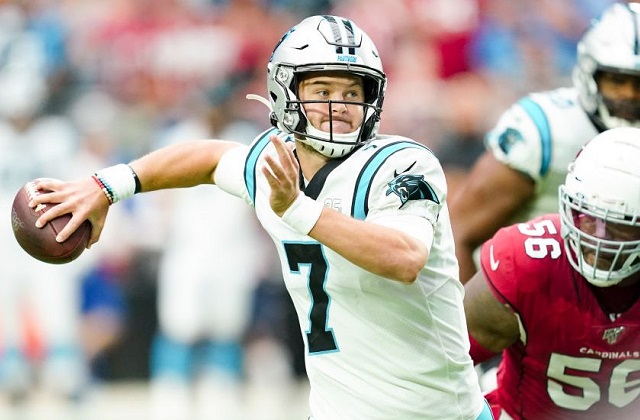 Written by Chris Hexter
24 September 2019
New York Giants
Injury
Saquon Barkley – (O-Ankle)
Opportunity
Wayne Gallman (RB3)
Evan Engram (TE1)
Barkley left the nail-biter against Tampa Bay in the second quarter with a high ankle sprain. Fantasy owners who drafted Barkley (and I guess Giants fans too) covered their ears to the news their star running back will be out 4 to 8 weeks. Wayne Gallman should be the primary back-up, however, I have a feeling this Giants team doesn't trust Gallman given that he received only 5 carries since Barkley's early departure. Barkley's one knock before the season was the worry of the offense, but Barkley is elite so we knew he could overcome. Gallman cannot. I am expecting them to sign an RB either off waivers or their practice squad this week or next, which if they do will show that the team does not trust him nor his ability to be a feature back and neither should you. I advise those who need running back help desperately to stash him just in case he shows signs of weekly flex potential, which luckily he can prove so against a not-so-scary Redskins defense.
Also, those running back dunk-offs we see go to Barkely will be directed elsewhere, to Evan Engram or Golden Tate (upon his return), so start Engram like you have been and maybe watch Tate on waivers; I would stash him as he returns soon.
Carolina Panthers
Injury
Cam Newton (O-Ankle)
Opportunity
Kyle Allen (QB2)
The entire Panthers offense gets the opportunity for me here. I am a Panthers fan through and through, but I don't want to see Cam play until he is 100% healthy. Cam has not looked himself after last years shoulder injury and it transitioned into this year due to his ankle. Kyle Allen showed us he can play ball while spreading the rock around to seven different receivers. After the first drive fumble, Allen looked great. Will it transition to fantasy as it did for Week 1 when the Panthers travel to Houston? Yes. The Texans pass defense is suspect and if the offensive line can slow down Houston's front, Allen will pick apart this secondary and produce a solid fantasy outing. Continue to start Olsen, Moore and McCaffrey with Curtis Samuel as a strong boom or bust candidate that is warranting a what-the-heck flex play in my deeper leagues.
Update: Cam is dealing with a Lisfranc injury, which is not good news for the former MVP. He will opt for rehab instead of surgery and in my non-medical hypothesis, I see Cam missing at least 5-6 weeks. The usual timetable for rehabbing an injury like this ranges from 6 to 12 weeks. Watch this closely.
Green Bay Packers
Injury
Aaron Jones (Q- Shoulder)
Jamaal Williams (Q- Neck)
Opportunity
Aaron Rodgers (QB1)
Rodgers has yet to give fantasy owners a QB1 week. That ends on a Week 4 matchup against the Eagles on a short week. I expect both running backs to play but be limited participants throughout the week. We are already starting Jones this week but if he isn't suiting up on Thursday, that gives Williams the okay to be placed into your starting line-ups. If one running back is to miss this game, I would bet my first-born child's naming rights that Rodgers performs as a QB1. However, I think that even if both Jones and Williams play, Rodgers will return to fantasy stardom we have all longed for. Play Rodgers and don't get cute! Start Jones if you have him but if his shoulder holds him back from being on the field, you can confidently play Williams.
Kansas City Chiefs
Injury
Damien Williams (Q- Knee)
LeSean McCoy (Q-Ankle)
Opportunity
Darrel Williams (RB2)
Darwin Thompson (RB3)
McCoy played and he did exactly what Andy Reid (and fantasy owners) asked him to. McCoy carried the workload and gave us a huge fantasy performance. He did aggravate his ankle but is still expected to play Sunday versus the Lions. I expect Damien Williams to come back if he gets in limited practices this week. If both are out, it will be a toss-up between Darrel Williams and Darwin Thompson. Both could give you a huge play and render the other useless. It seems like Darrel Williams did the most in Shady's absence so if you had to, this would be the pickup granting a setback to Damien or Shady McCoy. If both starting running backs suit up, I think you can play both of them (not on the same roster silly). Watch these two throughout the week.
New England Patriots
Injury
Julian Edelman (Q-Chest)
Opportunity
Phillip Dorsett (WR3)
Josh Gordon (WR2)
Edelman's x-ray came back negative, showing no signs of missing next week. If he does encounter a setback, Dorsett will continue to play at a high level as a safe boom or bust candidate and Josh Gordon being the safe play that would lock him into your lineups.
Indianapolis Colts
Injury
T.Y. Hilton (Q-Quad)
Opportunity
Jack Doyle (TE2)
Eric Ebron (TE1)
Hilton aggravated a previous quad injury on Sunday against the Falcons. It's been told that he was taken out for precautionary reasons as the medical staff wanted to preserve the featured wide receiver. If he misses time, I don't see enough reason to play any other wideout for the Colts. Brissett's upside will take a hit as Hilton's absence will likely lead to a more run heavy scheme. However, we've seen already that if Hilton is not the target, the pass is likely going to one of the tight ends. Warranting any setback from Hilton this week, Mack and the Colts tight ends will receive the bulk of the work.
Pittsburg Steelers
Injury
Vance McDonald (Q-Shoulder)
Opportunity
JuJu Smith-Schuster (WR1)
Smith-Schuster flashed his big play ability with a long touchdown last Sunday. However, outside of that 76-yard touchdown, JuJu caught two passes for 5 yards but did see 7 targets, which is promising. Vance's absence would lead to a larger target share for JuJu, but outside of the star-wideout, no wide receiver is warranting a spot on my roster unless I see some signs of relevance.