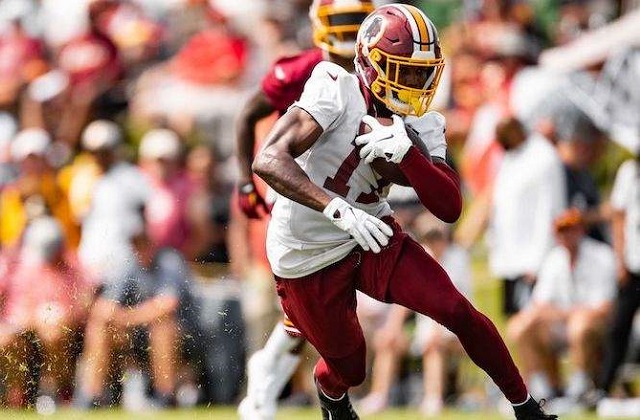 Written by Cam Harper
24 September 2019
The drama seems to have finally settled down, at least for one week. However, there have been some surprises so far this season. The Lions are undefeated after defeating both the Chargers and the Eagles the last two weeks. The Bills are off to a great start at 3-0. And the Steelers, a potential super bowl contender entering the season, are 0-3 and look terrible.
A couple notable injuries occurred in Week 3. Saquon Barkley suffered a severe high ankle sprain and will likely be out six to eight weeks. TY Hilton banged up his quad and is questionable to play. Cam Newton is injured again, this time with a Lisfranc injury, and will likely be out for a good period of time.
Wayne Gallman, Parris Campbell, and Kyle Allen will all serve as plug-and-play options for the upcoming weeks for fantasy.
Now, enough of the general NFL news. Let's get into two players that you should keep, two that you should cut, and two that you should acquire.
Keep
Baker Mayfield, QB, Cleveland Browns
It hasn't been a great start to the year for the player that some said would win the MVP this season. He has more interceptions than touchdowns, he's been sacked 11 times, and he is completing passes just 56% of the time. He just doesn't look like the dynamic quarterback that we all saw at the end of 2018. Despite this, it's hard to believe that Mayfield will continue to struggle. He still has too many weapons for defenses to be able to account for. Losing Njoku hurt, but he still has OBJ, Landry, and Chubb. Don't give up on him just yet.
Mark Ingram, RB, Baltimore Ravens
Mark Ingram is proving that he is more than just a product of the Saints offense. He's averaging 6 yards a carry with 5 touchdowns in 3 games. He also happens to play in the AFC North featuring the Steelers and the Bengals, who have both been decimated on the ground this season. Continue inserting Ingram into your lineup as he plays the Browns, Steelers, and Bengals the next three week. Don't sell him off unless you get a definite RB or WR1 in return.
Cut
Aaron Jones, RB, Green Bay Packers
The concern here isn't that Jones lacks any talent, it's that the Packers keep on involving Jamaal Williams in their offense. Jones and Williams split the backfield in Week 1, followed by Jones being the primary option in Week 2. The Packers returned to splitting the carries in Week 3. Jones still had a decent outing against the Broncos due to his two goal line touchdowns. However, he only averaged 1.9 yards per carry and was virtually nonexistent in the passing game. Jones will become more inconsistent if the Packers continue to share the load in the backfield. Try to trade him for a more consistent commodity such as Nick Chubb.
Emmanuel Sanders, WR, Denver Broncos
Emmanuel Sanders finally came back down to earth against the Packers. After an outstanding first two weeks, Sanders posted a stinker in Week 3. He caught two passes for just ten yards. Surprisingly Courtland Sutton has been the more consistent receiver for the Broncos. He's averaged nearly 8 targets a game and 5 receptions. That trend will likely continue throughout the season. The Broncos will look to continue running the ball to manage the speed of the game. The Broncos ran the ball 38 times versus throwing the ball just 29 on Sunday. Move on from Sanders for someone like Calvin Ridley, who will provide more consitent value all season.
Acquire
Terry McLaurin, WR, Washington Redskins
Apparently Scary Terry is the real deal. He is the first receiver to ever post 5 receptions and a touchdown in the first three games of his career. He's averaging over 16 yards per catch and 8 targets. McLaurin isn't going to be a superstar, or even a weekly WR2. But he does offer legitimate flex appear every week. If he can put up a good game against the Bears, he can do it against anyone. It would be a good idea to try to pick up McLaurin from another player before his value rises too far.
Daniel Jones, QB, New York Giants
This is my one must add of the week. The Giants finally have a quarterback that looks dynamic. Danny Dimes completed 65% of his passes while scoring 4 touchdowns, including two on his feet. I'm not sold that Jones is going to continue scoring 30 fantasy points per week, but I am sold that Jones is going to continue running the ball, especially while Saquon is out. Quarterbacks score many more fantasy points on their feet than through the air. He should be the number one priority on the waiver wire.
Who are you trying to buy low and sell high on? Let me know on Twitter @CamHarperr!