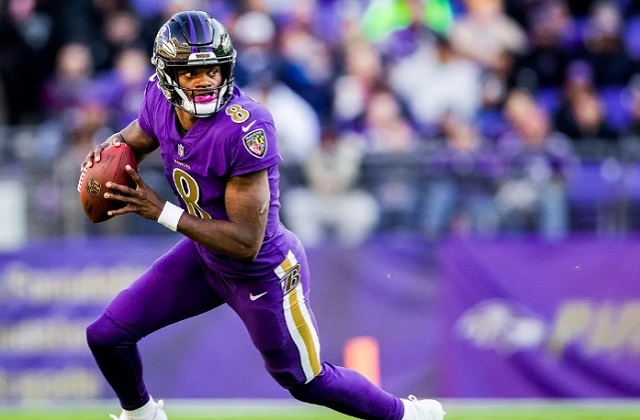 Written by Cam Harper
19 September 2019
Week 3 of the NFL season has arrived! Hopefully you are on the top of your standings looking down, not on the bottom looking up. If you are on the bottom, now is the week to make your bold plays to pick up a much-needed win. The playoffs are just ten weeks away and every win counts!
With that being said, here are all my bold plays for the week:
Start 'Em QBs
Lamar Jackson, Baltimore Ravens (@ KC)
Let the Lamar train keep rolling! He's entering Week 3 as the #1 QB for the season, and he has another favorable matchup. He's against the Chiefs this week, which should supply no shortage of points scored. This might be the Ravens first loss of the season, but it's going to provide Lamar plenty of opportunities to score. The Ravens will likely get behind early, causing Lamar to have to make plays to keep them in it. Expect Lamar to remain the #1 QB in fantasy after Week 3.
Dak Prescott, Dallas Cowboys (vs MIA)
The Dallas Cowboys have found their theme song for the season! The took Sir Mix-a-Lot's infamous song "Baby Got Back" and changed it to "Baby Got Dak". Dak Prescott is trying to prove that he deserved the massive contract extension, not Zeke. He's thrown for 674 yards and seven touchdowns the first two weeks. Now he's at home against the Miami Dolphins. Need I say more?
Josh Allen, Buffalo Bills (vs CIN)
Josh Allen has quietly had a good start to the season, averaging 20.1 points per game thus far. He takes on the Bengals defense that just gave up 41 points to the 49ers at home. The sky is the limit here, and his legs should provide a safe floor. Josh Allen is a top ten quarterback this week and you should feel confident starting him.
Sit 'Em QBs
Baker Mayfield, Cleveland Browns (vs LAR)
Baker has had a rough start to the season, posting just two passing touchdowns in two games. He takes on the stout Rams defense this year and his best wide receiver, Odell Beckham Jr., is likely to get the Aqib Talib treatment. It's going to be tough for the Browns to get the passing game going. If Baker couldn't put up numbers against the Titans and the Jets, I'm not trusting him to do much of anything against the Rams.
Kirk Cousins, Minnesota Vikings (vs OAK)
Kirk is going to be a sit until he proves otherwise. He has completed just 22 passes for the season, including throwing the ball just ten times Week 1. The Vikings are looking to run the ball first, and they shouldn't have any issues with that against the Raiders. It could be another ten-pass game for Kirk, and he isn't going to score any points throwing the ball ten times. Until he proves that he can be a QB1, he belongs on your bench.
Andy Dalton, Cincinnati Bengals (@ BUF)
The Bills defense is nasty. They might have just ended Eli Manning's career as the Giants made the decision to start Daniel Jones in Week 3 following the game against the Bills. They still have arguably the best defensive unit in the league. Dalton has had a surprisingly good start to the season. He is currently the QB11, which technically qualifies him as a QB1. He's going to lose that status this week. Sorry Andy.
Start 'Em RBs
Aaron Jones, Green Bay Packers (vs DEN)
Finally! Aaron Jones looked like the true workhorse in the Green Bay offense, as he had 27 touches against the Vikings. The Broncos haven't had much luck stopping running backs this season. Josh Jacobs had two touchdowns in Week 1, and David Montgomery got his first touchdown of his career in Week 2. It seems that the odds are that Jones is due for at least one touchdown, if not more.
Marlon Mack, Indianapolis Colts (vs ATL)
My favorite saying is that volume is king in the fantasy world, and Marlon Mack isn't lacking any volume so far this season. He's run the ball 45 times the past two weeks, proving that he is the feature back in the Andrew Luck-less offense. The Falcons were demolished by Dalvin Cook on the ground in Week 1. At the very least, Marlon Mack should have a RB2 floor this week.
Mark Ingram, Baltimore Ravens (@ KC)
Like I mentioned with Lamar Jackson, this game is going to have a lot of points scored. It's good to have as many shares as possible in a game like that. Ingram struggled last week against the Cardinals, but he should have a bounce back week in this high-scoring affair. Kansas City has allowed nearly six yards per carry this season, which is always a good sign for the opposing back. Ingram should be a safe option this week.
Sit 'Em RBs
James White, New England Patriots (vs NYJ)
It appears that James White isn't going to be a RB1 in PPR formats again. The hoodie strikes again as he is regularly playing Sony Michel, Rex Burkhead, and James White. None of them have more than RB2 upside. It's a tough blow for the owners that invested a fourth or fifth round pick in White or Michel. The Patriots are against a respectable Jets defense that has done well against the run thus far. Maybe it's time to trade White before it gets too much worse.
Phillip Lindsay, Denver Broncos (@ GB)
The Broncos decided that they actually want to play Royce Freeman this season after hyping him up prior to last season. Lindsay and Freeman have been splitting carries 50/50 so far this season, making both players unreliable. Lindsay put up a stinker last week against the Bears, rushing for just 36 yards. Expect more struggles this week as the Bears go against the much-improved Packers defense.
Leonard Fournette, Jacksonville Jaguars (vs TEN)
Fournette hasn't returned to his workhorse form from 2017. He ran the ball just 15 times against the Chiefs and 13 times against the Texans. Surprisingly, he's been featured more in the passing game, posting 4 receptions each game. Even with that nice addition, he still hasn't rushed for more than 70 yards in a game. The Titans have held Nick Chubb and Marlon Mack in check this season. They'll likely do the same against Fournette this week.
Start 'Em WRs
Larry Fitzgerald, Arizona Cardinals (vs CAR)
Larry Legend is back at it! He has been great so far this season, as he is currently the WR12 in PPR formats. The Cardinals defense still doesn't have Patrick Peterson, so they'll likely concede some points even without Cam Newton. That's going to leave the Cardinals slinging the ball on offense and giving Larry Legend more opportunities to prove he's an ageless machine.
DJ Moore, Carolina Panthers (@ ARI)
I'm going to continue putting wide receivers against the Cardinals on this list. If Patrick Peterson remains on the sidelines, they really have nobody to cover anybody. Kyle Allen might be an upgrade over the atrocity of a game we saw from Cam last week. DJ Moore should be open early and often this week.
Kenny Golladay, Detroit Lions (@ PHI)
Other than the meltdown at the end of the Cardinals game, the Lions have looked pretty good this season. They defeated the favorited Chargers last week, and Kenny G had himself a game. He had 8 receptions for 117 yards and a touchdown in a very difficult matchup. The Eagles aren't an easier matchup by any means, but they did allow a big game to both Julio Jones and Calvin Ridley last week. If Golladay can do it against the Chargers, I don't see why he can't against the Eagles.
Sit 'Em WRs
Robby Anderson, New York Jets (@ NE)
That's right. Put Anderson on your bench for the third time this season. He's been pretty bad this season, although he did play better than I expected last week (despite not accumulating 5 receptions, again). He plays against Stephon Gilmore this week and doesn't have Sam Darnold throwing him the ball. I wouldn't be surprised if he's held to a goose egg this game.
Terry McLaurin, Washington Redskins (vs CHI)
Scary Terry has been on fire this season, and you might be thinking about placing him in your lineup. Be careful this week as he is playing the coveted Bears defense. The Bears might have given up a big game to Emmanuel Sanders last week, but Terry McLaurin is no Sanders, not yet at least. Don't forget that the Bears held Davante Adams to under ten points Week 1. Hold off on putting McLaurin in your lineup just yet.
Stefon Diggs, Minnesota Vikings (vs OAK)
Diggs has just 3 receptions on the year, and this isn't going to be a friendly game script for Diggs. The Vikings are going to be looking to run the ball as much as possible to take the ball out of the hands of Cousins. It wouldn't be surprising if Cousins throws the ball less than fifteen times this game. That's not good news for Diggs or Thielen for that matter. Look for a safer option before playing Diggs this week.
Feel free to follow me @camharperr on Twitter! Let me know what you think of my Start/Sit choices and who you were expecting to see on the list this week!