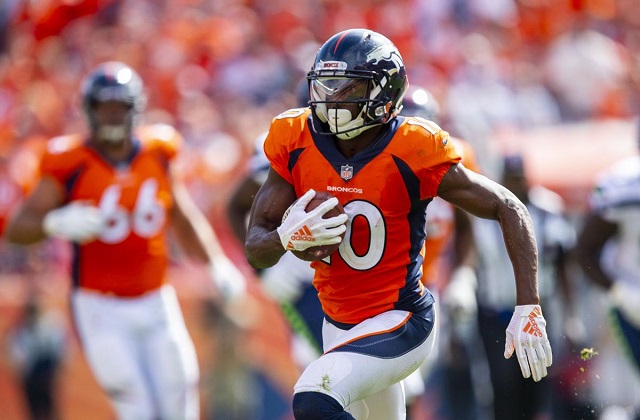 Written by Joe Buttgereit
19 September 2019
With two weeks now in the books, we're closer to finding out who's for real this season, and who isn't. Judging by the fact that Dolphins' running back Kalen Ballage literally ducked under a pass to him in the flat, it's safe to say that no Dolphins player will ever be in this series. Don't know what the coaches are telling them to do, but trying to play well is not one of them.
The Patriots look like an oiled machine ready to win Lombardi Trophy #7; and Pat Mahomes' 50-TD, MVP 2018 campaign was clearly not a fluke. Cam Newton's injuries are a real issue, and that's the just the tip of the iceberg when it comes to 2019 quarterback injuries.
Eli Manning is no longer quarterbacking the New York Giants for the first time in 16 years; and Drew Brees, Ben Roethlisberger, Sam Darnold (and Trevor Siemian) will all be watching football on Sunday.
Jalen Ramsey has requested to be traded out of Jacksonville, and Jamal Adams has *officially* unfollowed the Jets on ALL social media platforms. I mean, burn! Oh, and apparently, every Dolphins player has requested to be traded, as well.
Yes, ladies and gentlemen, and it's only Week 3. The NFL is not lacking drama this season, and it's not making fantasy football decisions any easier. So, let me help by giving you some start/sit recommendations for this week!
Starts:
QB – Josh Allen | Buffalo Bills (vs Bengals)
Allen has been an underrated fantasy quarterback since the second half of last season. He finished the final six weeks of 2018 as the QB1 overall, and has gotten off to a good fantasy start this season. The Bengals are fresh off allowing 25+ points to Jimmy Garoppolo last week and Allen looks to be poised to repeat that output. Allen will maintain a good fantasy floor due to his consistent rushing numbers and has a rushing TD in each of the first two weeks. He'll have another this week.
RB – Marlon Mack | Indianapolis Colts (vs Falcons)
Mack has been a boom or bust-back over the course of his career. His season-ending totals wind up being RB2 worthy, but on a week-to-week basis, it's tough to determine where the busts will be. Well, he "boomed" in Week 1 against the Chargers, and "busted" in Week 2 against the Titans. In Week 3, he'll see a Falcons team that allowed Dalvin Cook to run for 111 yards and two scores the last time they were on the road (Week 1). This will be a "boom" week.
WR – Emmanuel Sanders | Denver Broncos (at Packers)
Sanders is making it very clear that he is fully recovered from his achilles injury, and has cemented himself as the clear #1 target for Joe Flacco. In the first two weeks, he finished as a WR2 (21 overall) and a WR1 (4 overall) respectively, posting a WR1 (4 overall) in total over the first two games. Denver may not present the best offense, or even an average offense, but Flacco has certainly targeted Sanders early and often thus far and there's no reason to expect that to slow down.
TE – Greg Olsen | Carolina Panthers (at Cardinals)
Cam Newton isn't right. However, as bad as he's looked, he has still managed to continue his chemistry with Olsen. He has 18 targets through two games; and is the 9th highest scoring (half-PPR) tight end, yet hasn't scored yet. Once he starts to find the endzone, he can catapult into "must-start" on a weekly basis. For now, we'll run him when he faces a team like Arizona, who has allowed 20+ fantasy points to opposing tight ends in each of the first two weeks.
D/ST – New England Patriots (vs Jets)
Luke Falk. End of explanation. Just kidding, but seriously, Bill Belichick will not let Luke Falk beat him. He may not even let Falk reach the endzone. It's very possible, maybe even likely, the Patriots pitch a second-straight shutout this week. Belichick is known for game-planning to take away the opponent's best player. This week, take out Le'Veon Bell; what do you have left?
Sits:
QB – Aaron Rodgers | Green Bay Packers (vs Broncos)
Whatever deficiencies Denver has shown on offense, they are not on display on the defensive side of the ball. They had some trouble stopping Josh Jacobs in Week 1, but they've been stout against opposing quarterbacks through two weeks. They've allowed just 22 points total (Carr/Trubisky) through two games, ranking 3rd in the NFL. Rodgers has yet to crack 17 points in a game this season, and I think that trend will continue for, at least, another week.
RB – Leonard Fournette | Jacksonville Jaguars (vs Titans)
Fournette, frankly, has not been good to start the year. Through two weeks, he's an RB3 (25 overall) in half PPR scoring. Far below his value of being a late second/early round draft pick. He's managed just 125 total yards from scrimmage and a fumble on the short season. On a short week, Jacksonville will be hosting Tennessee who have been pretty good against opposing running backs this season. They've yet to allow a running back to go over 10.0 fantasy points against them. Thursday night matchups have not been kind to fantasy players league-wide, but the matchup itself this week does not favor Fournette.
WR – Brandin Cooks | Los Angeles Rams (at Browns)
The return of a healthy Cooper Kupp has hurt the fantasy value of both Cooks and Robert Woods this season. Ranked as a WR4 (39 overall), Cooks simply has not returned adequate fantasy value yet. The Rams host the Cleveland Browns this week who have been good against opposing "#1" receivers. They held Titans' Corey Davis catch-less in Week 1, and allowed just 10.1 fantasy points to Jets' wideout Robby Anderson on Monday night. I'm a big fan of the Rams' rushing attack against a weak Browns' rush defense, so expect less from Cooks.
TE – Jared Cook | New Orleans Saints (at Seahawks)
No Drew Brees? Sit everyone except Michael Thomas and Alvin Kamara. Seriously, those two are "must-starts" no matter what. Everyone else would need Drew Brees to be fantasy relevant. Cook will also be matched up against the Seahawks who play a different brand of defense at home. It doesn't help that Jared Cook is boom or bust to begin with, as one of the most inconsistently un-productive tight ends in football.
D/ST – Baltimore Ravens (at Chiefs)
Can I just say: from now on, sit the defense playing the Chiefs every week. There, that was easy. I don't care how good the defense is (Baltimore is very, very good), Pat Mahomes will find a way to throw three touchdowns, and score 30 points. Especially at home. I do believe Lamar Jackson will outscore him, fantasy-wise, but Mahomes will get his (and win); at the expense of the Baltimore defense.
As always, find me @joebuttgereit on Twitter where I'm always available to answer any start/sit questions!