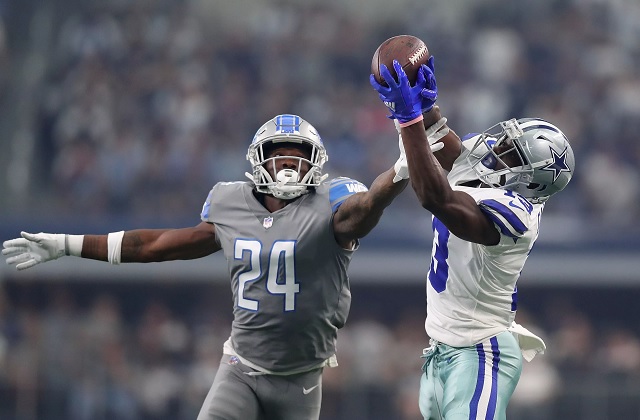 Written by Cam Harper
17 September 2019
The NFL season is never short of headlines! The Steelers were potential Super Bowl contenders heading into the season. Now they are 0-2 and Big Ben-less for the rest of the year. The Saints got hosed by the refs again and lost Drew Brees for half the season. Players are requesting trades more than ever, as we saw Minkah Fitzpatrick traded to the Steelers last night, and all-pro CB Jalen Ramsey requesting a departure from Jacksonville. The NFL drama never seems to end, so make sure you've got your popcorn ready!
Outside of the Ben Roethlisberger and Drew Brees injuries, there wasn't a ton of fantasy football news that came out of Week 2. But there are plenty of players that you should consider keeping, cutting, or acquiring for Week 3! Here's the list:
Keep
Damien Williams, RB, Kansas City Chiefs
It's just a really unfortunate situation for Damien Williams in Kansas City. He went from being the lead back in the Mahomes high-powered offense to splitting carries with Shady. He hasn't looked bad the first two weeks, and he is the back catching most of the balls out of the backfield. He certainly still has value, especially in PPR leagues. However, he is limited to a RB2 ceiling if Shady is still there. There is the option to trade Williams to another owner, but the value for Williams is much lower than where he was being drafted. The best bet is to hold onto Williams and hope for better horizons.
David Montgomery, RB, Chicago Bears
So, I was wrong about Montgomery. I had him on both my cut list and my sit list last week. Then the Bears decided that Montgomery was going get most of the carries out of the backfield and Mike Davis was going to be completely irrelevant. A complete 180 from the game against the Packers. Montgomery didn't have a great game though, only posting 3.4 yards per carry with a touchdown on the goal line. While I wouldn't try to trade Montgomery anymore, there's still a big question mark regarding how well Montgomery is going to perform for the rest of the season. The wait-and-see approach appears to be the way to go.
Dede Westbrook, WR, Jacksonville Jaguars
I was optimistic about Dede Westbrook heading into the season, and I still believe that Westbrook is the best wideout on the team. He's had a rough start the first couple weeks, including just one catch for three yards in Week 2. Unfortunately, his upcoming schedule doesn't help him out either. His next four games are against Tennessee, Denver, Carolina, and New Orleans. He's not worth dropping, nor does he have very much trade value right now. Put Dede on your bench and hope that he does better later in the season.
Cut
Donte Moncrief, WR, Pittsburgh Steelers
Moncrief really isn't good. He had several drops in week one against the Patriots, not that it would have made a difference in the outcome of that game. But then he did it again in Week 2, except that drop caused a crucial interception that resulted in a Seahawks touchdown. Moncrief didn't see the field again after the drop, and he likely lost his starting job to James Washington. Moncrief became fantasy irrelevant after Week 2. He's no longer worth rostering in any league.
Emmanuel Sanders, WR, Denver Broncos
Remember when Steve Smith had a great start to the year in Baltimore, and then he got injured and fell off? Joe Flacco was throwing him the ball and Steve Smith was on the back end of his career. It's the same situation here in Denver with Emmanuel Sanders, who has been phenomenal to start the season. The issue is how long can he continue scoring over twenty points per game? Probably not all season. Sanders could realistically be traded for a guy like Cooper Kupp or James White, who both have a much safer floor for the rest of the season.
Adam Thielen/Stefon Diggs, WR, Minnesota Vikings
The red flags are everywhere in Minnesota. New offensive coordinator Kevin Stefanski was looking to implement a run-first offense in Minnesota, and he has succeeded. Dalvin Cook has been amazing to start the season. However, Kirk Cousins has not. Cousins has completed just 22 passes in his first two games and has roughly a 52% completion rate. He looked terrible against the Packers, completing just 14 of 32 attempts. This might be one of the sell while you can situations. If you can get anything close to the value these players were drafted at, look to pull the trigger.
It is worth noting that Thielen has a higher floor as he continues to get more looks from Cousins. But neither of these receivers are going to have that WR1 potential that we have been used to.
Acquire
James Washington, WR, Pittsburgh Steelers
The Oklahoma State connection is back! Ben Roethlisberger is out for the year, leaving the offense in the hands of second-year quarterback Mason Rudolph. James Washington was Rudolph's favorite target back at Oklahoma State, giving the Steelers even more reason to put him into the starting lineup over Moncrief. The best part is that Washington's value isn't very high right now. Offer a flex player for Washington and get a player with WR2 upside for the rest of the season.
Randall Cobb, WR, Dallas Cowboys
Cobb has been pretty good so far this season, catching 9 balls for 93 yards and a touchdown the first two weeks. Michael Gallup is going to be out for a few weeks after he has his knee procedure on Tuesday, giving Cobb easy access to the WR2 role in Dallas. Dak continues to look great this season, making Cobb an easy WR2 with Gallup's absence. He should be the #1 priority on the waiver wire this week.
Demarcus Robinson, WR, Kansas City Chiefs
Robinson is the #2 priority this week. Had had himself a game against the Raiders, turning 6 catches in 172 yards and a pair of touchdowns. He's not as high of a priority as Cobb, as Cobb has season long value whereas Robinson is only going to be valuable while Tyreek Hill is absent. But the ceiling is much higher here. There is going to be volatility with Robinson in the Chiefs offense (as seen by Sammy Watkins last week), but the obvious boom upside is there. Grab him and hope for big games the next few weeks.
Antonio Brown, WR, New England Patriots
This one is risky. The risk is what makes the buy low upside so good. Antonio Brown had a solid debut on his newest team, catching 4 passes and posting his first touchdown of the season. There is obvious risk with multiple sexual allegations in the air regarding Brown. If these allegations come to fruition, his season (and possibly his career) are likely over. But if the allegations turn out to be nothing, Brown is a weekly WR1. It's possible that the Brown owner in your league wants out of the Brown situation altogether and might be willing to part with him for cheap. If you can get Brown for a player like Robert Woods or Calvin Ridley, it might be worth it.
Follow me @camharperr on Twitter and let me know what trades you've been making in your leagues!