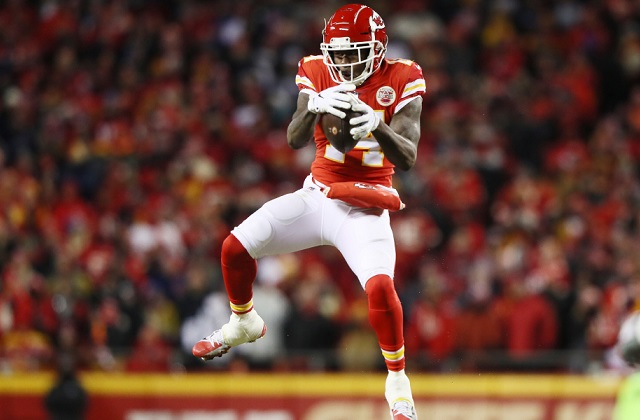 Written by Chris Hexter
10 September 2019
Houston Texans
Injury
Keke Coutee (Q-ankle)
Opportunity
Will Fuller (WR2)
Kenny Stills (WR3)
Coutee has been the rave of the off-season for the Texans, similar to last year in his rookie year. However, injuries derailed his first year in the NFL, finishing with 287 yards and 1 touchdown (6 games). As his second season starts, Coutee's status is up in the air for Week 2. If Keke does miss time, the obvious bump goes to Will Fuller, who should see a few extra targets along with the usual deep bomb. I actually like Duke Johnson and Kenny Stills to see more targets as well. The Texans historically don't throw to the running back, but they acquired Johnson for a reason and he should see a decent number of carries and targets to warrant a flex play. Stills would have boom or bust potential. He is still new to the system; I would see him as a great best ball play because he will be cheap.
Washington Redskins
Injury
Jordan Reed (Q-concussion)
Opportunity
Vernon Davis (TE1)
Still in the concussion protocol, Reed is not someone I would be confident to throw out in Week 2. His 7th concussion of his career, Reed has a "confident" shot on playing this Sunday. If he doesn't play, Vernon Davis becomes a low-end TE1. He will get volume with Case Keenum behind center and I think the Redskins will have to pass if they want to keep up with the Cowboys. But Coach Gruden seems to believe Reed will play.
Injury
Derrius Guice (O-Knee)
Opportunity
Adrian Peterson (RB2)
Guice can't catch a break on his knees. He had an MRI on his knee on Monday and it looks like he will be out a couple of weeks. The good news is that the injured knee is not the same knee where he tore his ACL. While avoiding surgery, Adrian Peterson will take over the lead role for Washington. Peterson, a surprise inactive on Sunday, will try to pick up where he left off a season ago where he ran for over 1,000 yards. Although he will lose most of the receiving role to Chris Thompson, Peterson is still valued as a strong flex play as well as Thompson until Guice returns.
Indianapolis Colts
Injury
Devin Funchess (O-back)
Opportunity
Deon Cain (WR3)
Ebron & Doyle (TE1)
With no Andrew Luck (I fought the Luck puns), defenses will have one name in mind… T.Y. Hilton. Does that matter? No. This injury will only pepper Hilton's weekly target total. Eric Ebron or Jack Doyle will receive the big body targets within the redzone that Funchess saw. I like Parris Campbell to flash his big play ability, but he needs the opportunity first before he can even be considered for a spot on your roster. I like Hilton even more with this injury, but Doyle and Ebron get a bump in redzone targets with Deon Cain seeing most of the vacated targets between the 20's, which would help him finish as a valuable flex in Week 2.
Kansas City Chiefs
Injury
Tyreek Hill (O-Collarbone)
Opportunity
Sammy Watkins (WR1)
Meecole Hardman (WR3)
Wow. What a game for Sammy Watkins. Watkins showed up against the Jags on Sunday, finishing with a 9-198-3 stat line. Watkins further proved why he was a first round draft pick back in 2014. With the loss of Hill for at least a couple weeks as the team decides his status, Watkins is in line for another target heavy, big play outing against the Oakland defense. I also have high hopes for Mecole Hardman to take over the Hill-designed plays. Hardman will get at least a couple carries and enough targets to allow him to flash his big-play speed. If you are in a best ball league, Hardman is essentially free and has untapped upside in a Mahomes led offense. Oh yeah, throw in a few extra targets for top tier tight end, Travis Kelce too.
Jacksonville Jaguars
Injury
Nick Foles (O-Clavicle)
Opportunity
Leonard Fournette (RB1)
Already planning surgery and inevitably ending up on IR, Foles leaves Gardner Minshew as the starting quarterback in Jacksonville. Fun fact, Minshew's 88-completion percentage is a franchise single-game record and NFL record among any player in their professional debut. Cool? Yes. Useful? No. The person who gets the opportunity (who didn't need it in the first place) goes to Leonard Fournette. Minshew looked good against the back-half Kansas City defense, but the gameplan will feature heavily more towards Fournette touching the ball more than the new Jaguars franchise record holder, Minshew, will throw. Opposite of opportunity is adversity, which is exactly what Dede Westbrook will be facing in Week 2 as Nick Foles' slot heavy targets won't be present. I also wouldn't feel confident playing (or rostering) D.J. Chark or Conley, who had big games with Minshew.
San Francisco 49ers
Injury
Tevin Coleman (O-Ankle)
Opportunity
Matt Breida (RB2)
Coleman was spotted on the sidelines with a walking boot after the injury to his ankle. Speculation is, this is a major sprain and will cause him to miss a few weeks. Insert Matt Breida. If you were choosing between Coleman or Breida in your drafts, congratulations to those who chose Breida. Raheem Mostert may take a few touches away as he did on Sunday, but this will be the Matt Breida show, who will benefit indefinitely until Coleman's return. He should be valued as a RB2, especially against the Cincinnati defense.
Cincinnati Bengals
Injury
Joe Mixon (Q-Ankle)
Opportunity
Gio Bernard (RB2)
Mixon's MRI has given fantasy owners hope. His ankle-sprain shouldn't keep him out of the Bengals Week 2 contest against the 49ers. If he is unable to go, Giovani Bernard will see majority carries and continue to a play a role on passing downs. Injury history may warrant a loss of touches, as the Bengals will most likely want to preserve the running back they extended in the off-season. With that said, in the circumstance Mixon misses time, Bernard will return value as the lead back in the offence.
Pittsburgh Steelers
Injury
JuJu Smith-Schuster (P-Toe)
Opportunity
Donte Moncrief (WR3)
James Washington (WR3)
Smith-Schuster injured his toe during Sunday night's one-sided affair. The x-ray came back negative and is most likely good to go for Week 2. However, if a set back occurs, I don't see a situation warranting one to play Donte Moncrief or James Washington. It's a blind dart throw when guessing who, if either, would step up. Vance McDonald would see a few extra targets, expect him to bounce-back after his two catch performance; that is, if Juju misses time.
Los Angeles Chargers
Injury
Mike Williams (Q-Knee)
Opportunity
Travis Benjamin (WR3)
We haven't heard much on Williams' status. This is a situation to monitor, but we won't make any assumptions just yet.
New York Giants
Injury
Sterling Shepard (Q-Concussion)
Opportunity
Evan Engram (TE1)
Sterling Shepard has entered the concussion protocol and is questionable to play Week 2 against the Bills. The only beneficiary of this is Evan Engram, who has already taken advantage of Odell Beckham Jr's vacated targets. Oh yeah, Saquan Barkley is still elite.