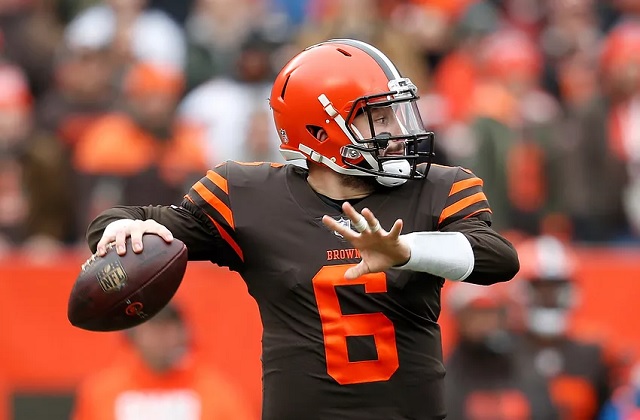 Written by Cam Harper
16 May 2019
So much of fantasy football success is determined in the draft. If you selected Le'Veon Bell last year, I bet you didn't have a good season (I sure didn't). If you got Christian McCaffrey in the second round, you likely made a run for a title. Some of the most difficult players to analyze are players entering their sophomore year. Will they boom, or will they bust? That's what we are talking about today.
Super Sophomore: Baker Mayfield, QB, Cleveland Browns
I can't believe I'm saying this, but the Browns have arguably the most dynamic offense in the NFL. Yes, those Browns. When the Browns traded for OBJ, they added another WR1 to their already solid offense. The Browns are going to have OBJ on one side, Jarvis Landry on another, with Nick Chubb and Kareem Hunt in the backfield. Good luck defending that. Baker Mayfield was a QB1 last year from week 3 to week 17. I expect Baker to be a top 5 fantasy QB this season.
Sophomore Slump: Saquon Barkley, RB, New York Giants
Saquon Barkley pulled off a miracle last season when he accumulated over 2,000 total yards and 15 TDs behind the Giants o-line. While the offensive line did get a little better when they traded for Kevin Zeitler, they lost OBJ in the process. That offense now has old and obviously declining Eli Manning at the helm with two slot WRs to throw to every game (Shepard and Tate). There is no real threat to take the attention away from Saquon this year. Saquon isn't going to have a bad year in 2019, he just isn't going to be the RB1 in PPR formats again.
Super Sophomore: Kerryon Johnson, RB, Detroit Lions
Kerryon Johnson quietly put together a solid rookie campaign last season. He averaged 5.4 yards per rush and a handful of touchdowns. The offensive line has quietly gotten better (ranked 16th in 2018 per Pro Football Focus) and the offense has a lot of weapons to pay attention to. They added generational tight end TJ Hockenson in the draft and Jesse James in free agency. LeGarrette Blount is no longer on the team, so Kerryon should be the unquestioned lead back. It appears that the Lions are looking to run a lot of two TE sets this upcoming season, and that should give Kerryon plenty of opportunities. Look for him to be a top twenty back this season.
Sophomore Slump: Nick Chubb, RB, Cleveland Browns
This prediction is more due to circumstance than it is to I think Chubb is going to decline. Kareem Hunt is on the roster this year, and while he is suspended for the first half of the season, Kareem Hunt is a stud. Hunt put up about 1,800 total yards in his rookie year, and about 1,100 yards last year despite missing 5 games. It's difficult to say what will happen when Kareem returns to the team week 9. At the very least, he splits carries with Chubb for the rest of the season. Chubb will be a great asset to your team for the first eight weeks but expect him to drastically fall off afterwards.
Super Sophomore: Calvin Ridley, WR, Atlanta Falcons
Remember last season when everyone said there was no way the Pittsburgh Steelers could have two top 15 WRs? Then they not only had two top 15 WRs, but two top 8 WRs? I think Julio and Ridley are going to be that WR duo in 2019. Last season Ridley had 821 receiving yards and 10 TDs. He now has a whole year of experience under his belt and will be more comfortable in the Falcons explosive offense. Additionally, the Falcons added Dirk Koetter as their offensive coordinator. Koetter is the epitome of a pass-first mentality, so the Falcons should be throwing the ball early and often. The Buccaneers actually led the NFL as a team in pass yards per game last season (320.3 yards per game). I expect Ridley to have more receptions, more yards, and around the same number of TDs. If he manages that, he'll be a low WR1 in all formats.
Sophomore Slump: Phillip Lindsay, RB, Denver Broncos
As of right now, the Broncos have Joe Flacco throwing the football to Courtland Sutton, DaeSean Hamilton, and Jake Butt. Yikes. Defenses are going to stack the box and force Flacco to beat them through the air, something that Flacco has struggled to do in recent years. Phillip Lindsay had arguably the most surprising year of any player in 2018. He ran for over 1,000 yards, averaging 5.4 yards per carry and 10 total TDs. However, Lindsay didn't have to run against defenses putting 8 men in the box (only 14.06% of the time according to NFL Next Gen Stats). Expect Lindsay to see a lot more of that this season. The Broncos also have the second hardest schedule in the NFL based on opponents win percentage (.537). That's not a good recipe for a successful running game. Emmanuel Sanders will return at some point this season from his torn achilles, and that should alleviate some of the problem. But even with Sanders back, it's difficult to see Lindsay being a top 15 running back again.
Super Sophomore: Derrius Guice, RB, Washington Redskins
Derrius Guice literally can't have a worse year than last season. He tore his ACL in the first preseason game and everyone has kind of forgotten him since. There have been reported complications of his recovery and we aren't even sure if Guice is going to be healthy enough to start week 1. Adrian Peterson is still going to be in town and Chris Thompson is still one of the best pass-catching backs in the league. Despite this, I think Guice is going to be someone to look out for in 2019. He's a strong, explosive runner that had two very good seasons at LSU. He averaged a whopping 7.6 yards per carry in 2016 and 5.3 in 2017. He's likely going to take over AP's role as the early down back and, if healthy, should be able to reproduce AP's numbers from last season as a top 20 back.
Sophomore Slump: Lamar Jackson, QB, Baltimore Ravens
Surprisingly enough, Lamar Jackson was actually the number 11 fantasy QB in the seven games that he started. Expect that to go down. In the seven games that he started, Lamar Jackson threw for more than 200 yards in only one game. Not 400 yards, not 300 yards, but 200 yards – in one game. For reference, Ben Roethlisberger threw for more yards than Jackson in all 16 games last season. Combined with an abysmal 58.3 completion percentage, defenses are going to force Lamar to beat them through the air. The additions of Marquise Brown and Mark Ingram aren't going the help the Ravens QB to learn to throw the ball.