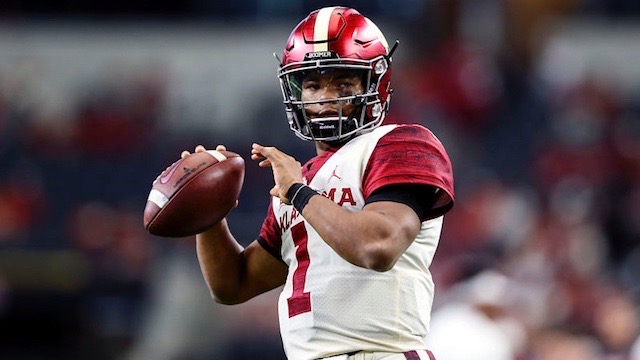 Written by John Adams
22 January 2019
The quarterback is always the most talked about position heading into any NFL draft and this year will be no exception. There is already a great deal of debate in predicting which team will draft which quarterback. Here's a list of the top three QB prospects expected to be taken in the first round.
Build the best lineups with the power of The Machine for Daily Fantasy Sports
Dwayne Haskins, QB, Ohio State
This 6-foot-3, 220-pound redshirt sophomore took the nation by storm during Ohio State's 2018 season setting several Big 10 records including his 50 touchdown passes, breaking Drew Brees's Big Ten record for passing TDs in a single season. Haskins reads the field better than any other QB entering the draft.
Haskins completed 373 of his 533 pass attempts for a completion percentage of 70.0. He had 4,831 yards through the air and was named the Big Ten Offensive Player of the year. There are some concerns about Haskins having only started only for one season, but his maturity, ball security and racking up a 13-1 record in the Big 10 puts him at the top of the class.
- See ASL's 2019 Top 3 Running Back Prospects -
Kyler Murray, QB, Oklahoma 
Despite his small frame, standing at only 5-10 and weighing 195 pounds, Oklahoma's Kyler Murray is lightning in a bottle. Despite playing on Sooners team that chose not play defense during the 2018 season, Murray led Oklahoma to a 12-2 record taking them all the way to the Orange Bowl where the defense collapsed against Alabama.
Murray's 42 touchdown passing total was second only to Haskins. He finished the season with 4,361 passing yards and tossed only seven picks all season. Murray is a true athlete with a strong arm who is remarkably quick on his feet. He avoids pressure as well as anyone and knows when to cut bait and scramble. His biggest attribute is his patience in the pocket. He gives each play time to develop and helps his receivers shine.
Drew Lock, QB, Missouri
Drew Lock is a more traditional quarterback than either Dwayne Haskins or Kyler Murray. He's 6-4, 225 pounds and his arm is a cannon, the strongest one coming into this year's draft. Due to the system he played for in Missouri, he was often pressed to throw the ball long and deep which hurt his completion percentage.
Statistically speaking, many of Lock's key numbers fell off from his 2017 QB campaign. In 2017, Lock threw for 3,964 yards and 44 touchdowns against 13 picks. In 2018, Lock's passing yardage dipped to 3,498 with only 28 touchdowns, but he knocked his interceptions down to only 8.
Never miss ASL's latest fantasy sports news.
Send us an email at This email address is being protected from spambots. You need JavaScript enabled to view it. and list the sports you are interested in (NFL, NBA, MLB, NHL) to start receiving ASL's newsletter.