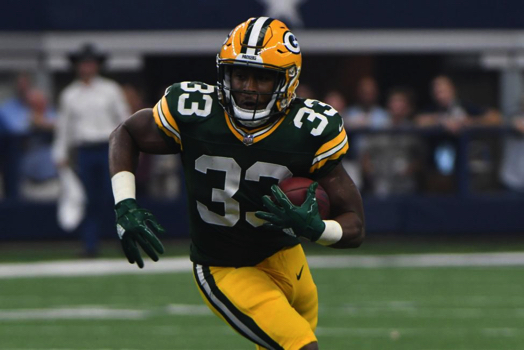 Written by Ernesto Delgado
18 December 2018
You are just one win away from grasping that trophy and holding it up high amongst all those that doubted your team. With this in mind, stay away from any risky changes to your team and sticking to the plan. You've made it this far with your star players, so rely on them to take you to victory. With this report, you will find useful information that can help you fill holes in your lineup that have fallen due to injury.
Good luck everyone.
The following players are designated with a letter (D, Q, O); use the following key to identify each one:
D: Doubtful
Q: Questionable
O: Out
Injury report:
Los Angeles Chargers
Injury
WR Keenan Allen (hip) Q
Opportunity
WR Mike Williams WR2
WR Tyrell Williams WR3
After an incredible could-have-been touchdown catch, Keenan Allen was seen holding his hip out on the sidelines. After being viewed under the tent, he returned to the field for a series, but took himself out again shortly after. In his absence, Mike Williams had an incredible night. He caught 7-of-9 targets for 76 yards, 2 receiving touchdowns, a rushing touchdown, and the game-winning 2-point conversion. Although Tyrell Williams caught 6-of-12 targets for 71 yards, Mike Williams was the most dynamic. If Allen is to miss more time, we should expect Mike Williams to get most of the red zone looks next week against the Ravens.
Build the best lineups with the power of The Machine for Daily Fantasy Sports
Houston Texans
Injury
RB Lamar Miller (ankle)Q
Opportunity
RB Alfred Blue RB3
Lamar Miller left early in the game after rushing for 9 yards. As Miller limped off the field, Alfred Blue was unable to get things going on the ground against the Jets 23rdranked rushing defense. Rushing 9 times for 7 yards, Blue will be nothing more than a flex option if Miller is unable to suit up. We may even be able to see D'Onta Foreman play for his first time this season against Philadelphia, but he will need to put in a full week of practice. 
Green bay Packers
Injury
RB Aaron Jones (knee) Q
Opportunity
RB Jamaal Williams RB2 (+)
After running for 8 yards on 4 carries, Aaron Jones was seen limping off the field against the Bears at the end of the first quarter. The medical staff in the blue tent treated him, and he later said that he believes he has sprained his MCL. This is a similar injury he suffered last year to the same team that sidelined him for two games. In his place, Jamaal Williams carried the rock for a total of 97 yards and a touchdown. If Jones sprained his MCL, Williams will remain the workhorse against the Jets next week.
Miami Dolphins
Injury
RB Frank Gore (foot) O
Impact
RB Kenyan Drake RB3
RB Kalen Ballage RB3
Frank Gore was helped off the field at the end of the first quarter. It was later reported that he has sprained his foot and will not play for the rest of the season. Instead of Kenyan Drake assuming his role, Adam Gase decided to limit his workload to just 4 touches. This could have been due to a shoulder injury he suffered earlier in the week, but Gase has been known to misuse talented players over the last three seasons. Because of this, however, Kalen Ballage balled out for 123 rushing yards with a big 75-yard touchdown run. If couch Gase decides to limit Drake again, Ballage will remain the lead back against the Jaguars next.
Cincinnati Bengals
Injury
WR Tyler Boyd (knee) O
Opportunity
WR John Ross WR4
Tyler Boyd was having a great game against the Oakland Raiders by catching 4 targets for 38 yards and a touchdown. That is until he was seen exiting the field after the first drive in the second half. On Monday, it was reported that he has suffered a "low-grade MCL sprain" and will likely miss two weeks. Boyd was having a spectacular third year before this happened, setting a new career-high with 76 catches for 1028 yards and seven touchdowns. With Boyd looking to miss the remainder of the season, the door is wide open for John Ross to show up, who has been inconsistent all season. Still, with Driskel under center, the receiving core for the Bengals is a place that should be avoided in the final round of fantasy. Joe Mixon remains the only reliable candidate here.
Atlanta Falcons
Injury
RB Ito Smith (knee) O
Opportunity
RB Tevin Coleman RB2(+)
Although limited in practice with a knee injury prior to the game, Ito Smith was active against the Cardinals. Splitting the workload with Tevin Coleman, Smith rushed 9 times for 34 yards and caught 2-of-3 targets for 5 yards. Unfortunately, in the fourth quarter, he was seen stumbling off the field. On Monday, it was reported that Ito Smith will need surgery on his knee, which will leave Coleman as the lead back in Atlanta for the remainder of the year.
Philadelphia Eagles
Injury
QB Carson Wentz (back) O
Opportunity
QB Nick Foles QB2
Despite a serious back injury, the Eagles have decided NOT to place Carson Wentz on the IR, but will avoid playing him for as long as they can. Having said this, HC Doug Peterson recently announced Nick Foles as the starter next week against the Texans. As the starter again since week 2, Foles passed for 270 yards and 1 interception in a big win against the Rams. His rapport with Alshon Jeffrey has not disappeared as he targeted him 8 times for 160 yards, but the same cannot be said about Zach Ertz. Although Foles missed Ertz in a few vital passes, you can expect a bounce-back game from Ertz next week against the Texans who have had difficulty stopping tight ends from scoring.
- - As always, follow me on Twitter: @FantasySight
Never miss ASL's latest fantasy sports news. Send us an email at This email address is being protected from spambots. You need JavaScript enabled to view it. and list the sports you are interested in (NFL, NBA, MLB, NHL) to start receiving ASL's newsletter.