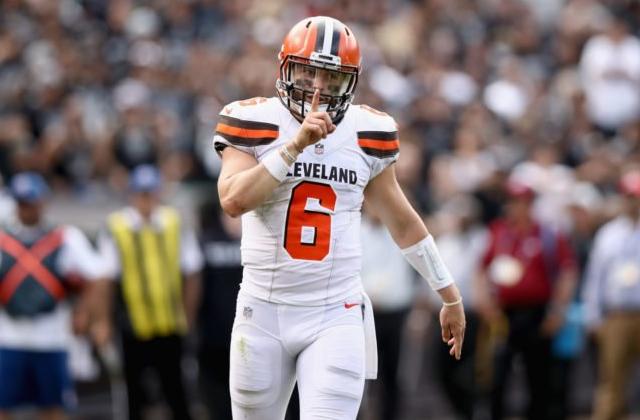 Written by Michael Morrow
18 December 2018
In every keeper league there are always one or two players drafted late who have a breakout season. If your keeper league is anything like mine, the round you drafted your keeper in the previous year is the round you forfeit next year. For example, I kept Alvin Kamara this year and only lost a 14th round pick… pretty good if you ask me. Here are some guys whose ADP position is sure to skyrocket next season... so hold on to them!
QUARTERBACKS
Patrick Mahomes (2018 ADP – 106th overall)
Patrick Mahomes set the league on fire this season, posting insane numbers week in and week out. He will assuredly be the top QB pick next season and based on his numbers, will probably go earlier than 22ndoverall – the ADP position of this years #1 QB taken, Aaron Rodgers. Nailing down Mahomes as your keeper gives you great value and flexibility in the early rounds.
Build the best lineups with the power of The Machine for Daily Fantasy Sports
Baker Mayfield (2018 ADP – undrafted)
A Cleveland Browns QB?! You best believe it. Baker Mayfield didn't play this year until Week 3 when he came off the bench because of an injury to Tyrod Taylor. He took the opportunity and ran with it, earning his first start the very next week. You can certainly make a case for Mayfield to take home Rookie of the Year Honors after taking the Browns from "dumpster fire status" of the NFL to the "in the hunt" playoff graphics in Week 15. If Baker had started Week 1, his 16-game pace would be 4,000+ yards, 28 TDs, and 15 INTs. Those numbers compare or surpass rookie seasons of Matt Ryan, Andrew Luck, and Russell Wilson.
RUNNING BACKS
Nick Chubb (2018 ADP – undrafted)
TWO Cleveland Browns?! What year is this? All jokes aside, Nick Chubb is someone who might win you your league this year. A waiver wire claim to most, the rookie out of Georgia has been impressive all season. The limited action he saw early in the year was enough for the Browns to ship Carlos Hyde south to Jacksonville despite rushing for 5 TDs in 7 games. This move paid off for the Browns and fantasy owners alike as Chubb has scored 8 TDs (6 rush, 2 receiving) and is averaging 15 points per game in eight starts. Chubb will certainly be gone within the top two rounds next season, do the math!
Kerryon Johnson (2018 ADP – 112th overall)
Kerryon Johnson was having a fantastic rookie season before injuring his knee in Week 11 against Carolina. Johnson ended a 70-game drought of not having a 100-yard rusher for the Lions this season, finally giving them the ground threat they've been searching for. Perhaps an underrated aspect of Johnsons game is his ability to catch the ball out of the backfield. Pass-catching backs like Theo Riddick have had success with Matt Stafford, but they've generally not been able to run between the tackles like Johnson has this year. Johnson is a true 3-down back who will be off the board by round three next season.
Aaron Jones (2018 ADP – 133rd overall)
Aaron Jones started the year suspended for the first two games, which more than likely affected his ADP. Green Bay has not had the best luck with runningbacks over the past 5 years. From Eddie Lacy just not being able to control his urge for "China Food,"  to starting Ty Montgomery, a converted wide receiver. It looks like Jones is here to save the day. Even during Green Bay's struggles this season, Jones has been a stud for fantasy owners. Since the Week 7 bye, Jones has found the end zone 7 times, averaging 17 points per game. With what looks like a revitalized Packers team after firing Mike McCarthy, Jones could find himself as the feature back on one of the most potent offenses in the NFL next season.
WIDE RECEIVERS
Amari Cooper (2018 ADP – 44th overall)
A trade with Dallas rewarded patient fantasy owners who stuck with Amari Cooper early this season as he struggled in Oakland. Since the trade, Cooper has averaged nearly 7 receptions on 9 targets per game. That has translated into a 107 yards per game and 6 touchdowns since he's been in blue and white. Oh, and he had a 10 catch, 217-yard, 3 touchdown game last week. Dak Prescott has that #1 receiver he has been missing since the departure of Dez Bryant. With a dominating front line, a top tier runningback, and a Quarterback who's been willing to cut it loose, the future looks bright for Cooper and the Cowboys.
Davante Adams (2018 ADP – 25th overall)
Davante Adams is a guy who had his potential capped early in his career with Rodger's favorite target Jordy Nelson around. With Nelson gone, Adams has been nothing short of spectacular this season. On pace for over 1,400 yards and 14 touchdowns, Adams has clearly been Rodgers go-to-guy and will be for many years to come. I have Adams as my #4 receiver next year, meaning his ADP would likely be within the top 12 overall. Keeping him and sacrificing a second or third round pick is well worth it!
TIGHT ENDS
George Kittle (2018 ADP – 122nd overall)
In one of the thinnest positions, George Kittle was an absolute steal this season. Many worried (including myself) when Jimmy Garoppolo went down early in the season with a torn ACL, however, Kittle has not missed a beat with whoever is throwing him the ball. With an offensive-minded coach in Kyle Shanahan and the return of the 49ers franchise QB, Kittle should be one of the first three tight ends gone next year – behind Zach Ertz and Travis Kelce. 
Never miss ASL's latest fantasy sports news. Send us an email at This email address is being protected from spambots. You need JavaScript enabled to view it. and list the sports you are interested in (NFL, NBA, MLB, NHL) to start receiving ASL's newsletter.