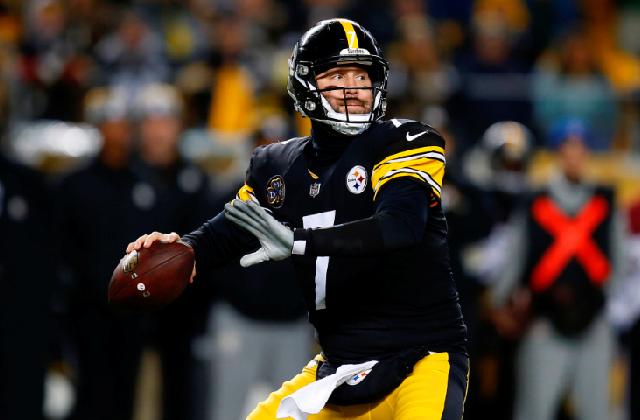 Written by Joe Buttgereit
06 December 2018
Start/Sit – Week 14
- Start -
Ben Roethlisberger, QB Pittsburgh Steelers
This selection appears to be obvious; however, Steelers QB Ben Roethlisberger has been trending in the wrong direction lately. His fantasy performance has decreased in each of the past four games. This has been a product of matchups for the most part, as he has still outperformed his opponent's "average points against" number in each of those games. It's also a product of the success of James Conner. Conner will not be playing this week, and backup running back Jaylen Samuels will be the premiere back in the offense, which I believe will put the ball even more in the hands of Big Ben to get the Steelers back on track this week.
Lamar Miller, RB Houston Texans
Miller has been one of the best fantasy running backs in recent weeks. He is 6th in points among the position since Week 11. This has helped the Texans to become a more balanced team and they are flourishing because of it. Miller has an excellent matchup this week at home against the Colts. Indianapolis is middle-of-the-pack, 15th in the NFL against opposing running backs, allowing 18.6 fantasy points per game to the position. Houston has an opportunity to step on the throat of one of their divisional chasers, and I believe they will continue to lean on Miller to do so.
JuJu Smith-Schuster, WR Pittsburgh Steelers
Naturally, when you select a start of the week for quarterback, it's safe to say a wide receiver/tight end will be paired with him. That is the case again this week. I believe JuJu Smith-Schuster will be the higher scoring wide receiver for the Steelers, receiving the bulk of Roethlisberger's points. Smith-Schuster has been rolling lately, 6th among the position in points since Week 10, and has scored more than Antonio Brown in the past two. It's safe to assume that Smith-Schuster will provide another WR1 performance this week.
David Njoku, TE Cleveland Browns
David Njoku goes as Baker Mayfield goes. Obviously, a tight end can't provide production unless the quarterback throws him the ball. The Panthers' defense has been exceptionally bad against opposing quarterbacks and tight ends. This sets up well for Njoku. Mayfield should have a bounce-back performance after his worst start as a pro last week; and Njoku should benefit the most, as Carolina allows 10.9 fantasy points per game to tight ends, 3rdworst in the NFL.
- Sit -
Carson Wentz, QB Philadelphia Eagles
Since returning from his ACL tear in Week 3, Carson Wentz just hasn't been the same quarterback as he was in his would-be MVP season a year ago prior to the injury. The matchup against the Cowboys this week is a bad one. Add these two together, and it can be a long afternoon for Wentz and the Eagles. During his last three games, he's averaged just 11.3 points per game. The Cowboys are coming in hot, winners of four straight games, and they've dismantled the quarterback position in the process, allowing just 14.4 fantasy points per game to the position in that stretch. It's a good week to find a fill-in for Wentz.
David Johnson, RB Arizona Cardinals
Outside of Le'Veon Bell, Johnson may be the most disappointing player this season that was generally selected in the first round of fantasy drafts. Since Week 11, he is 22nd among running backs in points scored. In two favorable matchups during the past two weeks, he scored a total of 18.1 points in PPR leagues. I believe he can still be started as a RB2 in full-point PPR leagues, as he should get enough receptions to remain relevant, but in standard leagues, I'm sitting Johnson this week. The emergence of Chase Edmonds has stolen some of his carries, and Detroit's run defense has improved since adding run-stuffing NT Damon Harrison to the mix.
Brandin Cooks, WR Los Angeles Rams
Like many, I believe this game will feature the defenses. Khalil Mack and Aaron Donald, the two best defensive players in football, on the field together. I expect a low-scoring game in what should be very cold conditions in Chicago. This is the type of game that features the possession receiver, and ground-and-pound running games. Robert Woods has become the clear possession-style receiver for the Rams and Cooks has been the "beat them over-the-top" threat. With the conditions, and the stingy Bears' defense, I expect a lot of Todd Gurley carries and Robert Woods receptions, and not much from Brandin Cooks.
Kyle Rudolph, TE Minnesota Vikings
The Vikings are almost in playoff-mode already. They are playing for their playoff lives, and their opponent this week, the Seahawks, are in the same spot. It's a huge game for both sides, and Kyle Rudolph has been the forgotten man as the Vikings come down the stretch. Since Week 5, he is the 25th ranked tight end in points scored. As Stefon Diggs and Adam Thielen explode onto the scene, Rudolph has been pushed into the background. In addition, Seattle has been excellent against tight ends, allowing just 6.1 fantasy points per game, so I don't see this week being any different for Rudolph.