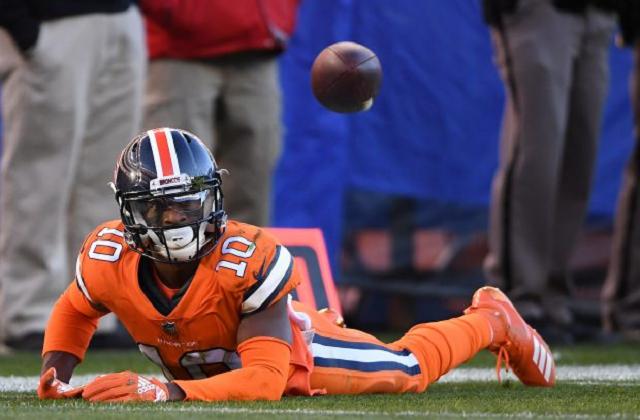 Written by John Adams
06 December 2018
Denver wide receiver Emmanuel Sanders is done for the year after suffering a non-contact injury to his Achilles' tendon during Wednesday's practice. The Broncos wasted no time placing him on I-R, putting a huge dent on the Mile-High City's playoff aspirations.
Sanders was going up for a pass when he collapsed to ground and immediately smashed his helmet down in frustration. Trainers and coaches rushed over to tend to the fallen player, but in the blink of an eye, his season was over.
Sanders is the 16th ranked wide receiver in PPR leagues and his absence leaves a big hole in lineups for fantasy owners. His injury also leaves fantasy owners scrambling to pick up Courtland Sutton who slides into the top dog wide receiver role.
Sutton is mountain man of a receiver at 6'3 and 220 pounds. Last week against the Bengals, he hauled in 4 of 7 passes for 85 yards and a touchdown. If you want Sutton on your team, don't waste any time picking him up or he will be gone.
Never miss ASL's latest fantasy sports news. Send us an email at This email address is being protected from spambots. You need JavaScript enabled to view it. and list the sports you are interested in (NFL, NBA, MLB, NHL, EPL) to start receiving ASL's newsletter.