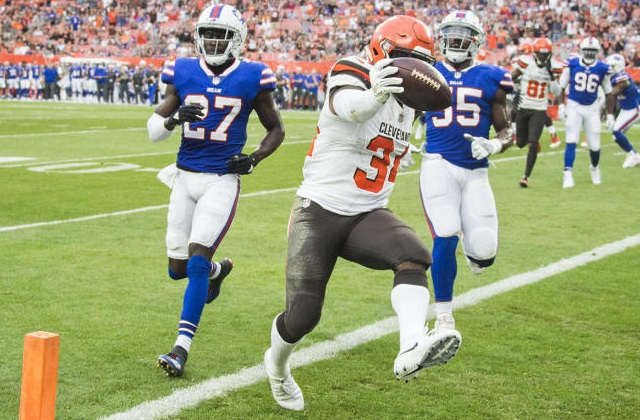 Written by Jimmy Williams
20 October 2018
Quick notes:
RB Carlos Hyde, Cleveland Browns traded to the Jacksonville Jaguars for a 5th round draft pick. Well hello again Nick Chubb! After his week four explosion for 105 yards and two touchdowns Chubb returned to earth totaling 27 yards weeks 6 & 7 combined. Now it looks like Chubb is the clear lead back for the Browns with Duke Johnson the clear third down back. This should set Chubb up as a potential league winner as a low end RB1. Oh, back to Hyde though…
Carlos Hyde now becomes part of an RBBC in Jacksonville with T. J. Yeldon. Many are not sure how this will play out; some suggest Yeldon will remain the starter, others feel it is a true RBBC. As Lee Corso says "not so fast" guys! I feel this looks like a clear cut sign that the Jags are weary of when or if Leonard Fournette comes back anytime soon. I also think it signifies that Tom Coughlin and Doug Marrone are tired of watching Blake Bortles lose games and want to get back to running the football 20+ times a game; which they cannot do with Yeldon. In steps Hyde, a proven running back in this league who fits their style…love him in this spot. If you are a Hyde owner you should love the move and if you are not try to acquire him.
If you are looking for a tiebreaker between who to start in your lineups, Vegas can provide some helpful hints. There are four games this week projected to have more than 50 total points: Browns-Buccaneers, 50.5; Bengals-Chiefs, 58.5; Rams-49ers, 52; Giants-Falcons, 54. High projected point totals can be a sign of possible fantasy production.
Looking for an edge with your Daily Fantasy Sports lineups? Check out The Machine for Daily Fantasy Sports!
Bye weeks:
From week 7 thru week 11 we have four or more teams on bye every week. With this many teams idle as always we highly recommend that you prepare for bye weeks in advance.
Week 7 sends four teams on bye: Green Bay, Oakland, Pittsburgh, and Seattle. A plethora of players on Green Bay and Pittsburgh should not be in your lineups along with others on Oakland and Seattle.