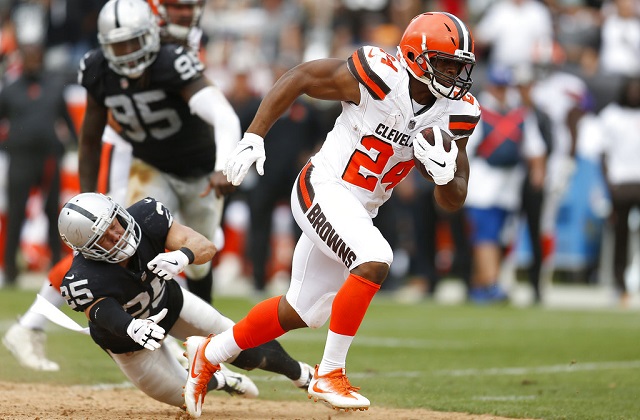 Written by AJ Schreiver
02 October 2018
RB Lamar Miller, Houston Texans
The Houston Texans are ninth in the league in rushing yards, but QB Deshaun Watson has one-third of those yards. The Texans and head coach Bill O'Brien are relying on Watson to be their everything with 37 pass attempts and six rushing attempts per game. Instead of checking down to Miller, Watson has more trust in his own legs right now. This is a recipe that hasn't fared well for the team, which just picked up its first win. Miller is a KEEP; he has been an RB2 thus far but not a very promising one. It would be nice to see the Texans use their running game a little more to slow the game down, but until we see it, Miller will be a borderline flex because of his nagging injuries and capped usage.
WR Chris Hogan, New England Patriots
Nothing is new in New England: Tom Brady can still play, and his offense, in terms of fantasy production, is still the most unpredictable in the league. Now the Pats are throwing newly acquired WR Josh Gordon into the mix, and the return of WR Julian Edelman further crowds this receiving corps. Even with TE Rob Gronkowski getting banged in Week 4 (he is expected to be questionable for Thursday's game versus the Colts), Hogan is a CUT for me. His inconsistent production leaves him as a WR4, at best, with minimal upside for the season.


Build the best lineups with the power of The Machine for Daily Fantasy Sports.


RB Nick Chubb, Cleveland Browns
Carlos Hyde is certainly the lead back in Cleveland, out-carrying Nick Chubb 22-3 on Sunday. But if you missed Chubb's three carries, you missed him showcasing his physical ability to play in this league. He turned two of those carries into touchdowns from 41 and 63 yards out. This, of course, doesn't mean that Chubb is immediately startable in fantasy. But with Hyde's injury history, I am going to buy this rookie now. He is one of the few great handcuffs. ACQUIRE Chubb, who has fantastic upside and is ready to play at this level. 


Further questions? Get at me on Twitter -- @ajsports4u_ASL -- for answers, and I may feature your player on next week's Keep, Cut, Acquire.
Never miss ASL's latest fantasy sports news. Send us an email at This email address is being protected from spambots. You need JavaScript enabled to view it. and list the sports you are interested in (NFL, NBA, MLB, NHL, EPL) to start receiving ASL's newsletter.