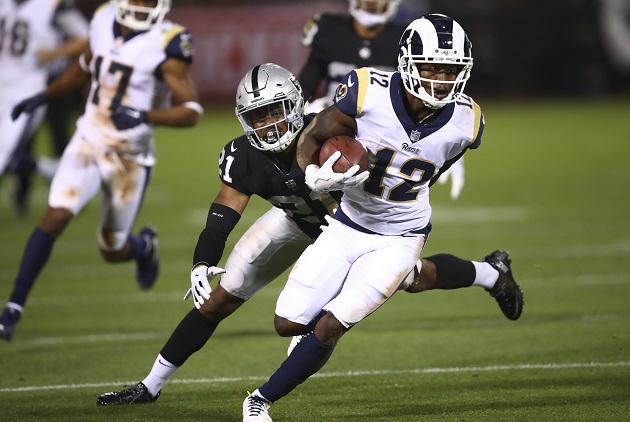 Written by Jason Ostresh
13 September 2018
Whether you play in redraft, dynasty or daily formats, it is critical to know who will outperform their projections each week to ensure you maximize your lineup contributions. Individual matchups, opposing defenses and even upcoming weather reports are often key differentiators that help determine the right play. We all know there are times when your late-round pick should be started over your big-name player, and this article will provide that kind of guidance each week.


Build the best lineups with the power of The Machine for Daily Fantasy Sports.


Money Plays
QB Alex Smith, Washington Redskins
The uber-efficient and always-underrated Smith put up solid numbers last week and looks destined for a repeat performance against the lowly Colts defense in Week 2. Smith was quietly effective against the Cardinals, throwing for 255 yards along with a couple of scores. Meanwhile, the Colts' defense allowed Andy Dalton to easily rack up 243 yards and two scores of his own. Smith is destined for top-10 fantasy numbers this week and is likely someone who might even be available on the waiver wire in shallow leagues.
RB Alex Collins, Baltimore Ravens
Week 1 was a fantastic opportunity that Collins fumbled away (literally), losing carries to both Kenneth Dixon and Buck Allen. If not for an early score, his day and fantasy line would have been a complete bust. His prospects are looking up for his Thursday night versus against the Bengals, however, as Dixon has been placed on injured reserve, and Cincy allowed the second-most fantasy points to opposing running backs in 2017. A disappointment in Week 1, Collins comes roaring back with a top-10 finish in Week 2.
WR Brandin Cooks, Los Angeles Rams
Underdrafted throughout the preseason, Cooks was clearly a focal point in the Rams' high-powered offense on Monday night in Oakland. He caught five passes for 97 yards on eight targets and also drew two pass interference penalties downfield. He will face tighter coverage in Week 2 with Cardinals cornerback Patrick Peterson likely assigned to follow him all over the field, but Week 1 was validation that Cooks is a solid WR2 start who can be counted on for top-20 numbers each week. He also has plenty of upside and will have a few top-10 spike weeks mixed in throughout the season. Start him with confidence.
TE Trey Burton, Chicago Bears
Following a fantastic preseason, Burton was expected to be the favorite safety valve of Mitch Trubisky in the Windy City version of the Chiefs' offense. Of course, he came down with a case of the yips in Week 1, turning his five targets into just a single catch and 15 yards, missing an easy TD along the way. That said, owners should stay patient as Burton will be one of the most important cogs in Chicago's offense, playing the Travis Kelce-lite role. You will see that this week as he produces top-five numbers against the once-vaunted Seahawks defense.


Bad Bets


QB Matt Ryan, Atlanta Falcons
Ryan looked worse than his numbers indicate in a tough road matchup against the Eagles in Week 1. He did accumulate 253 yards through the air, largely by way of completions to Julio Jones, but stalled drives and red-zone ineffectiveness continued to be a huge problem for OC Steve Sarkisian's offense. Ryan should be nowhere near your lineup versus the Panthers, even at home, until he proves he can start breaking the plane more consistently.
RB Phillip Lindsay, Denver Broncos
Lindsay was a hot waiver-wire add this week following his 102-yard output with a score in Week 1. He even out-touched preseason darling Royce Freeman 17 to 15, giving the impression this could be a full-blown timeshare in Denver. But we have all seen one-hit wonders before and this smells like one. By all means, pick Lindsay up if he is available in your league, but he is at best a low-end RB3 with upside until he proves he can contribute on a weekly basis. Don't expect much from him Sunday against the Raiders.
WR Amari Cooper, Oakland Raiders
Jon Gruden's constant preseason promises to feature Cooper in the passing game went up in smoke in just one game. Looking back, we all should have known. Fool's gold is a thing and its name is Amari Cooper. It is time to face the facts that he simply cannot be trusted, regardless of the setup. Something to consider: Derek Carr threw the ball to his wideouts nine times on Monday, with only three heading Cooper's direction. Plus, Cooper himself has 10 receiving yards or fewer in six of his last 13 games. Brutal. With the Broncos' shutdown defense on tap at Mile High, Cooper will be wrecking more fantasy owners who remain in denial in Week 2.
TE Jimmy Graham, Green Bay Packers
Let's get something straight right out of the box: Graham is a TE1 each and every week, regardless of the matchup. 2018 boasts one of the weakest pools of tight ends for fantasy purposes I've ever seen, and two of the top eight options were lost in Week 1. With all that said, you need to adjust expectations for what Graham can contribute to your team's bottom line. The Packers proved in Week 1 that he won't be a go-to option, even in a pass-heavy script. That is simply not how the Green Bay offense is built. Graham is a TD-dependent player, who will have a few spike weeks, but you will never know when they are going to come. He will disappoint more often than not if you are counting on him to put up top-five numbers.

Never miss ASL's latest fantasy sports news. Send us an email at This email address is being protected from spambots. You need JavaScript enabled to view it. and list the sports you are interested in (NFL, NBA, MLB, NHL, EPL) to start receiving ASL's newsletter.