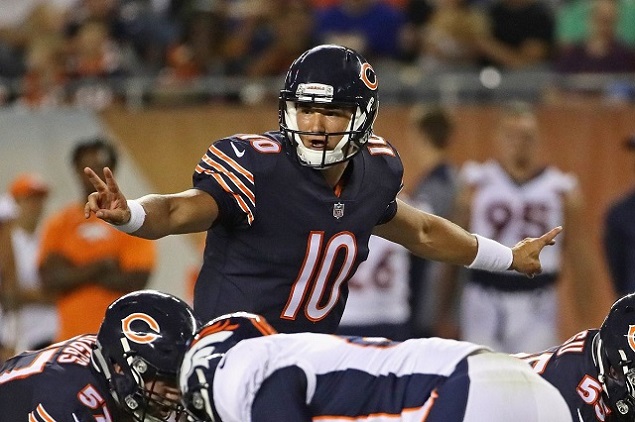 Written by Josh Rabbitt
01 September 2018
Many of you are done with your drafts while some of you are still waiting to get into the room. No matter the case, I'm going to give you my best case that young Chicago Bears QB Mitchell Trubisky should be on your roster this season.
According to FantasyPros, Trubisky is No. 25 in drafts on average. In other words, he isn't seen as even a QB2 in most leagues. My favorite league platform, MyFantasyLeague, has Mitchell coming off the board at about pick No. 160. That is in the 13th round, after Blake Bortles has been selected. I simply don't understand it.
If you go by the numbers, Trubisky had a far-from-stellar rookie year. He had only seven touchdowns and seven interceptions with barely more than 2,000 passing yards. So, why should you care about him in the slightest?
Firstly, let's remember he played only 12 games last year. While those numbers over 12 games don't particularly excite me, they aren't as bad as they might appear on the surface. Secondly, let's remember he was working as a rookie with the blandest offensive coach this side of Jeff Fisher, and this collection of pass-catching "talent": Kendall Wright and Josh Bellamy were his leading receivers. Wright, now on the Vikings, may be a healthy scratch most weeks, according to head coach Mike Zimmer. 
Then there were Dontrelle Inman, Dion Sims, Zach Miller, Tre McBride, Daniel Brown and Dontrelle Inman, among others.
Seriously.

To win your league, start by winning your draft. Draft Analyzer can make you a champion! New in 2018 - full sync to all leagues!


Outside of Tarik Cohen, there were zero pass-catchers that opponents really had to game-plan for? Knowing that, why should we have expected more from Trubisky than what he produced?
I have all this hope about him suddenly because that empty Bears receiving corps has turned into something pretty darn good. Allen Robinson is one of the best outside threats in the entire NFL when healthy. Cohen has a coach, Matt Nagy, that turned the similarly talented talent Tyreek Hill into a household name. Taylor Gabriel is an incredibly underrated wideout. Second-round rookie Anthony Miller makes this group that much deeper. Former first-rounder Kevin White actually may be healthy. Uber-talented tight end Trey Burton will play a big role.
I would argue all of those guys can possibly give you more than Wright. Is that asking for too much? Cohen and tight end Adam Shaheen are now in their second NFL seasons, more prepared for the grind and the opposition that the NFL brings. Shaheen particularly since he was playing against high-school level talent at Ashland University before being drafted. Trubisky has been given the opportunity to grow as well. Nagy, a first-year head coach, appears to be quite the offensive wizard. Even if he isn't, he can't do worse than what John Fox did last year.
So what should you expect from Trubisky? I expect numbers similar to what Jared Goff had last year. The similarities in their respective situations are multiple: A rookie season spent with bad offensive coaches and bad offensive talent followed by the inclusion of a new coach and better talent in Year 2.
Goff finished with 28 TDs and 3,804 yards passing last year. He finished as QB12 in fantasy. In other words, he was a viable QB1. I think that is the floor for Trubisky. The ceiling? Aaron Rodgers. And I mean that.
Trubisky has much more rushing ability than people think, to go with his great arm talent. He quietly blew up the combine by running a 4.67 40-yard dash, just behind Deshaun Watson's 4.66. I think he is going to shock many people with how many fantasy points he puts up thanks to his legs, complementing his work with an excellent passing game.
And you can own him for the price of a 13th-round draft pick. How are you not taking a shot on Trubisky at that point?


Never miss ASL's latest fantasy sports news. Send us an email at This email address is being protected from spambots. You need JavaScript enabled to view it. and list the sports you are interested in (NFL, NBA, MLB, NHL, EPL) to start receiving ASL's newsletter.