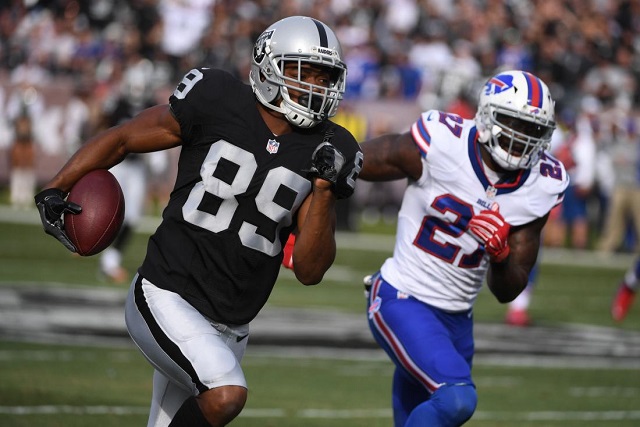 Written by Jimmy Williams
25 July 2018
Many people are down on Oakland Raiders wide receiver Amari Cooper this year and with good reason. His stat line last year was the worse of his career: 48 receptions, 680 yards, seven TDs. However, I have a lot of information as to why he has an excellent chance to bounce back this year!
First, Cooper has been a stud all of his football life. For his last year at Alabama in 2014, he compiled 124 receptions, 1,727 yards and 16 touchdowns!  After that, the Raiders made him the fourth overall pick in the NFL Draft. In his rookie year with the Raiders, he posted a 72-1,070-6 stat line. His second-year numbers were even better: 83 receptions, 1,153 yards, five TDs. His reception and yardage totals for the first two years of his career rank among the top 15 in NFL history.

You shouldn't play Daily Fantasy Sports without The Machine's powerful features. Only $4.99!


This is why last year seems to be an anomaly. Put some of it on his injuries -- Cooper suffered a concussion and had to work through ankle problems last year -- or put it on his quarterback; Derek Carr dealt with a back fracture early last season. Even Carr admitted that Cooper played on one foot last year: "... a lot of guys probably wouldn't have even played with what he had going on."
And then there's this from new Raiders head coach Jon Gruden: "I said it when [Cooper] came out of Alabama, that he reminded me of a young Tim Brown. ...  It'll benefit him to stay healthy and stay in the same system for a few years. If he does that, great things are ahead."
In 14 seasons as a head coach or offensive coordinator, Gruden's No. 1 wide receiver averaged 137 targets, 79 catches, 1,140 yards and almost eight touchdowns. Here are the aforementioned Brown's first four years with Gruden:


| | | | |
| --- | --- | --- | --- |
| Receptions | Yards | Yards/Catch | Touchdowns |
| 81 | 1,012 | 12.5 | 9 |
| 90 | 1,344 | 14.9 | 6 |
| 76 | 1,128 | 14.8 | 11 |
| 91 | 1,165 | 12.8 | 9 |

That's the comparison for Cooper. Those are WR1 stats in most any league. Pretty good company, I'd say.
The company around Cooper in Oakland's wide receiver room has changed, too. 33-year-old Jordy Nelson, and Martavis Bryant, who may have a chip on his shoulder, are now his main competition for targets. Still, Cooper is the clear-cut No. 1 here.
In most 12-team PPR leagues, Cooper has a current ADP of 39. He is coming off the board at the beginning or the middle of the fourth round as a WR2 with clear WR1 upside. With his injuries behind him and an offensive-minded coach who believes in him, Cooper is a great bounce-back candidate.


Never miss ASL's latest fantasy sports news. Send us an email at This email address is being protected from spambots. You need JavaScript enabled to view it. and list the sports you are interested in (NFL, NBA, MLB, NHL, EPL) to start receiving ASL's newsletter.