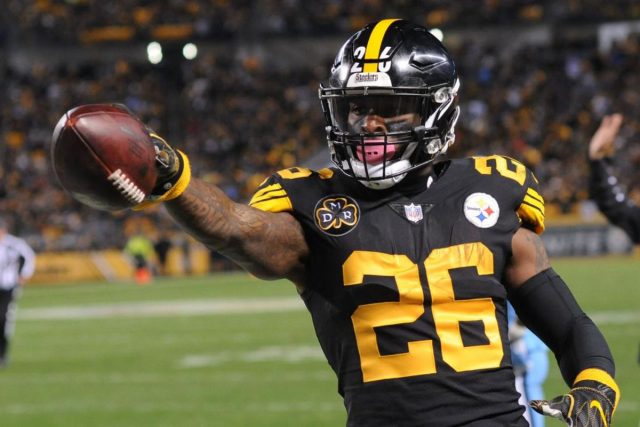 Written by Levi Andrew
24 July 2018
The Scott Fish Bowl is a fantasy league made up of 900 people. Fantasy analysts such as ESPN's Matthew Berry and Mike Clay to NFL Network's Adam Rank draft alongside some fans. It all benefits a charity named FantasyCares.net (check it out and donate) that gives all the money to Toys For Tots. So, not only are you having fun playing fantasy but you're giving to a good cause. Scott breaks it up into 75 12-team divisions. This year's theme was TV characters; last year's theme was Disney characters. I was lucky enough to win my way in from Pat Fitzmaurice's (@Fitz_FF) podcast. I got into the Taco Division, named after Taco MacArthur from the FX TV show "The League".
Scott has eliminated kickers, team defense and trades due to the sheer size of the league. Each roster has 22 slots -- 11 starters and 11 bench slots. Each starting lineup includes one QB, two RBs, three WRs, one TE, three flex and one superflex spot. The scoring isn't your normal PPR or standard system either. Some of it looks familiar -- .1 points for every rushing or receiving yard, .04 points for every passing yard. But all TDs, including passing touchdowns, count as six points. Running backs and wide receivers each receive 0.5 PPR as well as 0.5 points per first down (PPD). However, there is a premium placed on tight ends, who are given full-point PPR and PPD scoring.
Now that you all know the gist of the league, let's break down the draft I just finished for the Taco Division. I drew the 1.02 spot in the draft, which had an eight-hour pick clock and was hosted by MyFantasyLeague.com. With my first pick, I took Le'Veon Bell, who is aiming to have a huge season before he leaves via free agency next year. In the second and third rounds, I looked to take advantage of the superflex and PPD scoring by taking Russell Wilson and then Cam Newton. I figured they will get plenty of those rushing first downs and give me a QB scoring advantage.

To win your league, start by winning your draft. Draft Analyzer can make you a champion!


When the draft came back to me, it was time to grab my WR1, going with the best player available in the fourth round. I took Adam Thielen, who should be in line for another great year with Kirk Cousins as his QB. Looking to lock up my RB2 position, I grabbed rookie Derrius Guice with my 5.02 pick. Then it was back to waiting out 22 picks and seeing who falls off the board in the meantime.
With my sixth and seventh picks, I saw which players were coming off the board and decided it was time to grab a tight end. The top six at that position were already gone, so I chose Delanie Walker at 6.11. He should give me stable production and plenty of PPDs. At 7.02, I wanted some upside with my WR2, so I selected Allen Robinson, who should see plenty of targets as the Bears' No. 1 wideout.
At pick 8.11, I decided to pick up my first flex option and another upside play, Redskins tight end Jordan Reed. We all know about his injury history, but TEs carry a premium in this league, so I pulled the trigger. Also, considering how much Alex Smith likes to lean on his TEs, I figured Reed could have a good year.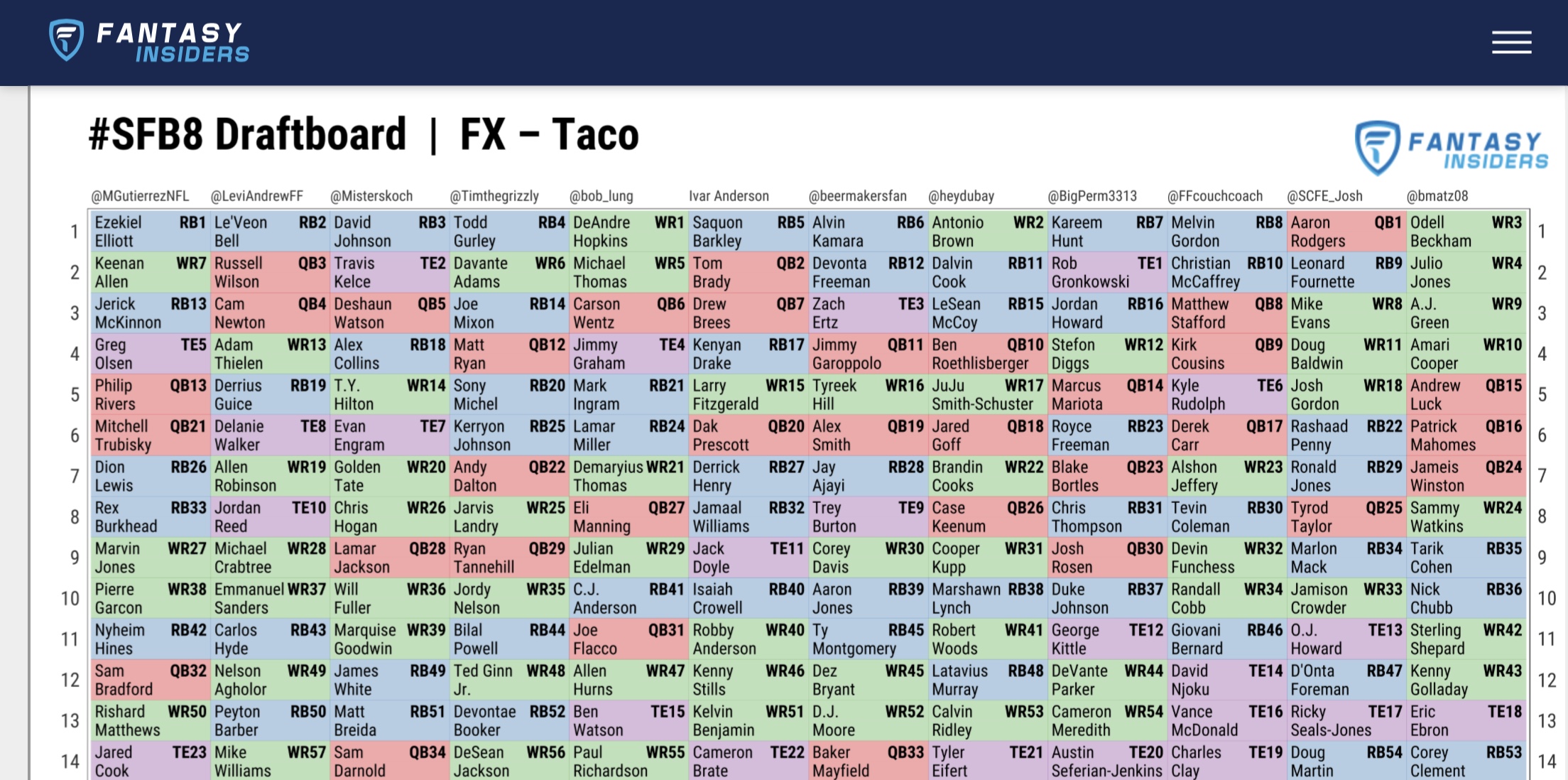 I finished off my starting WR corps by drafting Michael Crabtree to be my WR3. He should be in line for a massive target share as the top wideout in Baltimore. Then it was on to filling out my flex spots and compiling depth. In Rounds 10 and 11, I added WR Emmanuel Sanders and RB Carlos Hyde, respectively. Sanders was WR37 in this draft. Hyde was RB43. 
As the draft started to slow down coming into the 12th and 13th rounds, I began to look at some deep upside plays. With WR Nelson Agholor coming off a strong 2017, I decided to go in that direction with my 12.11 pick. After the turn, I needed to add some RB depth, so I picked Peyton Barber, who I think will win the job in Tampa Bay. As we entered the 14th round, players with assured roles were hard to come by. So at 14.11, I drafted Chargers second-year WR Mike Williams. A back injury ruined his debut season, but he could be in line for a dramatic uptick in usage and fantasy points if he's healthy.
I went with a safe dart throw in the 15th round and rostered Vernon Davis. He is insurance for Reed and maybe he will see more usage due to his previous on-field relationship with Smith from when both played for the 49ers.
At this point, we are about 4-5 days into this draft at this point and I'm digging into numbers and blurbs, trying to find a gem. However, I'm also looking at my roster and seeing that I have only four RBs, so I have no problem with taking the speedy Darren Sproles at 16.11.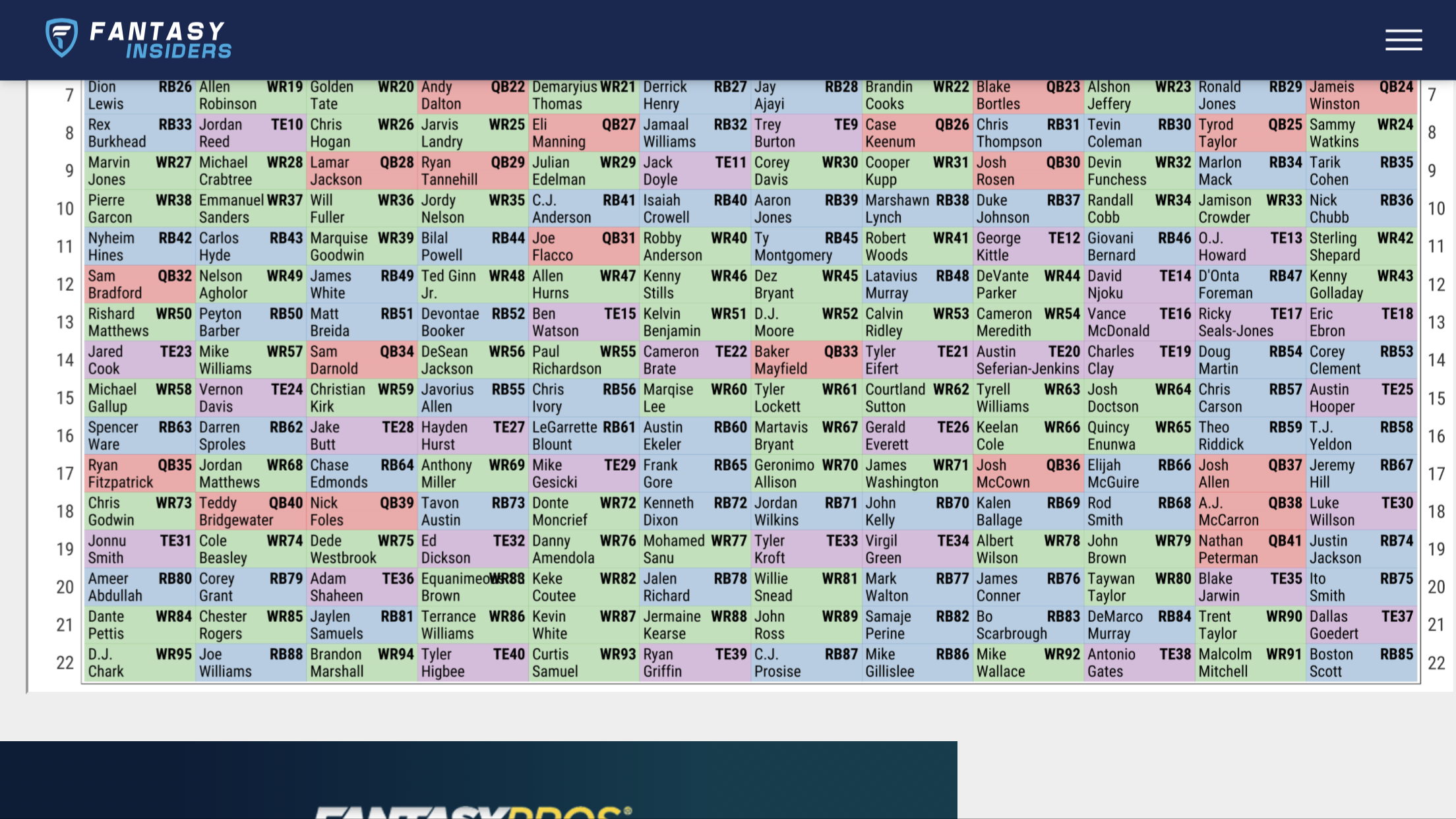 By the start of Round 17, there had been 63 running backs, 67 wide receivers, 34 quarterbacks and 28 tight ends drafted. So, I take the 68th WR, Jordan Matthews, with pick No. 17.02. I then realized I had waited too long to take a QB3. At this point, my best bet was to go with the Jets' Teddy Bridgewater and hope that he wins the job in New York or is traded to a team such as Tampa Bay or to a team that loses its starter in the preseason.
I got sniped in the 19th round as Titans TE Jonnu Smith, whom I was looking to take as insurance for Walker, was drafted right in front of me at 19.01. So, I changed course and chose Cole Beasley, who could very well be in line for a bigger workload this season.
With my 20th and 21st picks, I took a couple guys who could have a decent workload if things pan out. One was RB Corey Grant, whom the Jaguars are known to be high on even though he is behind Leonard Fournette on the depth chart. The other is Colts WR Chester Rogers, who could be Indy's No. 2 wideout. If Andrew Luck comes back to full strength, Rogers may be a decent WR3/4 for me.
After about a week, the draft had finally reached my final pick, 22.11. I took the guy that 49ers head coach Kyle Shanahan pounded the table for during the 2017 NFL Draft, RB Joe Williams. He might end up being the 1b in San Fran's backfield to Jerick McKinnon's 1a.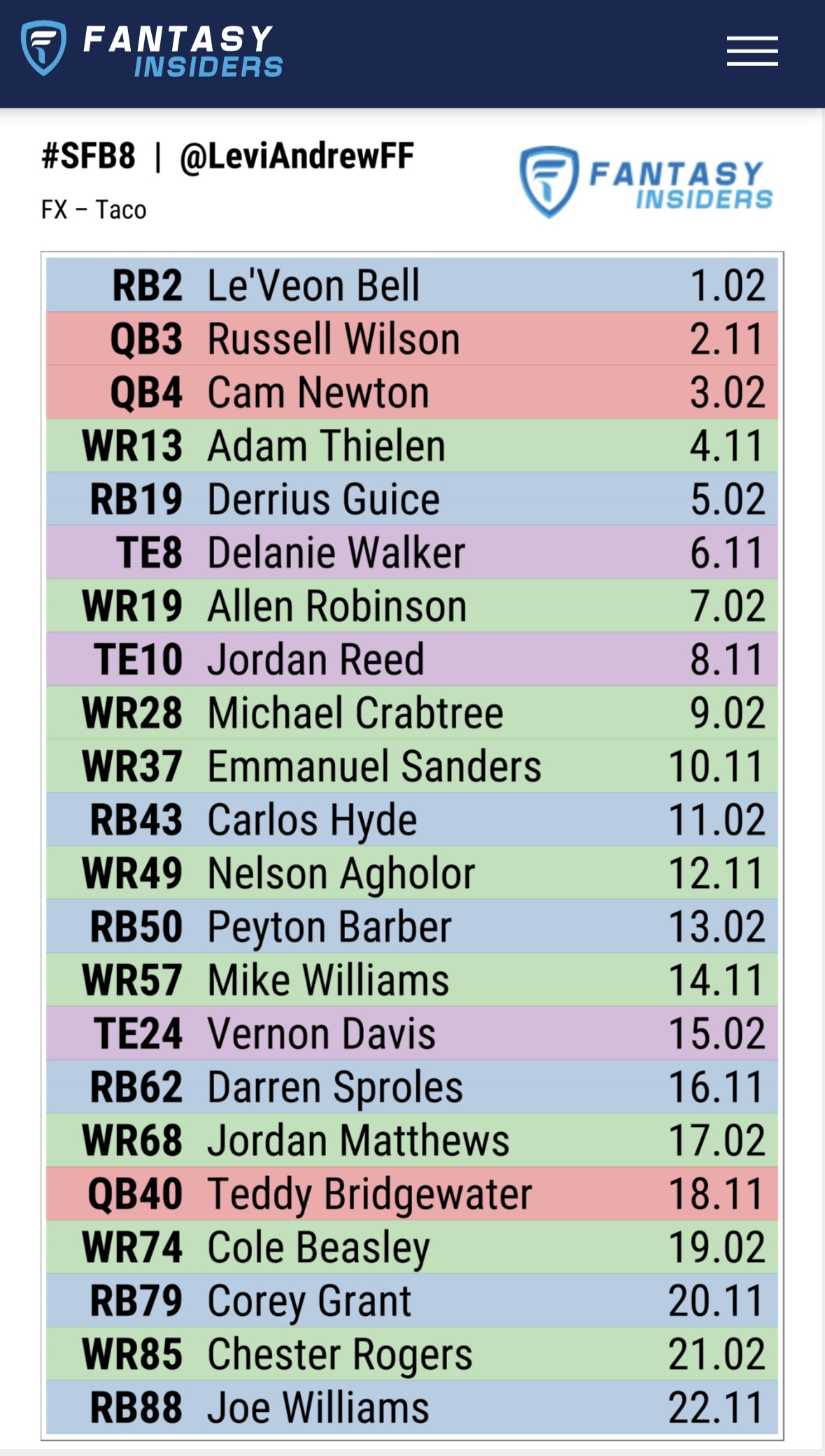 This was a very fun draft with a great bunch of guys. The following people are in the Taco Division:
Bob Lung - Big Guy Fantasy Sports - @bob_lung
Bruce Matson - DLF - @BMatz08
Zack Dubay - Fan - @HayDubay
Ivar Anderson - Fantasygameday.net - @johnwhorfin
Joshua Morgan - So-Called Fantasy Experts - @SCFE_Josh
Justin Barlow - FFCouchCoach - @FFcouchcoach
Patrick McDermott - Fan - @BigPerm3313
Christopher Prince - RotoGrinders/Fantasy Insiders - @beermakersfan
Tim Robinson - Fan - @Timthegrizzley
Kevin Koch - Fan - @Misterskoch
Mauricio Gutierrez - Estadio Fantasy - @MGutierrezNFL
I will update this league throughout the year so be on the lookout for more articles here or on my Twitter (@LeviAndrewFF). Speaking of Twitter, make sure you go and follow Scott Fish (@ScottFish24) and go to scottfishbowl.com to sign up for 2019 draft. Also why you're at it, make sure to donate to FantasyCares.net this year.
Thank you to Fantasy Insiders for the draft boards and team photo. 
Thank you to Scott Fish for doing all of this.


Never miss ASL's latest fantasy sports news. Send us an email at This email address is being protected from spambots. You need JavaScript enabled to view it. and list the sports you are interested in (NFL, NBA, MLB, NHL, EPL) to start receiving ASL's newsletter.