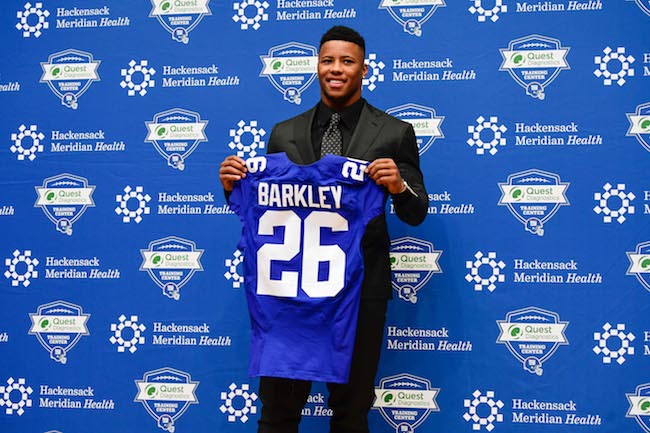 Written by Michael Nease
30 April 2018
Scientists have debated the cause of the dinosaurs' extinction for many, many years with no common consensus. The same non-consensus has been reached by the fantasy football community over the past decade or so regarding what happened to the Stud RB. A few weeks ago, I addressed this very issue in my article, "The Return of the Stud RB." I believe that stud RBs are on their way back to playing a prominent role in fantasy football.
On Thursday night, when Roger Goodell announced the Giants' selection of Saquon Barkley with the No. 2 pick, the wheel of chance was spun one more time. Stud RBs have just not been as common as they had been a scant few years before. In fact, in the last 30 years, the only RB taken with the No. 1 overall pick was Ki-Jana Carter. He answered the challenge with a forgettable seven-year career in which he started 14 games. He only gained 1,613 combined yards and scored 21 total TDs. BUST!
Over the last 10 years, the performances of the top drafted RBs have been pretty poor in general. Certainly, there have been productive, stud-like RBs selected later in just about every season, but the judgments of GMs and the talking heads have been dismal. Once again, this is a historic look at the past. From this review, we can tell how successful these top-drafted RBs usually are. Oddly enough, many RBs selected a lot later often do a better job. Let's get right into it: Here's a rundown of the first-drafted running backs from the past decades of drafts.  

2008 #1.04 Darren McFadden, OAK
Retired in 2017 after 10 seasons
Missed 29 games during the prime of his career due to injuries
Career stat line: 5,421 rushing yards, 2,114 receiving yards on 254 catches, 33 TDs
Nowhere close to being a stud

2009 #1.12 Knowshon Moreno, DEN
6 seasons through 2014
Career stat line: 3,616 rushing yards, 1,409 receiving yards on 158 catches, 36 TDs
Nowhere close to being a stud

2010 #1.09 C.J. Spiller, BUF
8 seasons; played just one game in 2017
Career stat line: 3,451 rushing yards, 1,484 receiving yards on 198 catches, 21 TDs
Nowhere close to being a stud
2011 #1.28 Mark Ingram, NO
At 28 after 7 seasons, he's in the latter part of his career
Career stat line: 5,362 rushing yards, 1,428 receiving yards on 207 catches, 48 TDs
Not actually a stud, but close, especially the last two seasons

2012 #1.03 Trent Richardson, CLE
3 seasons; hasn't played since 2014
Career stat line: 2,032 rushing yards, 912 receiving yards on 113 catches, 19 TDs
Complete BUST

2013 #2.05 Bernard Giovani, CIN
Five seasons
Career stat line: 2,902 rushing yards, 2,060 receiving yards on 230 catches, 23 TDs
No stud, but a decent third-down RB

2014 #2.22 Bishop Sankey, TEN
Two seasons; hasn't played in a regular-season game since 2015
Career stat line: 762 rushing yards, 272 receiving yards on 32 catches, 4 TDs
Complete BUST

2015 #1.10 Todd Gurley, STL (Now LAR)
Three seasons
Career stat line: 3,296 rushing yards, 1,303 receiving yards on 128 catches, 35 TDs
STUD! STUD! STUD!
2016 #1.04 Ezekiel Elliott, DAL
Two seasons
Career stat line: 2,614 rushing yards, 632 receiving yards on 58 catches, 25 TDs
STUD! STUD! STUD!
2017 #1.04 Leonard Fournette, JAC
One season played
Career stat line: 1,040 rushing yards, 302 receiving yards on 36 catches, 10 TDs
STUD! STUD! STUD!
Granted, some of these players were OK in their own right, but being the first running back drafted, a lot more was expected. The only ones near that stud status are the last three, Gurley, Elliott and Fournette. Now the jury is out on Barkley. Five years from now, what will we all say? Dud or stud?
There are just about three months until training camps open. Buckle up for the journey. My colleagues and I at Advanced Sports logic are intent on helping you become the champion you want to be. Between our top-rated software and our poignant articles, we will be with you for the 2018 season in its entirety. What happens then? That, my friends, is easy: We start over and do it all again in 2019!


Over the years many readers have contacted me personally for fantasy football questions throughout the year. I look forward to helping you in your quest to win championships this year. You can contact me with any questions or comments you may have at This email address is being protected from spambots. You need JavaScript enabled to view it., follow me on Twitter @mikeinsights, or join me as a member of Couch Tomatoes, my fantasy football discussion group on Facebook.
https://www.facebook.com/groups/330237687362965/.

Never miss ASL's latest fantasy sports news. Send us an email at This email address is being protected from spambots. You need JavaScript enabled to view it. and list the sports you are interested in (NFL, NBA, MLB, NHL, EPL) to start receiving ASL's newsletter.

Good luck! Have fun!