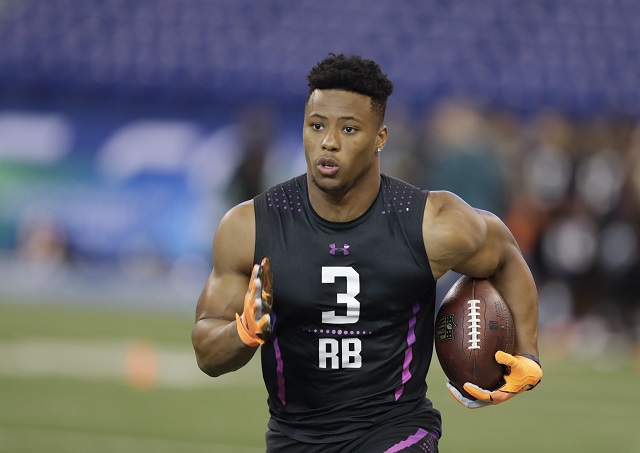 Written by Michael Nease
10 April 2018
One good thing about growing older (besides the great discounts they offer us old farts-LOL) and having played fantasy football since 1985 is having a long-term understanding of the historical aspects of the game. As students of life in general, we learn that history, to varying degrees, repeats itself in a cyclical fashion and much of what we experience has happened before.
The NFL is nothing if not a part of a predictable ensemble of strategies that work and are in vogue until the opposition finds an effective counter. As fantasy news coverage began to grow more than 25 years ago, someone coined the term "stud RB." NFC teams generally played a dominant, RB-centered offense and had bone-crushing defenses. AFC teams tended to utilize a more pass-oriented approach where the last team to score wins.
A stud RB played all three downs and caught passes in addition to running with the ball. Over decades, the RB position has undergone a makeover similar to relief pitchers in baseball. Today, each MLB bullpen is loaded with role-specific players. Complete games by starting pitchers have been virtually eliminated. For a while, the RB position has been watered down by the usage of third-down backs, short-yard backs and committee attacks.
Look at James White of the Patriots as an example. During the past two seasons, he had so-so results in the regular season and then exploded during the playoffs. He racked up almost 50 fantasy points during Super Bowl LI and then averaged almost 20 fantasy points per game during the most recent postseason. He is a solid complementary player with little chance of making a bigger splash because he has been pigeon-holed into a role as a pass-catching RB.
We see a change on the horizon. Last year, there were six RBs who averaged more than 10 points per game and seven who scored more than 140 total points. That pretty much doubled the total from 2016. In the 2018 draft, a whole new crop of stud RBs is primed and ready to be selected by needy NFL teams. We are moving into a new era featuring well-balanced offenses that are dominant not only in the air but on the ground as well. Worried about the defenses? Shed no tears for them; they will be ready. Scoring and tough defenses make fantasy football the game we all love to play.
Here is a ranking of the rookie RBs via Drafttek. These nine players are expected to be drafted in the first three rounds. Only Saquon Barkley and Derrius Guice are expected to be top-10 picks. Look for this group to add another 4-5 pretty good-to-great RBs to the overall player pool.


Ranking      Overall           Name                       College              Height   Weight
1.                  2              Saquan Barkley           Penn State            6-0         233
2.                  10            Derrius Guice              LSU                        5-10       224
3.                  36            Ronald Jones II          USC                        5-11       205
4.                  52            Nick Chubb                 Georgia                  5-11       227
5.                  54            Sony Michel                Georgia                  5-11       214
6.                  68            Royce Freeman          Oregon                   5-11       229
7.                  74            Kerryon Johnson       Auburn                   5-11       213
8.                  75            Kalen Ballage            Arizona State          6-1        228
9.                  94            Rashaad Penny         San Diego State     5-11       220


There has been a 40-50 percent changeover to the pool of younger starting NFL RBs over the past three years, and this trend will continue to force teams to eliminate older players sooner. Why pay for a Jonathan Stewart or LeGarrette Blount when you can get a younger, more talented kid to take up less cap space?
A look at current depth chart finds many teams in varying degrees of need at RB. Here are some situations that really jumped out at me. Of course, it all depends on each team's GM and their commitment to pay the money needed to compete. Unfortunately, we all know that, despite a flimsy attempt at parity, some teams have been woeful for a long time and probably will stay that way into the foreseeable future.
 
Likely to be in need of RBs in the 2018 draft:
Cleveland Browns: Carlos Hyde/Duke Johnson
Detroit Lions: LeGarrette Blount/Ameer Abdullah/Theo Riddick
Indianapolis Colts: Marlon Mack/Robert Turbin
Miami Dolphins: Kenyan Drake/Frank Gore
New England Patriots: Rex Burkhead/James White/Mike Gillislee/Jeremy Hill  
New York Giants: Wayne Gallman/Jonathan Stewart
Oakland Raiders: Marshawn Lynch/Doug Martin


These are teams I see as needing a quality, top-three-round back like the ones ranked above. Any other teams could surprise us. The Panthers added Christian McCaffrey last year. Can he be an every-down back? Does Jerick McKinnon fill the three-down role for the 49ers? There are always surprises in the draft and they are likely to happen once again when the teams gather in Dallas for the three-day draft commencing on April 26.
In the NFL, there is little loyalty between players and teams. It is definitely an ongoing, two-way, "what have you done for me lately" relationship. What other sport has such a bright spotlight on its draft like the NFL? The draft is an amazing example of how the NFL has caught and surpassed MLB as the American pastime.


Player scoring statistics were obtained from the FanEx Experts' League (commonly used PPR scoring) as managed on MyFantasyLeague.com. Rookie RB rankings are from: https://www.drafttek.com/2018-NFL-Draft-Prospect-Rankings/Top-College-RBs-2018-Draft.asp
Over the years many readers have contacted me personally for fantasy football questions throughout the year. I look forward to helping you in your quest to win championships this year. You can contact me with any questions or comments you may have at This email address is being protected from spambots. You need JavaScript enabled to view it., follow me on Twitter @mikeinsights, or join me as a member of Couch Tomatoes, my fantasy football discussion group on Facebook.
https://www.facebook.com/groups/330237687362965/.
Never miss ASL's latest fantasy sports news. Send us an email at This email address is being protected from spambots. You need JavaScript enabled to view it. and list the sports you are interested in (NFL, NBA, MLB, NHL, EPL) to start receiving ASL's newsletter.
Good luck! Have fun!