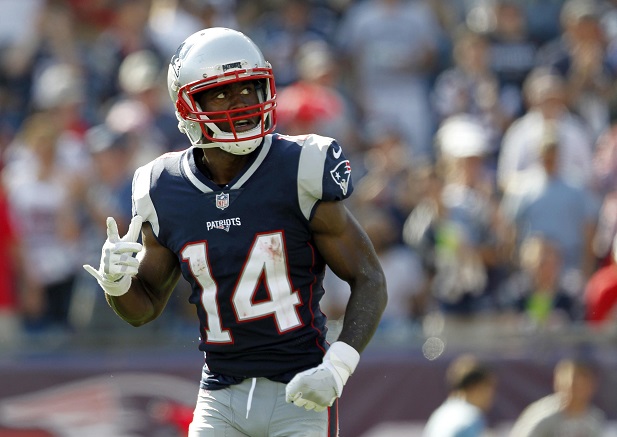 Written by Brian Murphy
05 April 2018
There aren't many sleepy periods in the NFL calendar, but early April is one of them. Free agency has died down and we're still a few weeks away from the draft, so this is a time when there just isn't much of substance for NFL and fantasy football fans to talk about. Then we were all shaken out of our state of ennui Tuesday with the news that the Patriots traded wide receiver Brandin Cooks to the Los Angeles Rams. With a couple of days to absorb this big deal, let's look at fantasy impacts across the board for Cooks, his new Rams teammates and those he has now left in New England
BRANDIN COOKS: He ended his fourth season as the No. 15 wideout in standard fantasy leagues. He was one of the league leaders in yards per catch at 16.6, and the Rams certainly need his deep-threat ability following the departure of Sammy Watkins to Kansas City. However, while Jared Goff improved exponentially from 2016 to 2017 and should grow even further in his third year, he is not Tom Brady, who was Pro Football Focus' No. 1 QB last season. Goff slotted 15th. While the Rams' offense may change somewhat with Cooks, I'm not expecting an overhaul; this is still Todd Gurley's show. The Rams threw the ball on 55.8 percent of their plays last season. That ranked 23rd in the NFL. The Patriots, by comparison, had the 10th-most pass percentage (59.8). Cooks is a better, more dynamic player than Watkins. He is not just a downfield weapon; Cooks can take screens and slants for big gains. But with Robert Woods and Cooper Kupp already in tow along with Gurley, who caught 64 of 87 targets last year, I don't know how often the Rams really needs to Cooks to work in those short areas. Considering the downgrade at QB, the more-conservative offense he's entering and the mouths already in need of feeding around him, Cooks is probably a low-end WR2 for 12-team leagues right now. 
JARED GOFF: As I said, Cooks is better than Watkins. He is a more versatile player who can hurt defenses all over the field. His inclusion should help Goff. The only question for the young QB is this: Will head coach Sean McVay put more on Goff's plate in 2018 or will he continue to ride Gurley all the way to the playoffs while picking and choosing Goff's spots to carry the offense? I'd like to see Goff throw a little more next season, but that probably won't happen, especially with Rams' fearsome-looking defense probably leading to a lot of close games. The Cal product was fantasy's No. 12 QB last year. Even though quarterback remains a deep and talented position for fantasy football, Goff could crack the top 10 this year.
TODD GURLEY, ROBERT WOODS, COOPER KUPP: Gurley's value doesn't change. Woods and Kupp each take a small hit in terms of value because I think Cooks will do more work near the line of scrimmage than Watkins. Still, both men remain viable commodities on the WR3/4 borderline in 12-team formats.
CHRIS HOGAN: Hogan was on his way to a stellar 2017 season after posting a 33-438-5 line in the season's first eight games. Then he was struck down by injuries and the rest of his regular season was a wash. Among the wideouts who are currently in the Patriots' constant rotation, Hogan is the No. 1 big-play threat, so he seems like the best fit to pick up the targets that used to go to Cooks. Hogan shouldn't be drafted inside the top-30 at his position, but the upside here is substantial if he can stay healthy.
JULIAN EDELMAN: I could have included Malcolm Mitchell, Phillip Dorsett or some other secondary WR on the roster. The Pats might also draft a wideout who might help them this year. A bunch of guys could step up to be a factor in this receiving corps because this offense can be fickle like that. However, I'll stick with the tried-and-true Edelman. who is making his way back from a torn ACL. He is expected to be ready for training camp, but 32-year-old receivers coming off a major knee injury have an inherent red flag. Yet, Edelman has been a consistent producer when on the field since 2013, and his slot spot is uncontested. I will probably stay away from Edelman in drafts, but I wouldn't be shocked if he comes back to post a top-25 season at wide receiver.
ROB GRONKOWSKI: Will he even play again? I assume so, but will he even do so with the Patriots? Gronk's fantasy value can't be pinned down right now, and Brandin Cooks has very little to do with that. Hold, please.
TOM BRADY: He'll be good.


You can follow, ask fantasy questions and yell at Brian on Twitter: @Spokes_Murphy
Never miss ASL's latest fantasy sports news. Send us an email at This email address is being protected from spambots. You need JavaScript enabled to view it. and list the sports you are interested in (NFL, NBA, MLB, NHL, EPL) to start receiving ASL's newsletter.