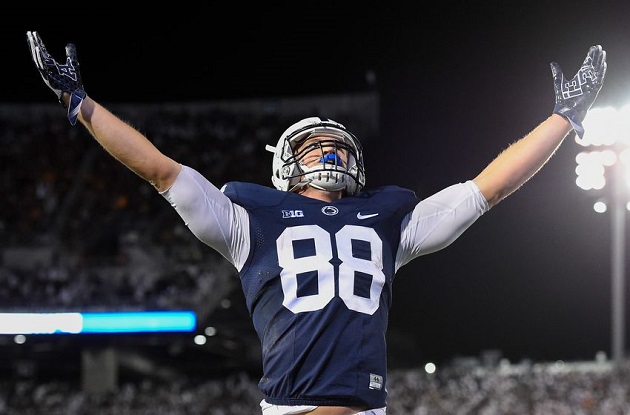 Written by Chad Samuels
20 March 2018
The Case For Three, Not Ten
Unlike other articles in this series, there are only three names on this list, not ten. There is a reason for this, you only need to know three names. It comes from the nature of the tight end position and the dynasty format itself. First is the nature of dynasty leagues. Most dynasty leagues start only one tight end and have the same scoring as wide receivers. This limits the pool or tight ends needed. While some NFL teams target the tight end a lot, most teams do not. This creates desire at the tight end position to be the top couple of tight ends only and the rest fall back to the pack in production. This can be evidenced by last years scoring in a PPR league I am in. The top three tight ends scored no less than 198 fantasy points for an average of 14.1 ppg (points per game) the top tight ends 4 through 8 scored in a range 173 to 150 fantasy points and ranged between 11.8 through 9.4 ppg. Tight ends 9 through 12 scored 140 fantasy points through 126 points per season with points per game ranging from 9.4 to 7.9 ppg. There were some players who played well for stretches or got hurt in season from TE ranks 13 through 24 seven tight ends scored 7.4 points per game or better and Hunter Henry(8.8) and Charles Clay (8.6) scored more ppg than the twelfth ranked TE Jared Cook (7.9). Because there are so many serviceable veterans at the tight end position, he has got to be elite. You really want to draft one and hold onto him lesser tight ends do not encourage this. Think about it this way, you gain a statistical advantage only if he (your tight end) scores in the top six of the position. Really your tight end prospect needs to have the ceiling to be top three of all tight ends or be a Travis Kelce type profile at tight end.
If you play in a dynasty league, give your team the best chance to win with Chad's Dynasty Diagnostic service. 
There are tight end premium leagues that increase the value of tight ends. In premium leagues that increase the scoring of tight ends, all tight ends are equally given the bonus it just increases their value compared to wide receivers, not specific tight ends themselves. The gaps in scoring increase between the talent tiers but the scoring does not really add any names you need to know for the tight end position. Starting two tight ends can increase the names you need to know a bit. If the additional tight end starter is in the flex position, then the pool is not really expanded much. This is because, without a premium on the tight end position scoring, the wide receivers will provide more depth for your team and often similar options in scoring. People value upside wide receivers more than tight ends so you should hold the wide receivers faster due to potential trade value. Leagues that start two tight ends deepen the player pool. Technically, there can be two tight ends on the field at a time but that does not happen much to be factored into our dynasty projections. For dynasty purposes more often than not there is one tight end on a team that gets the receiving work and you can count a starting depth pool of 32 tight ends. If each dynasty team rosters three tight ends there are four teams that will not have three starters. Still, injuries happen every season and there are players like Vernon Davis and Ed Dickson that rise to prominence. With Jordan Reed oft-injured every year a savvy owner could have Davis rostered before the start of the season in a start 2 TE league. Greg Olsen's injury, however, was not foreseeable and Dixon was often available for waivers. More important than depth in this discussion, is the numbers for tight end starters. In ppg statistics, players ranked 13 through 24 had a difference of 1.9 ppg in a basic PPR league which is a tight cluster. Other than trying to fill in for injuries there is not much of a statistical advantage with these players and the strategy remains the same, roster an elite tight end. If you can add a second starter that scores within a couple of points per game of the rest of the owners who do not own an elite TE then you gain a statistical advantage over the other owner's lineup that has to catch up.
Tight ends also take time to develop. When you draft a rookie tight end oft times they get few snaps unless they are elite. Usually you will see rookies flash but they do not break out. Evan Engram was the exception to the rule, not the rule.Think of Hunter Henry the top prospect of 2016 at tight end. Last year he finished 14th in scoring and 10th in ppg. Even the top prospect was not able to provide a quick advantage for your team. He was usable and did not clog a roster spot which makes a case for rostering the elite prospects. A lesser prospect would have clogged it. In fact the second tight end prospect of 2016, Austin Hooper, ranked 21st at 6.9 ppg and wasn't startable except in the most dire of situations.
Last year, by all the expert opinions. there was a bumper crop of tight ends. There were three elite prospects and there were also players like Adam Shaheen, George Kittle and Jonnu Smith that were all draft targets. Two of the big three flashed with David Njoku faltering with the ineptitude of the Browns offense. Kittle ranked 22nd in ppr which is an outlier with the lack of receiving weapons in San Francisco. Chicago had even less weapons and Shaheen ranked 47th and Smith 52nd. Others invested in Gerald Everett and Jake Butt. Butt did not see the field due to injury and those who drafted Everett were rewarded with the 50th ranked ppg season. In most cases only the elite of the elite score well early and develop into a top six tight end within the first two years or  three at most. Most rosters can not afford to be this patient and often all but the most elite of tight end prospects will not be on your roster when they begin to become productive. When it is time to cut a player on the back end of your roster more often than not you will cut a tight end over a wide receiver or a running back if the option is there. Because of these reasons, you can research other tight ends, but when it becomes draft day draft only the top tight ends and save the roster space from your late round rookie picks for a first round QB (preferred) or a running back. If they are not there, then trade out or draft a wide receiver if you must.
Enter Case Study: Evan Engram
Remember the average starting tight end in a dynasty league is a first round rookie pick in the NFL. Therefore, the average first round tight end pick in the NFL is an average dynasty tight end. For this reason we don't want to look for the prototypical TE. A good example of this is Evan Engram. Last year in my first round rookie targets I wrote about Engram and the concepts written in him is exactly what we are looking for when we draft tight ends:
Evan Engram: First round tight ends are known to put up starter points at least once in their careers. In 2017 we are blessed to have three of them in OJ Howard, David Njoku, and Evan Engram. All three are worth of late first round status. In leagues that start 2 TE or offer premium points to tight ends, they are worthy of early first round picks. Keep in mind if the average fantasy football starter for TE is a first round draft pick in the NFL, then your average 1st round draft pick in the nfl is an average dynasty starter at TE. So while these three are good we really want to target the player who has a better than the average player profile.The area where it should be above average is at receiving, as that is where our fantasy points come from. We do not care how good you can block. We want you out in routes on passing downs. Luckily for the savvy dynasty owner, this profile is Evan Engram and as ADP goes he is the last to be drafted of the "Big Three" tight ends. The Giants do have a ton of weapons in 17. Look for Evan Engram to grow past WR Sterling Shepard as a receiver in future years and Brandon Marshall (age 33) to not be in the Giants long term plans.
Engram's rookie production was a perfect storm of what we were looking for and opportunity. He produced 64 receptions for 722 yards and 6 touchdowns. So let us look at his metrics and see what we are looking for. Engram is a best case scenario he is the goal we want to achieve and odds are most prospects won't get there.
Evan Engram was a senior in college and was 6'3" and 234 lbs for a BMI of 29.25.The height is good but the BMI is important. A BMI of 29 shows muscle but also means he should fly faster than most tight ends which he did in spades at the combine. He had a 4.42 forty and a sub sevan second three-cone drill at 6.92 seconds. He had 162 career receptions for 2320 yards and a 14.3 ypr (yards per reception). Notice through four years Engram still only produced a little over 2,000 yards. In college tight ends don't necessarily receive a lot of love in an offense for receiving.
The Ranks   
This year, there are three tight ends on my board that are reasonable bets to roster.
1 Mike Gesicki: We will need to see how the draft pans out for Gesicki. His career stats through four years at Penn State are not great at 129 receptions and 1481 yards. They are decent enough to be a top prospect. His best receiving is 679 yards and that is OK when you realize just how stacked the Penn State offense was with playmakers. DaeSean Hamilton though he did not make my top 10 list at wide receiver is no slouch at the college level and first round draft pick SaQuon Barkley siphoned off a lot of receiving touches through his college career. The damning part of Gesicki's production is an 11.5 career ypr. He regressed in 2017 for 9.9 ypr. Geseki has a 29.29 BMI which is where we want it and he achieved the best forty time in this years combine for TE at 4.54 seconds (Sorry Jaylen Samuels, Gesicki did it 22 lbs heavier than you). Gesicki looks like the prospect that is elite that an offense will send out on pass routes. His floor is a little lower than Andrews but I feel his ceiling is higher. I like Gesicki in the mid-first round of rookie drafts without knowing his landing spot.  
2 Mark Andrews: Andrews is a redshirt junior. His 112 receptions over three seasons for 1763 yards fairs much better in the production part of his profile than Gesicki. This suggest Andrews can be a high floor tight end. His 15.8 career ypr is the best of this years top prospects and that just adds to his production profile. His BMI is 30.36 and at 256 lbs when he hits you you will feel it. His 4.67 forty is great for his size but he will have to face more contact due to his slower speed. To put that time in perspective Andrews ran faster than Auden Tate at the combine and was 28 lbs heavier. His 7.34 three-cone drill does not show the maneuverability that we want in a primary receiving tight end.  Even with this number you cann't argue that he is maneuverable enough to get the job done. Andrews is also a diabetic, but keep in mind that he has been diagnosed already. He has had years managing it as a football player. For this reason you can use it to deter other owners from Andrews but not adjust him on your own draft board for a value advantage in draft. I like the floor of Andrews and it can be higher than Gesicki's. However I question his long term ceiling and while I like him, I think he is at a greater risk of being just another first round tight end. For this reason I would not draft Andrews before the late-second round of rookie drafts pre-NFL draft.
3 Dallas Goedert: Goddert is the biggest risk of the top three TE prospects. At 6'5" and 256 lbs he has the same BMI as Mark Andrews. He was the most productive of the three prospects with 198 receptions over four years and 2988 yards receiving. Goedert drops from the pack for several reasons. The most important is that Godert was a Jackrabbit. South Dakota State is a small school. He should be drafted high enough for us to take notice of him the way Adam Shaheen was drafted last year, but his production numbers do not mean the same as a power five conference statistic. Also, if he is a top prospect why was he at South Dakota State and not a power five school? Second he pulled a hamstring at the Senior Bowl. We haven't seen him work out and we have no drill numbers to compare him to the other two prospects. This makes him a risk. We really don't know what we will be getting from him unless he does drills at his pro day March 29th. Hamstring injuries can also be a concern in themselves. Often once you injure it, it can flare up again and again. This could limit his opportunities as a rookie to practice and adjust to the NFL game. Adjusting will be important as he will have to adjust from lesser competition he faced in college to the pro game. It's a bigger jump for him as opposed to Gesicki or Andrews. He is going to need that adjustment time. Finally, he is a redshirt senior and will be 23.7 when the NFL season starts. That is less of an issue as tight ends often play into the mid thirties or later when they are an elite tight end. Goedert is an unknown and because of that he is a risk. What we see of him we think he will be worth drafting in your rookie draft. He has the tape but when you compare him to the other two known prospects he is just not worth the risk drafting him above them. I would draft Goedert in the third round of rookie drafts.  
Dynasty never goes out of style the following is previous content you may want to refer to.
Introduction to Growth Strategies
Growth Strategies and Startup Drafts, Part 1
Growth Strategies and Startup Drafts, Part 2
Growth Strategies and Rookie Drafts
When Roster Growth Strategies Go Right
Why You Should Join a Devy League


Don't miss out additional content in the rookie prospect series
Post-Combine Top 10 Running Backs. Part 1
Post-Combine Top 10 Running Backs, Part 2
Post-Combine Top 10 Wide Receivers, Part 1
Post-Combine Top 10 Wide Receivers, Part 2


Never miss ASL's latest fantasy sports news. Send us an email at This email address is being protected from spambots. You need JavaScript enabled to view it. and list the sports you are interested in (NFL, NBA, MLB, NHL, EPL) to start receiving ASL's newsletter.