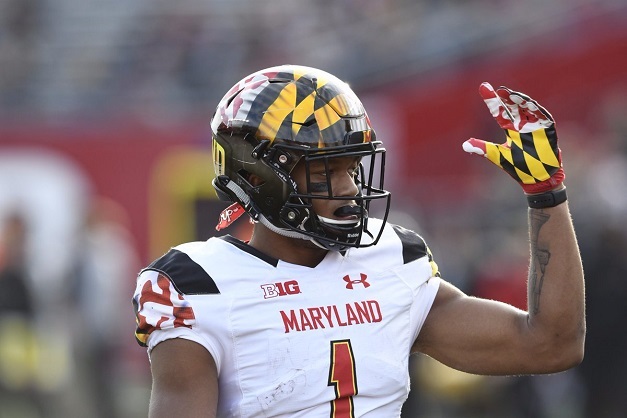 Written by Chad Samuels
15 March 2018
The NFL Combine is over. The players have been measured and tested. These prospects were interviewed and sometimes asked some crazy questions. It is time to begin solidifying our draft ranks now that we have these data points. Last week was the top 10 rookie running backs. You can find part 1 here and part 2 here. You can read part one of the wide receivers rankings here. Wide receivers are a little more difficult to rank than running back. As running back this year is the strongest position to draft from and also usually has a specific profile that correlates to success in the NFL. Successful NFL receivers can come in all shapes and sizes. While teams like prototypical sizes players like Jarvis Landry and Wes Welker have been very productive in dynasty. This year wide receiver falls off quite quickly. It is suggested if you need a wide receiver to draft one that was drafted in the first round of the NFL draft or sip from the cup that is day two wide receiver very sparingly. Day three wide receivers or later have a one in twenty chance of breaking out. While it feels great to find such a gem it is the exception to the rule and not the norm. The wide receivers mentioned in this article are the rest of the top ten. I reincluded number five DJ Moore in this article because it is the start of the second talent tier of receivers. This way you can compare him with the rest of the top 10 instead of flipping back and forth between the two articles. The players in this article are high risk but they are the best of this class of wide receiver. I do not recommend they be drafted if the first two rounds of your rookie drafts but several will (Moore may be the exception but it is too soon to tell.) These players can be a value in round three of your rookie drafts and beyond. If you need help at the wide receiver position it may be better for your team on the short term to pick up an aging veteran to fill in for a season or two and look to pick up better quality pedigree in the future.   
If you play in a dynasty league, give your team the best chance to win with Chad's Dynasty Diagnostic service. 
5 DJ Moore: DJ Moore starts the beginning of the next tier of players that are a bit riskier to draft. The Maryland product has been a riser in the draft process. He is another 6' receiver and at 210 lbs has a solid BMI of 28.48. His 4.42 forty barley puts him into the positive speed for his size but his 6.95 3 cone score is decent but not elite. His 1033 yards as a junior is a decent break out for his best season although we look for 1200 to 1300 yards as a junior to really get excited about production from a prospect. With rookie drafts unless there are deep rosters for your dynasty league it can be difficult to hold onto receivers for the full three years if you have a lot of young ones on your roster. This is why we want the elite producers. Moore's 13.9 ypr (yards per reception) average again like other prospects on this list. Finally Moore is young he will be 21.8 this September which gives him a little more time to grow both physically and as a receiver. Normally we would like to see multiple seasons of solid production from a prospect to feel secure drafting him. Unfortunately, we do not have that in Moore. He has upside and after the elite four are off the draft board he becomes an upside play to draft and add to your roster. As with all wide receivers draft pedigree will be key. This assessment is based on him being drafted day two in the NFL draft.
6 Jordan Lasley: Lasley is another receiver projected to be drafted in day two of the NFL. He came out as a junior and at 6'1" and 203 lbs he has a solid BMI at 26.78. Like DJ Moore he broke out in his junior year for 1264 yards with an 18.3 ypr (yards per reception). His first two years at UCLA were forgettable and we will be projecting his NFL performance from his drill metrics and his final year of production. His career ypr is 16.8 and his 4.5 forty time points to a decent down field presence. Although in the end his lack of production career wise lowers his production floor in the NFL. Lasley is another risk that if you have the roster space is worth adding to your roster. If he generates any sort of buzz from big plays in the preseason or early in his career, then it is in your best interest to flip him as history of receivers drafted where he is projected to be drafted says it probably will not be long lived.    
7 Michael Gallup: Gallup is an intriguing prospect as he played two seasons for Colorado. Because of this his career numbers are down but he did put up 1272 and 1413 yards respectively in his Junior and Senior years. These are reasonable market shares for a wide out and Mel Kiper Junior does like him as his 5th overall receiver prospect. I like his 6.95 cone drill but his forty was average in my eyes. For a receiver of 6'1" he he tested reasonable in the 40 yard dash at 4.51 seconds, but I would have wanted to see a little more speed in that drill. He is projected as a day two prospect and that improves his chances to succeed a little bit in the NFL and stick on a team compared to day three selections. Despite this I doubt Gallup will develop into a number one option in the NFL. While he offers a high production floor his best bet for fantasy success will come by being drafted to a team that has a top quarterback option in the NFL. Gallup has enough buzz that you may not get him in round three of your rookie drafts and there are too many targets elsewhere to be investing the risk of his profile to draft him in round two. Odds are someone will draft him before you should, but you can keep his name in reserve for the third round of your rookie drafts if he should fall and you are out of other options. .  
8 DJ Chark: Chark is polarizing. He is fast as he ran a 4.34 forty yard dash at the combine. For this reason NFL teams will draft him in day two and it is likely he will not get out of the second round of the NFL draft. Some websites have projected him as a round one draft pick but I am not convinced that will happen. He also tested with a 40 inch vertical is 6'3" and is lightweight for his size at 199 lbs. He can go get a football. His production scores are low for a senior due to his lack of playing time as well as playing for LSU which has not been a receiving juggernaut in the SEC. LSU has not seen a top 10 SEC finish in passing yards since 2013. His best season of 857 yards came as a senior and if we want to see a player translate well into the NFL for dynasty purposes we want to see a senior season yardage total closer to 1500 yards. His forty time and his career 20.5 yards per reception cast him in a role as a deep threat for the NFL and likely a secondary receiver. Just like Michael Gallup we want to see him drafted to a team that has an elite QB because those quarterbacks are the ones putting up the insane statistics that can support two top dynasty receivers.
What I do like about Chark is his intangibles. His head is screwed on straight and I am anticipating it will translate into work ethic and doing what he needs to do to get on the field. Chark's family has suffered several freak accidents while he was growing up like both parents ending up with crushed vertebrae. Hardship either breaks a person or breeds character. SInce he is a competitor In this case it breeds character. Also, while he was a sophomore at LSU his sister, Shirdetra, was hospitalized, was in a coma for nine days, and ended up with a hole in her throat from a medical mistake. Shirdetra is well today but during this time DJ commuted between the hospital and college to visit her. It did cause some late practices for him and it ended up costing him playing time. However I applaud this young man because he had his priorities placed exactly where they should be. These are the intangibles that do not translate to the football field but give me a glimmer of hope that he will exceed the metrics of his profile. For me personally, if I am going to bet on a player, then I would like to bet on one with intangibles. I would honestly love to place him higher on this list. Unfortunately his production in college is such that I just can not support it. This is especially true because we do not know where he or the others on this list will be drafted. Even if his stock rises look for Chark to be a high risk high reward sort of draft prospect. If you play in a best ball league he should be a target of yours because of his deep play ability should cause several breakout games in a season after he adjusts to the NFL. The best ball format assures that when he does this he will be in your lineup. No guessing, no anticipating, he is there. In best ball leagues look to draft him in round two of your rookie drafts. For the rest of us, wait to draft him in round three,. That way he will be a hold at a reasonable value. We can then wait to see if he grows as a receiver and produces.
9 Deon Cain: At 6'2" and a junior Cain starts his profile with the right age and on the edge of the measurables we want in a prospect. His profile continues with a 4.42 forty and a 6.71 three cone drill which puts him in the elite athletic category. His 33.5" vertical is good as well. Cain is also a five star recruit and from a wide receiver factory at Clemson. What Cain's rookie profile lacks is production. He has 2000 career receiving yards and his best season was as a junior with 734 yards. His 15.7 career ypr is solid but we would have liked to see more yards for his breakout season. He is projected to be another second round wide receiver and because of his name recognition will probably be drafted higher than he should in rookie drafts. Don't be tempted by the name recognition unless you feel confident he is going to be the round two exception to production. He is a reasonable third round draft pick when the rest of your rookie targets are gone. Keep in mind he should only give you a 5% chance of breaking out as a receiver in the NFL for dynasty purposes. Making the team is not enough. For this reason I would look elsewhere or trade out of the draft pick if it is time to draft Cain.  
10 Equanimeous St. Brown: St. Brown is another highly touted wide receiver prospect this year out of Notre Dame. He had a good sophomore season and then DeShone Kizer left for the NFL. While his quarterback was new, a top prospect should still make the QB better and he should still get his stats. At worst, as a prospect, we want his stats to hold steady as he is a year older or dip slightly. Instead he regressed significantly to 33 receptions for 515 yards in his junior season. His sophomore season was his breakout year and it was just under the 1,000 yard (961) total. From a metric standpoint, we want to see a receiver break the 1,000 yard production mark as a sophomore statistical breakout. His junior year regression is really bad. Those that like him point to his size. He is 6'5 although he is light at 214 lbs. If could have weighed in six to fifteen pounds heavier he would have been prototypically sized and would have shot up this list. He performed good in the forty with a 4.48. He chose not to do a vertical jump or three cone drill at the combine and his athletic profile is incomplete at this time. When players choose not to compete at Indianapolis I get concerned that they feel they will not do well in the category because Lucas Oil stadium is known to produce numbers that is slower than at a pro day. In these situations When I look at their raw data after their pro day I try to keep that in mind when it it is time to break ties with similar players. Not all numbers are the same. At this point in the process Cain's total production still would have me ranking him higher on this list. The lack of the three cone drill numbers just widens the gap despite St. Brown being three inches taller than him. St. Brown's name recognition is such he will probably be drafted in the second round of many rookie drafts. His is a profile you do not want to invest in. It contains a lot of risk despite the size. My fear is he will underachieve and not flash enough in time to flip him before you need the roster space. My early hunch is, if you invest in him at a second round rookie pick cost, then at best you will get an even return on your draft pick or likely less than you paid. While I am sure there are pundits out there that would disagree, I would suggest you to consider Equanimeous St. Brown as an avoid player in your rookie drafts.
Honorable Mention Allen Lazard: Lazard is a 6'5" senior and weighed in at the NFL combine at 227 lbs.  He has the prototypical sort of frame teams look for. His 4.5 forty yard dash is good for a player of his size. He passes what I call the LaQuon Treadwell test. Bigger receivers will naturally run slower because of their size. They will not run as fast as the smaller receivers and you can not use a blanket forty yard time to measure them. Speed does not concern me as much as their frame and skills will translate to how they will generate statistics in the NFL. I don't need a big receiver to run fast to like him as a prospect. I just need him to run faster that LaQuon Treadwell. Lazards 35" vertical shows he should be able to go up and get balls. This indicates he could develop into a red zone threat especially against smaller corners. He did come out as a senior and will be 22.7 years old when the season starts. Through his four year career he has produced enough with 241 receptions for 3360 yards for Iowa State. For his prospects as an NFL receiver it will be all about earning playing time in the NFL. Look to Lazard as a high floor low ceiling producer if he can work his way up a depth chart. As a projected day three draft pick that may be difficult to do. While I did not see his gauntlet, it was reported he has several bad drops during the drill. Hands are important and that is what keeps him off my top 10. That is a significant reason to keep him down your draft boards despite his size. If you are out of running back and quarterback targets look to draft Lazard in the fourth round of your rookie drafts and take a chance on his size/speed combination.
(Dis)Honorable Mention Antonio Callaway: I am not going to spend the time on the measurables of Callaway and just talk a bit about his profile in general. He has some decent metrics though his career numbers are down from being suspended his junior year. I don't know the exact details but I know it had to do with credit card fraud. He is a behavior risk and he should fall in both NFL and your rookie draft because of it. His odds are low to break out but his numbers suggest that if he does, then he will break out big. If he doesn't, then he will flame out fast in the NFL and he can be a quick drop off of the back end of your roster. Any player you draft late in your rookie draft will have pitiful odds to break out unless you are in an IDP league. Callaway is the same so take a chance on his insane upside. Just don't expect to realize that upside and be quick to cut him if you need to. If you are late in your rookie draft and are out of options consider looking into Antonio Callaway.   
This finishes the top receivers in this draft class. Remember it is important when building your dynasty roster to be a draft snob when it comes to wide receivers. Go ahead and be an elitist or receiver nobility looking down your nose at the receivers who drop in the NFL draft. These players do not have a good success rate to invest in. It is OK to pick one that you believe in that you think will break the trend but you should do it sparingly and then be ready to hold them because the odds are such you probably will not see much of a return until year three or later. At most you should pick one exception a year and in some years it is OK to not pick any exceptions at all. Do not look at these players with the mindset of "What will they do to help my team score fantasy points?" Look at them instead with the mindset of "What are the odds that they will flash and I can trade them away for more than I paid for them?" This continues to free up roster space on some high-risk targets while building up value on your roster either through other safer players or more importantly future draft picks. Remember draft picks never go down in value. If a prospect tests poorly or gets hurt, another player rises in the process. Also the closer a draft pick gets to its actual draft uncertainty is reduced and pick value rises. Do not be afraid to exploit that mechanic and get some draft picks more than a year away. After all, a draft pick does not cost a roster spot.
Dynasty never goes out of style. The following is previous content you may want to refer to: 
Introduction to Growth Strategies
Growth Strategies and Startup Drafts, Part 1
Growth Strategies and Startup Drafts, Part 2
Growth Strategies and Rookie Drafts
When Roster Growth Strategies Go Right
Why You Should Join a Devy League


Don't miss out additional content in the rookie prospect series:
Post-Combine Top 10 Running Backs, Part 1
Post-Combine Top 10 Running Backs, Part 2
Post-Combine Top 10 Wide Receivers, Part 1
Never miss ASL's latest fantasy sports news. Send us an email at This email address is being protected from spambots. You need JavaScript enabled to view it. and list the sports you are interested in (NFL, NBA, MLB, NHL, EPL) to start receiving ASL's newsletter