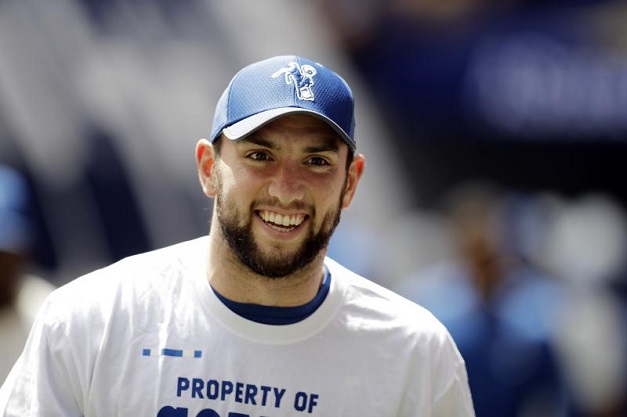 Written by Chad Samuels
27 February 2018
Since August, I have been blessed with the opportunity to write for Advanced Sports Logic. From time to time, I get questions in my inbox. I also sometimes receive follow-up questions from my Dynasty Diagnostic service as well. I do respond to these questions individually but sometimes these questions do touch upon some topics that it is good to share with the dynasty community in general. I did receive a follow-up email from Jeremy and his Dynasty Diagnostic. There were two questions I would like to share with you and their answers. This time of year, we are preparing for rookie drafts, so one is a rookie question the other deals with a possible enigma, Andrew Luck. I love talking dynasty football and I would love to talk with you. If you have any dynasty questions, feel free to drop me an email at This email address is being protected from spambots. You need JavaScript enabled to view it. and I will respond as quickly as I can.
Q: Do you think Andrew Luck is going to be great again?    
A: This question grew out of a suggestion of trading for Andrew Luck if you can get him at a reasonable cost. Some experts said he would take a full year to heal so I am not surprised he missed the whole season after hearing that news although I did not think he would with all the preseason news suggested he would play at some point in the season. Luck has shown all the signs of being an elite quarterback. But even elite quarterbacks can be limited by the supporting cast around them. For this reason, I would talk about him as what is his floor and ceiling production would be. Luck's stats suggest that if he were to lose his job in Indy (worst case) he would be picked up elsewhere as Alex Smith did when he went to the Chiefs. I also think even on bad teams he is talented enough to score as a top 12 QB and be a starter a dynasty team. If the Colts put a good cast around him, and have an OL and a running game that can keep him upright, then he has the talent to be a top-three QB in fantasy for many years. There is a new coaching staff and his ceiling is very high. I am not a prognosticator but I would think if you can get him at a discount his floor would cover his cost in value to trade for him and it would be no net gain for a starter in a worst-case scenario. While if Luck produces at his ceiling, then he produces above cost and offers a significant net gain. There is also a concept of regression to the mean. This means there are outlier years or games of how players produce. When they have such a year it is a high probability that their statistical production will move towards their statistical averages. A perfect example of this is Matt Ryan. In 2012 and 2016, he had two seasons who were above baseline in his averages in yards and touchdowns. It was a safe assumption that he would produce less the following seasons and that is exactly what happened. (Ryan's production for 2017 actually fell below baseline and we can look for a regression to the mean and an uptick in production in 2018 as well!)  Because of this, I like Luck's stats to regress to the mean or become better in the next season or two. I can't predict injuries but short of injury, the mean is what I expect him to produce not more, not less. Luck's mean looks to be approximately 270 yards per game and 1.5 to 2 TD per game. With an outlier in 2015 when he played in seven games. Also, the seasons where he was averaging 1.5 touchdowns per game were his rookie and sophomore campaigns. Since he has grown as a quarterback through these seasons. I would suggest that his mean rests closer to two touchdowns per game versus the lesser number of one and one half. There is one factor that is not calculated into Andrew Luck's performance. He now has a new head coach in Frank Reich. Reich was a QB in the NFL and was an offensive coordinator before taking the Colts job. With the passing games Reich has coordinated over the last four seasons for the Chargers and Eagles, only the new coaching staff 2016 season with the Eagles was the offense not in the top half of passing offenses in the NFL. Because of this while I know little of Reich as a head coach I feel pretty confident the Colts will be a better offensive team under Frank Reich than Chuck Pagano. Will Luck be great again? The numbers say he should be, barring injury. An injury is a concern but that is why when you buy him he is being sold at a discount. If there were no risk his cost would be more. This will often be the case when a team employs growth strategies. If you can get Luck for a reduced cost, then do so.
If you play in a dynasty league, give your team the best chance to win with Chad's Dynasty Diagnostic service. 
Q: For the rookie draft, do you think picking a tight end in the first round is to soon? That position went very quickly in last year's draft. I had two first-rounders last year and couldn't bring myself to draft a TE that high.
A: 2017 was an anomaly when it comes to the tight end position with three prospects that graded out exceptionally high. I do not expect that to happen again any time soon. Normally tight end is a position where only the elite of the elite are started in dynasty leagues because a team only needs to start one. This means if they are not in the top six of their position in scoring you do not get an advantage starting them. For this reason it is rare I would ever advocate drafting a TE in Round 1. Evan Engram was the exception to the rule last year he was a clear cut target player after Alvin Kamara was gone. I had OJ Howard as a player to avoid because of how high he was being drafted and was OK with drafting David Njoku at the very end of Round 1 or early Round 2. I do not know how high Mark Andrews will be drafted in the NFL or your dynasty league. I do feel because tight ends normally do not have highly productive first years, it is likely he will not see a good return on value if he is drafted high and there is a possibility you can acquire him cheaper in a season or two. This is because TE often take a few years to develop. With the depth of this rookie class I would personally not draft Andrews until mid-to-late Round 2. There are other options out there I think will hold value or I can flip faster than waiting for Andrews develop. If you want Andrews cheap talk up to the other owners your concerns about his diabetes. He has been playing for a while with it and while it could affect his NFL performance it probably won't. All you need is to put a little more hesitation in the owners drafting ahead of you for him to fall. This tactic works best when you are relatively honest with your assessments of players and are not often playing a cloak and dagger game with your fellow drafters. If you need to add tight end, then see if you can get Adam Shaheen for a third- or fourth-round pick as I like his upside. He also showed a flash or two last year and showed growth from the small school prospect he was last year. Do not be concerned about the playing time he received under John Fox. As a head coach Fox was notoriously slow to give rookies playing time. Shaheen did end the season with injuries and it may help encourage owners to part with him for cheap. I do not expect top five statistics form Shaheen in the passing game. I do think he has enough ability that he can become a multi-year starter for your roster. For a third or fourth-round pick where it is difficult to thread a needle on who will pan out and who will not. Shaheen is a good investment.
Dynasty never goes out of style. The following is previous content you may want to refer to:
Introduction to Growth Strategies
Growth Strategies and Startup Drafts Part 1
Growth Strategies and Startup Drafts Part 2
Growth Strategies and Rookie Drafts
When Roster Growth Strategies Go Right
Why You Should Join a Devy League

Never miss ASL's latest fantasy sports news. Send us an email at This email address is being protected from spambots. You need JavaScript enabled to view it.and list the sports you are interested in (NFL, NBA, MLB, NHL, EPL) to start receiving ASL's newsletter.