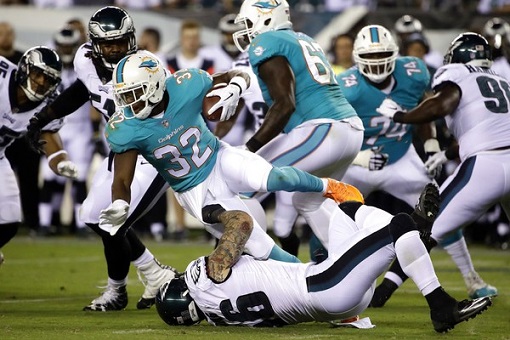 Written by Chad Samuels
12 December 2017
For many owners, the fantasy playoffs started last week. While a concussion knocked Alvin Kamara out during the first series of Thursday nights game greatly hurting some teams title hopes, Kenyan Drake finished it off Monday night with a monster game prolonging others. Drake had 114 yards rushing and 79 receiving with Miami's 27-20 win at home over the Patriots. Ironically, while we are shocked at a Patriots loss, Miami has been one of few teams that have been able to defeat the Patriots more often than not during the Belichick-Brady era. This time they did it with Drake, who now has two consecutive 100-yard rushing games against two solid defenses. Many will say that the Patriots defense is not that good.  They will point to the Pats being 24th versus the run and 29th versus the pass this season. Through the first four weeks of the season the Patriots defense was awful but since then they made adjustments. From week five forward, their 103.4 rushing yards allowed per game and 200.5 passing yards allowed per game are below league averages. With Matchups at Bills and at Chiefs who have rushing defenses in the bottom quarter of the league over the next two weeks, Drake looks to be worth the risk of starting the rest of the way. The question then remains what does dynasty say about his future and how should roster growth strategies handle him?  
 If you play in a dynasty league, give your team the best chance to win with Chad's Dynasty Diagnostic service
The good news is Drake was a day-two draft pick. The downside is he was picked 10th in the third round of a draft that was not considered that strong for offensive talent. In other NFL drafts he may not have been a day two pick at all. He is also  211 lbs. This makes him a tweener in size for running back, and his speed will be a key factor in how he performs in his role at running back. A 4.45 forty yard dash put him third in that draft class and fourth in 2017 draft class his speed is not an issue although a slightly better forty time would benefit his long-term viability as a starter. His 6'1" frame for sub 220 lbs is a concern. Normally tweener backs are smaller and provide a harder target to tackle. At his current height and weight, durability is a concern. If he can put on weight it may affect his speed but it may also help his durability for seasons to come. When he was drafted the dynasty community looked at him as a receiving back out of the backfield for Miami while they expected Jay Ajayi to be the primary back. Even though Jay Ajayi had a fifth-round draft pedigree and has a potentially degenerative knee Drake was not viewed as an heir apparent in Miami but as a compliment. Even after Ajayi was traded to Philadelphia Damien Williams has the first crack at being a starter and there was to be a committee approach to the Miami backfield. Drake did not get his chance until Damien Williams, an undrafted free agent, went down with an injury and missed time. In other words, Drake did not get his chance until there was no one else in Miami but him.
What this means is Drake should finish the season as the starting back. He will start next season at the top of the depth chart. However, there are serious concerns about whether or not Drake can stay there. He fills well as a committee back who can perform for stretches of time but his size limits his long-term viability. Because Damien Williams and Drake are the top backs and 2018 has a strong draft class for running backs, it is very likely Miami will draft a running back in the 2018 draft.  Unless that back is drafted late day three or they bring in some UDFA running backs it is very likely there will be a competition at the running back position. Maybe Drake will win, maybe he will not.  At this point, I would project Drake's dynasty value as pretty high at the moment. It may go a little higher but odds are it will drop after the 2018 NFL draft.
For dynasty growth strategies the concept is to buy players when they are low in value and to sell them after their value increases. These rosters are looking to pick up several draft prospects or draft picks in trades to maximize value and minimize risks. The time to buy Drake cheap is gone, but it is a perfect time to sell. If trading is still open in your league and you are not in the playoffs look to sell Drake to a playoff team. If you can couple Drake and a third-round pick for a second-round pick and another throw in pick or player on the back end of their roster with upside go ahead and to it. There is risk inherent to Drake and it is good to move to an asset that is more stable than Drake in the long term. Also moving up five or six spots in a rookie draft can be the difference in getting a target player you like or having to draft a less than exciting prospect at that spot or trading back.  If you are in the playoffs hold him because you do not want Drake to be played against you with the solid matchups he has. Then when the season ends for you look to move him before the NFL draft. Miami has not been a safe haven for running backs, so be happy with the production he has given you and switch out to another asset that has more upside. You can try to trade Drake with a pick to move up in the draft to clear a roster spot. It is also a good time to couple him with some other players and look to acquire a top-12 RB. Drake is also a good piece to put in a deal to try and move up into the top four of 2018 rookie draft as well. Early on this is where I expect the top talent to drop off and to position yourself to grab one would benefit any dynasty team. Finally, he is a great addition to add to a deal if you have an aging wide receiver. Antonio Brown is great but he will be 29 next season and his time is running out on having high upside returns for him. Adding perceived upside players like Drake to Brown or other aging prospects help you get back what you want in return and encourage them to click the accept button.
In the end, Kenyan Drake has upside for playoff teams to finish a season in the money. However, long-term Drake has severe risk factors that suggest he will not continue to produce at the level he is. Dynasty owners should not look to add him to their rosters unless they absolutely need a running back to win now and then it should not be at a high cost. The better play is to sell Drake if you own him while his value is high and get as much for him.as you can before the NFL draft. This grows your roster and improves your chances to win long term.   


Never miss ASL's latest fantasy sports news. Send us an email at newsletter@advancedsportslogic.com and list the sports you are interested in (NFL, NBA, MLB, NHL, EPL) to start receiving ASL's newsletter.