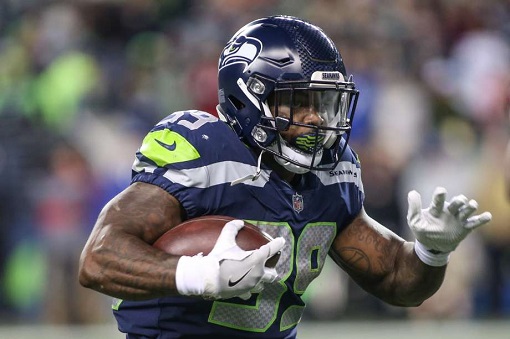 Written by John Adams
05 December 2017
1) Mike Davis, RB, Seattle Seahawks
The fantasy playoffs are here and I have been hearing plenty of would-haves and could-haves. I get it, I had Kareem Hunt too – but I dumped him two weeks ago and moved on to Rex Burkhead. Fantasy Football has always been about evolving to meet the changing needs of your fantasy team. I'm not saying Seattle RB Mike Davis is going to put up Rex Burkhead numbers, but the guy is a BEAST and the Seahawks gave him the rock 20 times during Week 13. Those 20 touches led to four catches for 37 yards and 16 rushing attempts for 64 yards – HELLO PPR. I don't care who the back is, 20 touches equals fantasy points. Don't get me wrong, Davis and the Seahawks have a BAD Week 14 road matchup against a punishing Jacksonville defense, but this is the playoffs and it's time to get your head in the game or go home.
Test your fantasy football prognostication skills and try to win some big money in this $3 Contest on DraftKings. 
2) Marquise Goodwin, WR, San Francisco 49ers
Niners WR Marquise Goodwin was a boom or bust fantasy receiving option when C.J. Beathard was at the helm in San Francisco. But I scooped him up as soon as I learned that Jimmy Garoppolo was starting for the 49ers. Goodwin is a fifth-year WR with breakneck speed who's been waiting for a quarterback who can take advantage of his quickness. The beauty of Goodwin is that he has no competition – He's the top dog for the Niners and Garoppolo was more than happy to pepper him with nine targets during his first start. Goodwin finished with 8 catches for 99 yards and faces a beatable Texans pass defense on the road for Week 14.
3) Cameron Brate, TE, Tampa Bay Buccaneers
Many fantasy owners pulled the plug on Tampa TE Cameron Brate after a miserable four-game fantasy slum courtesy of the Bucs backup QB Ryan Fitzpatrick. It turns out that once Jameis Winston returned to the starting lineup, Brate was suddenly back in business too. Winston targeted Brate six times and the tight end turned those targets into two touchdown catches for 37 yards. Welcome back Jameis – Brate is once again a viable tight end as long as he has Winston winging it to him.
Never miss ASL's latest fantasy sports news. Send us an email at newsletter@advancedsportslogic.com and list the sports you are interested in (NFL, NBA, MLB, NHL, EPL) to start receiving ASL's newsletter