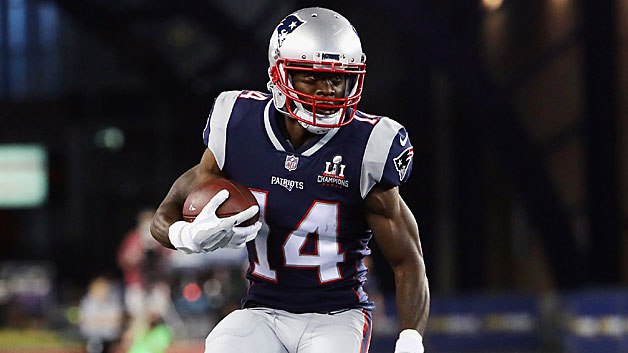 Written by AJ Schreiver
26 October 2017
If you are wondering how you should fill your flex spot in Week 8, look no further than AJ Schreiver's top-85 flex ranks.
Also look at these other Week 8 rankings: QB RB WR TE
These ranks are updated as of Oct. 28.
On bye: Cardinals, Packers, Jaguars, Rams, Giants and Titans
The Vikings-Browns game will kick off in London at 9:30 a.m. Eastern on Sunday.
| | | | | |
| --- | --- | --- | --- | --- |
| # | Player | Pos | Team | Opp |
| 1 | Le'Veon Bell | RB | PIT | @DET |
| 2 | Antonio Brown | WR | PIT | @DET |
| 3 | Ezekiel Elliott | RB | DAL | @WAS |
| 4 | LeSean McCoy | RB | BUF | OAK |
| 5 | Julio Jones | WR | ATL | @NYJ |
| 6 | Devonta Freeman | RB | ATL | @NYJ |
| 7 | Brandin Cooks | WR | NE | LAC |
| 8 | A.J. Green | WR | CIN | IND |
| 9 | Melvin Gordon | RB | LAC | @NE |
| 10 | Kareem Hunt | RB | KC | DEN |
| 11 | Keenan Allen | WR | LAC | @NE |
| 12 | Rob Gronkowski | TE | NE | LAC |
| 13 | Michael Thomas | WR | NO | CHI |
| 14 | Mike Evans | WR | TB | CAR |
| 15 | Doug Baldwin | WR | SEA | HOU |
| 16 | Joe Mixon | RB | CIN | IND |
| 17 | Jordan Howard | RB | CHI | @NO |
| 18 | Adam Thielen | WR | MIN | CLE |
| 19 | Demaryius Thomas | WR | DEN | @KC |
| 20 | Christian McCaffrey | RB | CAR | @TB |
| 21 | Dez Bryant | WR | DAL | @WAS |
| 22 | Alshon Jeffery | WR | PHI | SF |
| 23 | Lamar Miller | RB | HOU | @SEA |
| 24 | Travis Kelce | TE | KC | DEN |
| 25 | Mark Ingram | RB | NO | CHI |
| 26 | Doug Martin | RB | TB | CAR |
| 27 | Zach Ertz | TE | PHI | SF |
| 28 | Chris Thompson | RB | WAS | DAL |
| 29 | DeAndre Hopkins | WR | HOU | @SEA |
| 30 | Chris Hogan | WR | NE | LAC |
| 31 | Carlos Hyde | RB | SF | @PHI |
| 32 | Pierre Garcon | WR | SF | @PHI |
| 33 | Michael Crabtree | WR | OAK | @BUF |
| 34 | C.J. Anderson | RB | DEN | @KC |
| 35 | Jerick McKinnon | RB | MIN | CLE |
| 36 | Alvin Kamara | RB | NO | CHI |
| 37 | Tyreek Hill | WR | KC | DEN |
| 38 | Kelvin Benjamin | WR | CAR | @TB |
| 39 | Ameer Abdullah | RB | DET | PIT |
| 40 | Wendell Smallwood | RB | PHI | SF |

Never miss ASL's latest fantasy sports news. Send us an email at This email address is being protected from spambots. You need JavaScript enabled to view it. and list the sports you are interested in (NFL, NBA, MLB, NHL, EPL) to start receiving ASL's newsletter.


| | | | | |
| --- | --- | --- | --- | --- |
| 41 | Duke Johnson | RB | CLE | MIN |
| 42 | Devin Funchess | WR | CAR | @TB |
| 43 | Javorius Allen | RB | BAL | MIA |
| 44 | T.Y. Hilton | WR | IND | @CIN |
| 45 | Amari Cooper | WR | OAK | @BUF |
| 46 | Tevin Coleman | RB | ATL | @NYJ |
| 47 | Kyle Rudolph | TE | MIN |  CLE |
| 48 | James White | RB | NE | LAC |
| 49 | Nelson Agholor | WR | PHI | SF |
| 50 | DeSean Jackson | WR | TB | CAR |
| 51 | Jermaine Kearse | WR | NYJ | ATL |
| 52 | Josh Doctson | WR | WAS | DAL |
| 53 | Jordan Reed | TE | WAS | DAL |
| 54 | Marvin Jones | WR | DET | PIT |
| 55 | Tarik Cohen | RB | CHI | @NO |
| 56 | Ted Ginn Jr. | WR | NO | CHI |
| 57 | Bennie Fowler | WR | DEN | @KC |
| 58 | Robby Anderson | WR | NYJ |  ATL |
| 59 | Tyrell Williams | WR | LAC | @NE |
| 60 | Cameron Brate | TE | TB | CAR |
| 61 | JuJu Smith-Schuster | WR | PIT | @KC |
| 62 | Will Fuller | WR | HOU | @SEA |
| 63 | DeAndre Washington | RB | OAK | @BUF  |
| 64 | Kenny Golladay | WR | DET | PIT  |
| 65 | Latavius Murray | RB | MIN |  CLE |
| 66 | Austin Seferian-Jenkins | TE | NYJ | ATL |
| 67 | Frank Gore | RB | IND | @CIN |
| 68 | Dion Lewis | RB | NE | LAC |
| 69 | Willie Snead | WR | NO | CHI  |
| 70 | Travis Benjamin | WR | LAC | @NE |
| 71 | Jimmy Graham | TE | SEA | HOU |
| 72 | Jonathan Stewart | RB | CAR | @TB |
| 73 | Terrelle Pryor | WR | WAS | DAL |
| 74 | Matt Forte | RB | NYJ |  ATL |
| 75 | Danny Amendola | WR | NE | LAC  |
| 76 | Taylor Gabriel | WR | ATL | @NYJ |
| 77 | Isaiah Crowell | RB | CLE | MIN |
| 78 | Hunter Henry | TE | LAC | @NE |
| 79 | Jalen Richard | RB | OAK | BUF |
| 80 | Giovani Bernard | RB | CIN | IND |
| 81 | Thomas Rawls | RB | SEA | HOU |
| 82 | LeGarrette Blount | RB | PHI | SF |
| 83 | Mohamed Sanu | WR | ATL | @NYJ |
| 84 | Paul Richardson | WR | SEA | HOU |
| 85 | Zay Jones | WR | BUF | OAK |