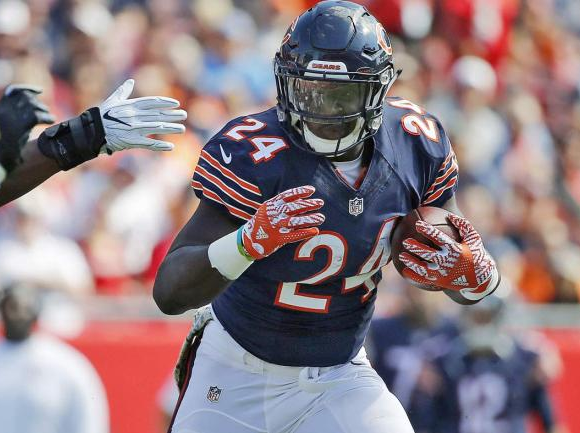 Written by AJ Schreiver
20 September 2017
Jordan Howard, RB, Chicago Bears
We found out Sunday that Howard is dealing with a shoulder injury that's so bad he left the stadium with his right arm in a sling. We should find out more about his status in the coming days, but Howard is still a player I am willing to KEEP. Say he misses Week 3. Then the Bears are looking at a Thursday game in Week 4, which means head coach John Fox might eye Week 5 against the Vikings on Monday Night Football as when Howard can return. His owners will have to hope that Howard and guard Kyle Long are both healthy by then. The Bears' schedule is rough until they visit New Orleans in Week 8, but if you are in good position to reach the playoffs later in the year, Howard should be a great option down the stretch when the weather turns dreary and Chicago hands the keys over to rookie QB Mitchell Trubisky. He will look to lean on the running game for support. I'm not giving up on Howard.
DeMarco Murray, RB, Tennessee Titans
Murray is off to a slow start in 2017 after rushing for the third-most yards last year. However, he is a player you are forced to KEEP. He experienced some hamstring tightness during Sunday's game, which set the stage for Derrick Henry to accumulate 15 standard-league fantasy points in a breakout performance. However, Henry wasn't exactly a clean bill of health last year either and if he happens to go down, Murray becomes a certain RB1. Look, you were probably aware of the timeshare possibilities here coming into the season, but it's way too early to bail on Murray given the success the Titans had while riding his coattails last year.
Le'Veon Bell, RB, Pittsburgh Steelers
Let's go back to 2016 for Bell: Coming off his early-season suspension, he had 81 touches in October. Fans clung to his backup, DeAngelo Williams, wondering if Bell would fall back into his role as an every-down workhorse. After the Steelers' Week 9 bye, owners slowly and quietly dropped Williams from their teams as Bell touched the ball 109 times in November and then 128 times in December. I am looking for any way possible to ACQUIRE Bell if any of his owners are frustrated with him after two scoreless weeks in which he gained a total of 138 yards from scrimmage and averaged just 3.2 yards per carry.
Eric Ebron, TE, Detroit Lions
If you are hurting at the TE position (and most of us are), Ebron had a very nice game Monday night, catching each of his five targets for 42 yards and a score. It feels like Ebron has been around for a while, but this former first-round pick is only 24 years old and has the talent to be an explosive weapon. Game-to-game production from anyone in the Lions' receiving corps can be very inconsistent, but we know this team is going to rely on Matthew Stafford to move the ball and will likely be throwing 70 percent of the time in the red zone since the Lions don't possess any ground threats when they get around the end zone. ACQUIRE Ebron if your roster is hurting for production from his position.
The Seattle Seahawks' backfield
I would CUT Thomas Rawls, Eddie Lacy and C.J. Prosise and ACQUIRE Chris Carson, if possible. With the way Seattle's O-Line has played through two weeks, the 'Hawks are putting the game in Russell Wilson's hands. Given the line's inability to move or even stay in front of the opposition, the Seahawks' offense looks similar to the Bengals' right now. Both teams knew in the offseason that offensive line would be an issue for them and both teams failed to resolve it. Some owners have already dropped Jeremy Hill and have left Giovani Bernard in limbo. Lacy owners can wait to see if he gets released by Seattle and picked up by another team in need, but even then I'm not excited about him. Rawls is a bench option, and Prosise only has a prayer in PPR formats. I am not hesitating to replace these backs with Rex Burkhead, Chris Thompson, Jalen Richard and/or especially Buck Allen if they are still available.
Adrian Peterson, RB, New Orleans Saints
Yeah, I know it sounded like a good idea when you drafted him. Maybe there was still some spark left in Peterson that would enable him to contribute to this versatile offense. The reality is he doesn't fit and we all know it. The sad part is I don't think he is worth a rostering in fantasy now. Even if Mark Ingram goes down, we still aren't going to see the production we want from AP. The Saints will play from behind all year and would likely go to their beloved rookie back, Alvin Kamara, who is the type of very versatile player that head coach Sean Payton loves. You should CUT Peterson and use his roster spot on someone who has a chance to start for your fantasy team.
Get In-Season Analyzer for lineup, waiver and trade help with blended projections from Pro Football Focus, 4for4, Fantasy Gurus, NumberFire and Fantasy Sharks.
Never miss ASL's latest fantasy sports news. Send us an email at newsletter@advancedsportslogic.com and list the sports you are interested in (NFL, NBA, MLB, NHL, EPL) to start receiving ASL's newsletter.