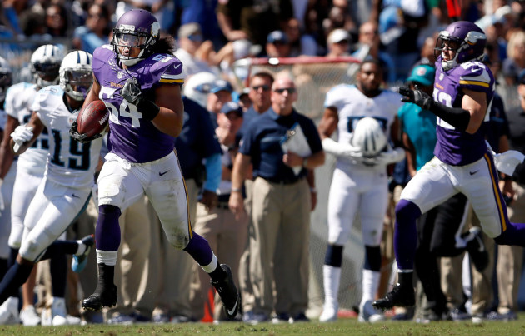 Written by Levi Andrew
06 July 2017
1. Stephone Anthony - New Orleans Saints
After having a stellar rookie year Anthony tanked in 2016. Both the Saints' new LB coach and assistant GM have come out and said they believe in him. Playing the MLB position his rookie year, he finished as the 19th best LB in fantasy, starting all 16 games and assuming 70 tackles, 5 TFL, 1 sack, 5 passes defended, 2 forced fumbles. He has a little bit of competition in camp in Manti Te'o and A.J. Klein, but his first-round pedigree and his play should earn him the starting MLB job once again.
2. Jordan Hicks - Philadelphia Eagles
Jordan was a turn over machine last year, leading all LB's with 5 INT. Also finishing with 58 tackles, 1 sack,1 fumble recovery, 11 passes defended. With another year under Jim Schwartz, I can see him becoming a stud LB for fantasy purposes. Before going down his rookie year, he had assumed 42 tackles, 3 fumble recoveries, 2 INT, 1 sack, 3 passes defended and a TD, all in 8 games. If he can get those tackle numbers up he'll finish much higher than LB38. The Eagles are still shopping Mychal Kendricks which only helps bolster Hicks playing time which we all know equals tackles. He just broke his finger but he'll be healed by training camp so its not a problem.  
3. Shane Ray - Denver Broncos
In Ray's rookie year, he was a part time player, having played 14 games but starting zero. In 2016, he started 8 but played all 16, finishing as the 47th best LB last year. Now let's look at the stats from last year, 33 tackles, 6 TFL, 8 sacks, 2 fumble recoveries, 1 forced fumble and 1 TD. All those numbers are pretty good except the tackles and no passes defended. This could be the year he breaks out. Vance Joseph is the new head coach and he says, "I want a guy that fits the scheme to the players, I want coordinators that put players first and scheme second."
I feel Shane Ray can do a lot with that. He's taking over the starting job following DeMarcus Ware's retirement. Von Miller thinks he's ready. Shane also said he wants to average a sack a game in 2017. If his tackle number goes up by 20-30 and he gets 3-4 more sacks, Ray will finish as a great LB for your team.
4. CJ Mosley - Baltimore Ravens
Having finished 44th after finishing 6th and 9th the previous two seasons, Mosley didn't have a strong year for fantasy purposes last year. He's recovering from offseason shoulder surgery but sounds like he should be ready for camp. His tackles took a huge hit last year when he only had 56 after finishing both seasons before with more than 70, he also had 0 sacks last year. He can be a great bounce back LB1 candidate.  
5. Eric Kendricks - Minnesota Vikings
Talk about a young talented player that has gotten better every year. His rookie year he finished with 72 tackles, 8 TFL's, 4 sacks and 1 passes defended. In 2016, he finished with 70 tackles, 9.5 TFL's, 2.5 sacks and 8 passes defended, 1 forced fumble and 1 fumble recovery. He missed 1 game last year due to concussion and in week 10 went out with an injury. Other than those 2 games Kendricks was an every week starter. He has by far been the best LB on the Vikings therefore I don't see him losing his starting job any time soon.
Follow me on Twitter @LeviAndrewFF