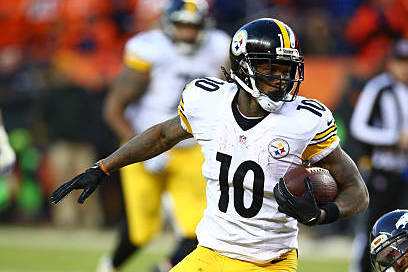 Written by John Adams
29 June 2017
Fantasy Wide Receivers Martavis Bryant and Jamison Crowder are a pair of prime time sleepers coming into this year's draft with top 15 fantasy point potential written all over them. That means you could steal one or two top flight receivers without burning an early round pick. Knowledge is power in any fantasy draft, so make sure these receivers are at the top of your radar.
Martavis Bryant, Steelers
Steelers WR Martavis Bryant has SLEEPER written all over him coming into the 2017 season. Bryant was reinstated in April after serving 407 days for violating the league's substance abuse policy. At only 25-years-old, Bryant comes back into the perfect situation for any receiver, and that is playing on the opposite side of the field from the magnificent Antonio Brown. Open looks for a huge target like Bryant mean fantasy points, especially in the red zone.
To make matters worse for opposing defenses, Bryant is a touchdown machine. He's only played in 21 career games, but already has 14 touchdowns. If this guy still on your board coming into the 7th or 8th round, he could be the fantasy gold you've been looking for.
Jamison Crowder, Redskins
Redskins WR Jamison Crowder finished just outside of the 25 for fantasy football points last season, and that was while competing for numbers against DeSean Jackson and Pierre Garcon. Both of those players are gone now and even though the Skins have added Terrelle Pryor, there are plenty of targets to go around. Another factor that could lead to a breakout season for Crowder is that he has already earned the trust of Redskins quarterback Kirk Cousins.
Last season while fighting for targets, Crowder hauled in 67 receptions for 847 yards and an impressive 7 touchdowns. With a substantial bump in targets, there's no reason that Crowder couldn't crack the 1,000 yard mark to go along with 9 or 10 touchdowns. He is a player you should target in the 6th or 7th round.